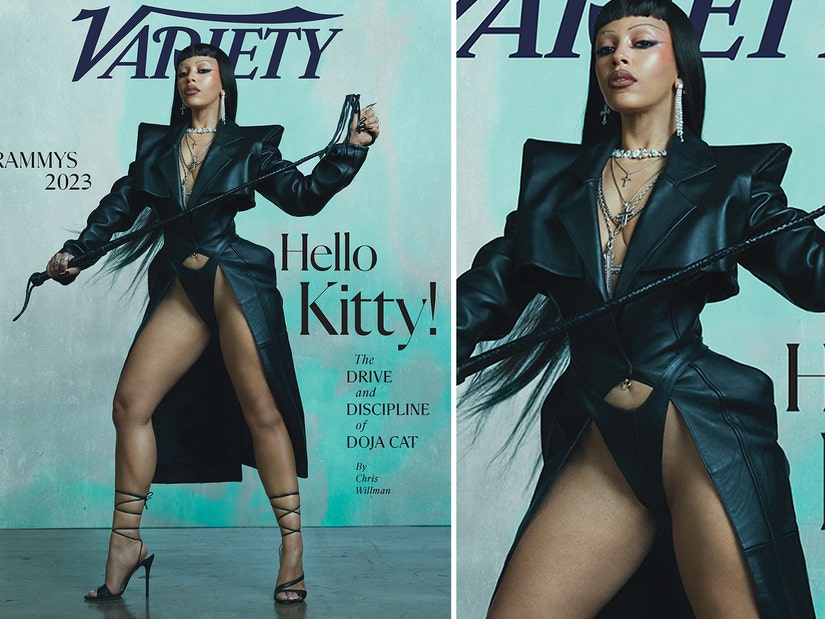 Greg Swales for Variety
The singer said the comments made "a joke of something that was very serious and a big deal in [Britney's] life."
Doja Cat is hitting back at the Britney Spears jokes that flooded the internet after she shaved her head last August.
In an interview with Variety, the 27-year-old criticized online trolls who compared her makeover at the time to the "Toxic" singer's head shaving episode in 2007. At the time, Spears was going through a divorce from Kevin Federline and was in and out of rehab. The following year, she was placed under a controlling conservatorship managed by her father, a conservatorship which wasn't terminated until 2021.
"It's so incredibly disrespectful for people to be minimizing what Britney went through and make a joke out of something that was very serious and a big deal in her life," Doja explained to the publication. "Every time I see a comment like that, I can't compute what's happening, other than it's just an awful thing."
Last year, Doja shocked fans when she took to Instagram Live to debut her buzzed look and proceeded to shave her eyebrows on-camera.
"I needed to change something," Doja explained. "I wasn't working out and wasn't really taking care of myself in the way that I wanted to. I was like, 'I need to do something,' so I just chopped it all off. And I could see the shape of my head. I could see my whole face."
Simply put, the "Kiss Me More" singer said wearing wigs was tedious and uncomfortable, which is why she has no regrets chopping her hair.
"You wake up in the morning and it's in your mouth and in your eyes — it doesn't feel good. It's stressful if you want to work out, and then it slides off your head while you're in a public gym. So now you have another responsibility other than taking care of your body," she continued.
Looking back at the makeover, she called it "the best choice I've ever made, and I've never felt more beautiful."
While her fame has led to some trolling on social media, the "Vegas" performer has no problem putting haters in their place.
"It f--king sucks now that I can't fully do my thing on Instagram Live. Now I'm being flooded with people who have these preconceived f---ing notions about me, and they come in and try to troll. Which I'm very good at handling," she said.
In fact, Doja revealed that one of her favorite pastimes was going to "f---ing war with trolls."
"A lot of people think I'm not good at handling trolls because I respond to them. But that's the art of it: I love to go to f--king war with trolls," she explained. "That's just what I've grown up with; I've been on the internet for 1,000 f---ing years and it's just part of me: that I need to respond. People think, 'Oh, if you're defending yourself, you're weak.' But I always rest on, 'Everyone can suck my d--- from the back.'"
"If somebody wants to fight me on the internet," she continued, "I will gladly join in, balls to the wall. It's fun for me. I'm a very messy bitch."