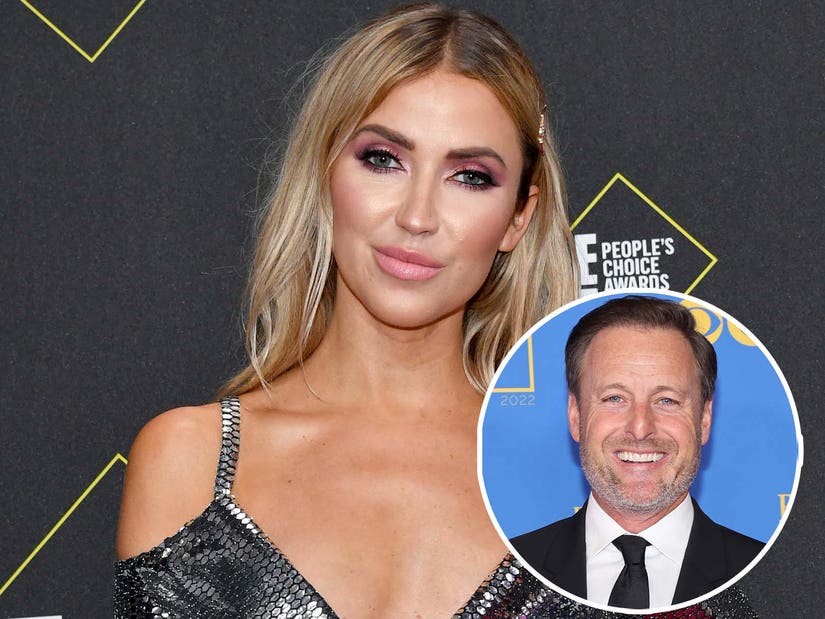 Getty
"We were best friends and now he hates me."
During an appearance on the Not Skinny But Not Fat podcast, the 37-year-old reality star opened up about the tension that allegedly arose between them after she was asked to host season 17 of "The Bachelorette" following Harrison's exit.
"They offered me the position to come in and what the 'Bachelor' franchise said was to mentor Katie [Thurston]," Bristowe recalled. "[They said] I wouldn't be replacing Chris. Then all these articles started coming out, saying, 'Tayshia Adams and Kaitlyn Bristowe replacing Chris Harrison.' And so I messaged Chris probably about 10 times without him responding. I just want him to know that I thought he was irreplaceable and I didn't want to step on toes."
Though the "Dancing With The Stars" alum "didn't know" the extent of her role at the time, Kaitlyn said tabloid articles and rumors she would be replacing the longstanding host made her "feel icky" about her new gig. His lack of response also left her thinking, "Okay, he hates me. We were best friends and now he hates me."
"And then I saw him at Wells and Sarah's wedding and I walked him to him and I was like, 'I miss you,' and he was like, 'Well I've always been here.' ... So yeah, that was tough."
'Harrison's departure from the "Bachelor" franchise was set in motion after he failed to denounce Rachael Kirkconnell's attendance at an "Old South" antebellum party in college from 2018. Kirkconnell eventually became the winner of Matt James' season -- the first-ever Black "Bachelor" lead.
Instead of condemning her attendance while chatting with the first-ever Black "Bachelorette" lead, Rachel Lindsay, on "Extra," Harrison said, "Well, Rachel, is it a good look in 2018, or is it not a good look in 2021? Because there's a big difference."
To this, Lindsay responded, "It's not a good look, ever." His defense led to him permanently stepping down from the role, with former "Bachelor" Jesse Palmer eventually becoming the new permanent host.
Bristowe said she reached out to both Rachel and Chris following the interview.
"When this all went down, I reached out to Rachel and I reached out to Chris and I said, 'What you did was wrong and you know that. I understand there's so much more to it but what do you want me to do to support you while also standing up for what I believe in,'" she explained. "Then he called and we talked and he said he didn't want anyone to really get involved. [He said,] 'It's hard and I understand that you have to like, say what you need to say.'"
The snag in their relationship caused her to "[bawl] my eyes out," saying their bond "just felt like it went down the toilet."
While the status of their friendship may be upsetting, Kaitlyn said she's trying not to take it personally. "I don't think it was actually about me if I can remove my ego. I think he was going through so much in his life. He lost 20 lbs. He was depressed," she admitted, noting that Harrison was "probably really crushed" about his exit after wanting to leave his 20 year gig "out on top."