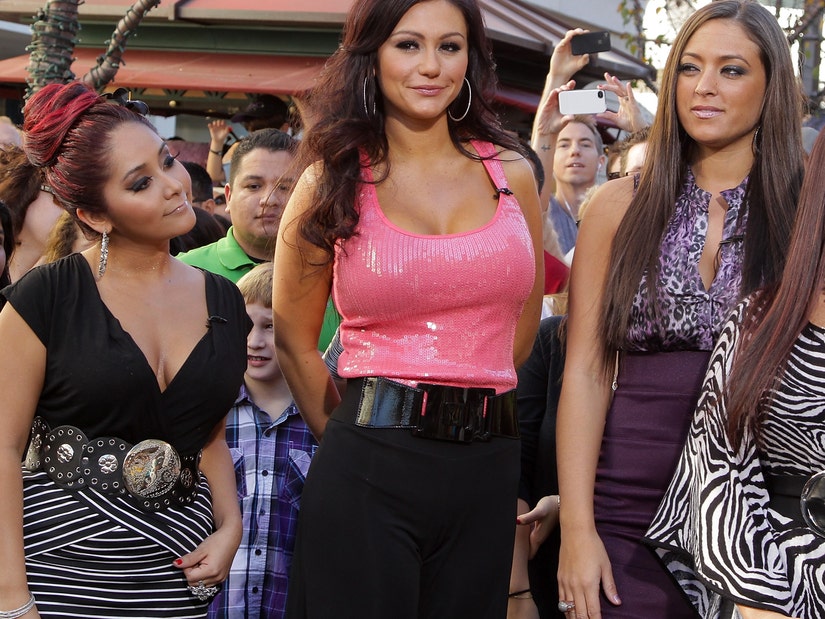 Getty
"This is gonna get me blocked now."
The two reality stars appeared on the BFFs Podcast this week, where they were asked where they stood with Giancola, the sole original star who didn't return for "Jersey Shore Family Vacation."
"I tried to reach out and say let's just do a dinner, it doesn't have to be anything crazy, the fans just want to see you, let's just do a quick girls dinner. That's the last I spoke to her," said Nicole. "She said no, she didn't want to come back ever, she's good and then she blocked me."
When asked what the reason for the block was, Snooki expressed her confusion over the move. "I don't know, I didn't do anything to her," she responded.
Both of them assumed Sammi would be interested in returning once Ronnie Ortiz-Magro exited the show to focus on his mental health, but they still heard nothing.
Cohost Dave Portnoy then brought up a recent "Jersey Shore"-themed party attended by a lot of influencers, who all dressed up like the show's stars. One of them was Alix Earle, who did her best JWoww for the event and posted video on TikTok.
"This is gonna get me blocked now," Jenni said, saying she saw Earle's post. "Under her TikTok she was saying like I wanted to be Jenni, but the thing that I got taken aback was Sammi commented under it, something positive and I was like, 'I thought you didn't like Jersey Shore anymore.' That's going to get me blocked."
Sammi's comment read, "Ultra chic Jersey Shore 🥰."
After the BFFs Pod isolated that clip to TikTok on Thursday (above), Sammi jumped into the comments again, responding to what Jenni said in the video.
"Aw man.. guess I can't comment about Jersey Shore anymore lol 🙄 🥰" she replied, rolling her eyes with an emoji.
In the full interview, Portnoy then asked Jenni if she still had "a little beef" with Sammi, as he picked up on some shade from her during the interview.
"No, I tip-toe. I would kill for her to come back. I would at least like to know the reason why she won't come back," Jenni responded. "I want to be like, did we do something wrong or is it just because you buried this back in 2013?"
"It's like that thing that you don't know and it's frustrating. Or you go on and make TikToks about us, or comment ... are you done with us or are you not?" she added.
"She's very positive on TikTok about 'Jersey Shore,' always talking about it and saying I'm Sammi Sweetheart, but then refuses to come back," said Snooki, who pleaded with Sammi to "Just come back for one thing!"
According to the two women, they last saw her at Deena Nicole Cortese's wedding, which was back In 2017.
"I guess she's happy with her significant other," he said last month, "but if I was her I would come back and I would tell my story."
"Jersey Shore Family Vacation" airs Thursdays on MTV.