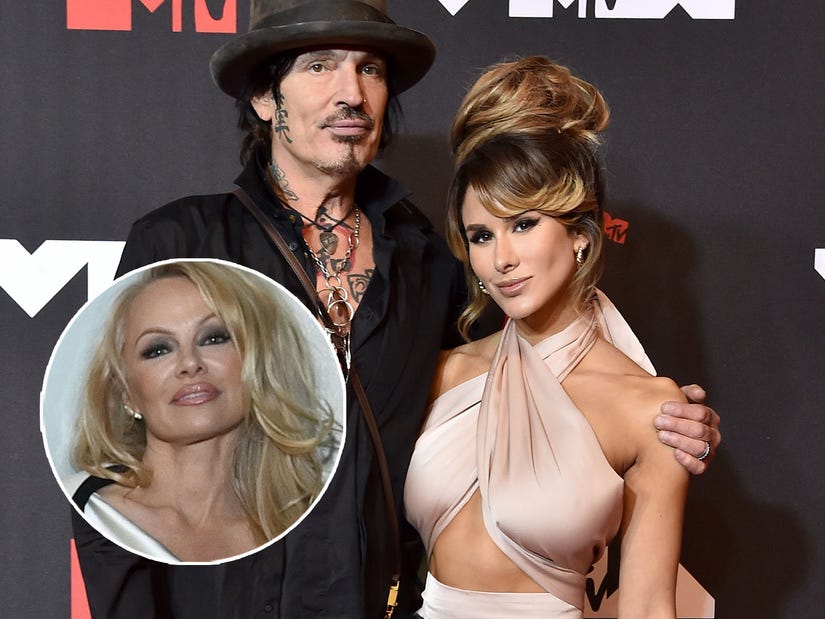 Getty
Brittany Furlan sends a message to "people that don't know me, or my relationship."
During her promo tour for her memoir, "Love Pamela," and her Netflix documentary, "Pamela: A Love Story," as well as in the projects themselves, Anderson has continued to open up about her past marriage to Lee and their highly-publicized romance, including calling the Mötley Crüe drummer as "the only man I ever really loved." She's also expressed that Furlan would likely be "annoyed" by her memoir.
However, Furlan set the record straight in a TikTok video on Thursday, assuring fans that she's not concerned about people making "mean" or "unkind" comments about her.
"Hi guys. I just wanted to come on here to let you know that I'm OK, because I know people have been checking on me, which is really nice, and I'm good," began Furlan, 36. "Don't worry, and don't worry about all the people that are saying all the mean things that they're saying. That's totally, you know, I don't live in that world. So, please don't stress and thank you to all the people that have been so sweet."
"We are only here for a certain amount of time, so I don't sweat the comments from people that don't know me, or my relationship or anything like that," she continued. "I love everyone that's been really kind. I'm sending love to those that have been unkind because I think they probably need it and it is what it is. It's life, I guess."
Furlan -- who married Lee, 60, in 2019 -- added that she's "lucky to have a really loving husband who honestly laughs all the stuff off and could care less but yeah, so don't worry about anything."
The comedian thanked fans who have been "sticking up" for her, but also pointed out that she's not silencing the comments section of the video, even if there are haters who want to leave unkind comments.
"I leave my comments open if you feel like you wanna get it out and say something mean to me or try to tear me down, go ahead," Furlan said. "Honestly I have done so much self-work that, you know, I realize where it's coming from."
She then concluded, "With that said, I'm sending so much love out there to everyone, the good and the bad, and don't worry about anything and I'll be back to my continued program as usual very soon. Love you guys."
Meanwhile, the internet personality later shared another TikTok in which she appeared to make a "joke" alluding that Anderson wouldn't be upset if she "died."
In the clip, which Furlan has since deleted, Furlan lipsynched to the popular TikTok audio that features Wendy Williams saying, "Oh, mmm. ... She passed away? Oh, mmm."
The actress used a "90s Pam Makeup" filter for the TikTok, and wrote the words "Pam if I died" over the video. She also briefly moved her camera over to show Lee sitting next to her, however, he didn't react to the video.
"Pls guys I gotta make jokes it's how I cope," Furlan captioned the clip, which, according to TikTok users, was only up for a few minutes before she took it down. However, fans captured the video, and reposted it.
Although Furlan had removed the TikTok video, it didn't stop users from slamming her in the comments, saying her clip was "uncalled" for.
"This is actually the most embarrassing thing she could've done after Pam just said on Howard Stern that she respects their relationship," a person wrote, while another added, "Didn't she JUST post saying no need to check on her cause she's fine and her marriage is great? 🤦🏻‍♀️🙄."
"Pam has been nothing but respectful to her. This is so uncalled for," another user commented.
Furlan's videos come after Anderson shared how she believes Furlan would react to her comments about her relationship with Lee, which has been highlighted in interviews as well as in her documentary and memoir.
"I'm sure it's going to be annoying to his wife. I'd be annoyed," she told the Wall Street Journal in an interview published earlier this week.
The "Baywatch" alum shared similar thoughts while appearing on SiriusXM's "The Howard Stern Show" a few days earlier, while also noting that she's supportive of Lee's marriage to Furlan.
"He's married and happy, and she's good to him, and I totally support that and think that's great," she explained. "I mean I hate to be annoying and going through this again. I'm sure she's annoyed, but I respect their relationship and just glad he's happy and he has somebody in his life."