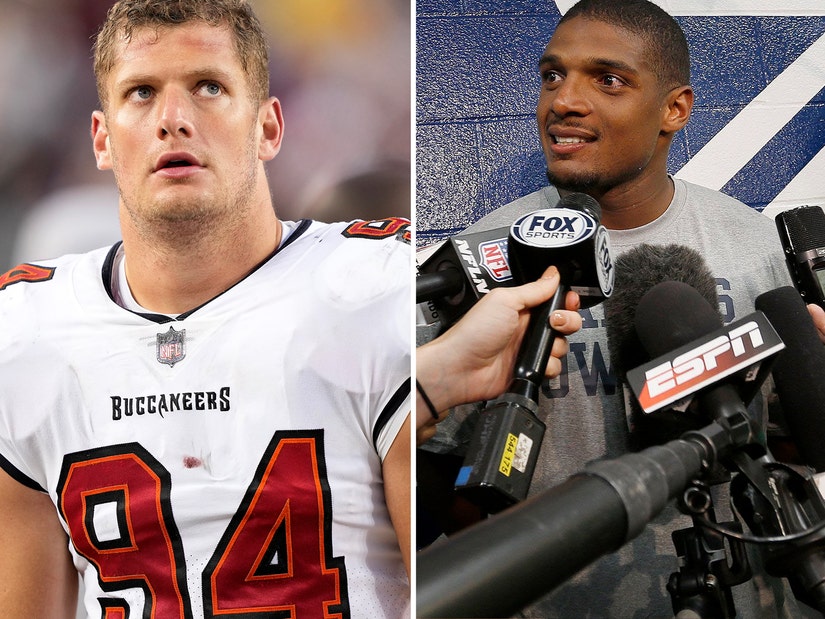 Getty
"I'm the happiest and healthiest I've ever been in my life and that means the world to me."
Over the course of the NFL's 103-year history, only a handful of players have ever come out as gay. In a sport where many players feel that their career could be at risk if they came out, it takes a lot of courage to authentically live their truth. In fact, it wasn't until 2021 that an active player actually opened up about his sexuality. But thanks to the bravery of all the players who have decided to share their story so far, there's hope that the NFL will be a more inclusive place going forward.
Find out which football stars have come out as gay…
Carl Nassib, who currently plays for the Tampa Bay Buccaneers, is the first active NFL player to come out as gay. In an Instagram video shared in June 2021, Carl opened up about his sexuality and expressed his gratitude for the support he'd been given so far from his teammates and coaches.
"I just wanted to take a quick moment to say that I'm gay," he said. "I've been meaning to do this for a while now but finally feel comfortable getting it off my chest. I really have the best life, the best family, friends and job a guy can ask for…I do not know all the history behind our courageous LGBTQ community, but I am eager to learn and to help continue the fight for equality and acceptance."
Former football player Dave Kopay was the first major professional athlete to come out in any sport. He shared his truth in a 1975 interview, several years after he retired from football. While he went on to release a best-selling autobiography, he was widely ostracized from the world of football for decades and had trouble getting a coaching job. Despite the difficulty, Dave says coming out was well received by his fans.
"I got very, very few hate mails," he told Outsports. "Mostly the mail that poured in was amazingly supportive and telling their own stories. There were hundreds of letters forwarded to me."
Michael Sam was still in college playing for the Missouri Tigers when he came out as gay. In 2014, he went on to become the first out player ever drafted by a professional team when he was recruited by the St. Louis Rams. Although he was cut before getting an official place on the roster, he did end up playing for the Montreal Alouettes, making him the first openly gay player in the history of the Canadian Football League.
Colton Underwood played for several football teams including the San Diego Chargers and the Oakland Raiders before retiring from the sport in 2016. He went on to rise to fame on "The Bachelor" and although he left the show in a relationship with Cassie Randolph, they ended up splitting several years later. In 2021, Colton came out as gay, later sharing that he had been blackmailed into opening up about his sexuality. Despite the circumstance, Colton said he was in the best place he'd been in a long time.
"I'm emotional in such a good, happy, positive way. I'm the happiest and healthiest I've ever been in my life and that means the world to me," he shared. "I got to a place in my personal life that was dark and bad and I can list a bunch of different things, but they'd all be excuses. I think overall the reason why now is because I got to a place where I didn't think I was ever going to share this."
In 2006, Ryan O'Callaghan was drafted by the New England Patriots. He went on to play professionally for 5 years, including time with the Kansas City Chiefs. It wasn't until 2017 that he decided to come out, admitting that at times in his life, he would have rather not been alive than reveal his sexuality. He finally made the decision to come out after dealing with painkiller abuse and seeking counseling.
"Being gay wasn't just a small detail in my life, it consumed it. It's all I would think about. But now that I have come out it rarely crosses my mind. Yeah I'd go about my daily life in football, but thinking about hiding it and hoping no one finds out and being ready for any situation was exhausting," Ryan told Outsports.
Kwame Harris played in the NFL for five seasons with the San Francisco 49ers and the Oakland Raiders before retiring after the 2008 season. While he hadn't planned on opening up about his sexuality, he was outed after a domestic dispute with his then-boyfriend landed him in jail in 2013. He then decided to officially come out and looking back says he wishes he had the courage to do it sooner.
"I didn't see those two things [coming out and playing in the NFL] as being compatible, but now when I look back in hindsight, if I could have done it differently, I'd like to think that I would find the strength, or find the fortitude or the grace to make the hard decision," he told CNN.
After starting his professional football career in 2015, Ryan Russell went on to play for the Dallas Cowboys, the Tampa Bay Buccaneers, and the Buffalo Bills. After stepping away from the sport in 2018, Ryan came out as bisexual in a touching essay for ESPN. Since then, Ryan has worked to help the NFL become more inclusive of the LGBTQ+ community.
"I am proud to be an out bisexual Black man, and it's time the NFL was proud to have me and others like me as an active part of their family," he wrote in an essay for Out. "Football is for everyone and since I came out in August of 2019, I have dedicated myself to ensuring that is the case."
From 1979 to 1983, Roy Simmons played as an offensive lineman with the Giants and the Redskins, now known as the Washington Commanders. He became the second NFL player to ever publicly come out as gay when he opened up about his sexuality in 1992 and was the first to disclose that he was HIV-positive. He went on to publish a memoir, "Out of Bounds: Coming Out of Sexual Abuse, Addiction and My Life of Lies in the NFL," in 2006.
Jeff Rohrer played with the Dallas Cowboys in the 1980s but it wasn't until 2018 that he revealed that he is gay. That year, Jeff, who was previously married to a woman, tied the knot with his boyfriend Joshua Ross. The nuptials made him the first NFL player ever in a same-sex marriage.
"If I had told the Dallas Cowboys in the 1980s that I was gay, I would have been cut immediately. It was a different world back then, people didn't want to hear that," he told the New York Times, later adding, "When I got divorced, I said the hell with it, I'm going to do what I've always wanted to do. Then I found Josh, and began to openly live the life I was born to live."
Esera Tuaolo, nicknamed "Mr. Aloha," played in the NFL for nine seasons with several teams including the Minnesota Vikings. After wrapping up his professional sports career in 2002, he came out as gay on HBO's Real Sports. He says he credits Dave Kopay with changing his life, explaining that after reading his book he no longer felt alone.
"My mom saved my life, but David Kopay changed my life. I read the whole book and I just broke down crying because I saw myself," Esera said on "Good Morning America."