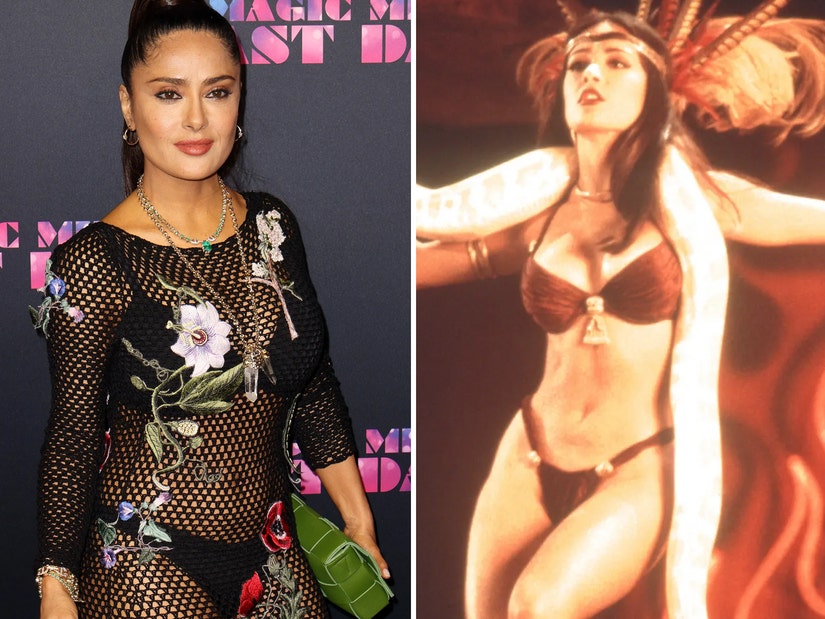 Getty/Everett Collection
"You're sexy, so you're not allowed to have a sense of humor."
Salma Hayek says she's been pigeonholed in a "sexy" box over the course of her Hollywood career.
The 56-year-old "Magic Mike: Last Dance" star revealed that her breakthrough role as vampire dancer Santánico Pandemonium in "From Dusk Till Dawn" resulted in her being "typecast" in similar sexy roles early in her American career, despite her dreams of acting in comedies.
"My entire life I wanted to do comedy and people wouldn't give me comedies," Hayek explained in an interview with GQ Hype. "They said, 'You're sexy, so you're not allowed to have a sense of humor. Not only are you not allowed to be smart, but you were not allowed to be funny in the '90s."
After the "Eternals" star received recognition from the Academy for her role of Frida Kahlo in "Frida" in 2002, Hayek was hopeful for a career evolution that didn't immediately happen.
"The types of roles that people offered me did not change at all," she confessed. "I really struggled and I thought that was going to change, but no."
It wasn't until Adam Sandler cast Hayek in his 2010 movie "Grown Ups" that she was finally able to break out of the mold. Though she's grateful towards Sandler for giving her the chance to flex her comedic chops, Salma acknowledged that it partly happened because "I was in my forties."
Now as an actress in her 50s, Hayek is having the last laugh at the Hollywood executives who claimed she'd never exist outside of the "sexy" box.
"I was sad at the time, but now here I am doing every genre, in a time in my life where they told me I would have expired – that the last 20 years I would have been out of business. So I'm not sad, I'm not angry; I'm laughing," she stated.
In the latest installment of the "Magic Mike" franchise, Hayek can definitely relate to her character -- saying the film is "more than being a movie about an older woman falling in love with a younger guy, it's about a middle-aged woman that has a lot of potential and is sick of being undermined her entire life," she said.
"I'm at a place in my life where I don't think my sexuality is the only thing that's appreciated anymore," she added. She went on to call the movie a full-circle moment -- cracking, "Now, somebody strips for me!"