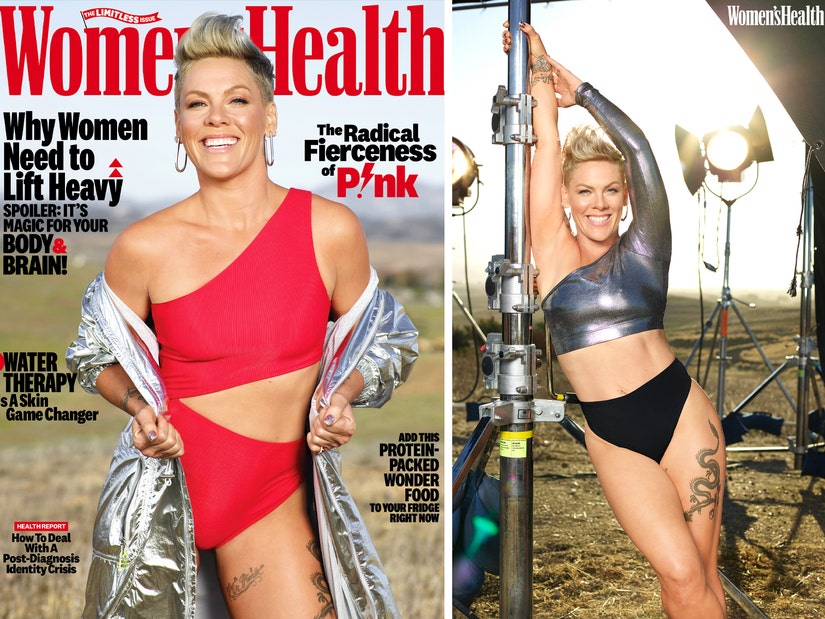 Andrew Macpherson for Women's Health
"It was the longest I've ever been away from my kids, and the biggest gift I've ever given myself."
P!nk is getting candid about her journey to feeling her best self.
In an interview with Women's Health for its March cover story, the singer opened up about going to a wellness retreat in Spain, revealing that she decided to sign up for the two-week program after struggling to lose weight following hip and double disc replacement surgery in her back.
"I was probably a bit depressed from all of the loss, and I couldn't lose weight to save my life," P!nk, 43, said. "I would work out three hours a day, eat clean, and my metabolism was a dud -- I couldn't get anything started. And I was like, 'I'm exhausted, I'm sad, I haven't been away from my family for three years -- not even overnight. And I just need a minute.'"
The Grammy winner traveled to SHA Wellness Clinic in Alicante, Spain, where she participated in a two-week program. During the two weeks, P!nk followed the Kushi diet, which, according to Women's Health, is an anti-inflammatory diet that consists of vegetables, beans and whole grains. The magazine added that P!nk's plan also included drinking apple cider vinegar combined with water. As per the diet, the "What About Us" singer also didn't drink liquids during meals.
P!nk -- who shares daughter Willow, 11, and son Jameson, 6, with husband Carey Hart -- reflected on her experience at the wellness retreat.
"It was the longest I've ever been away from my kids, and the biggest gift I've ever given myself," she recalled. "I did it for me, which in turn would be for them."
The "Try" singer revealed she lost weight during her time at the wellness treat, but didn't stop her health journey when she returned home. P!nk shared that she continued to follow several parts of the Kushi diet, while also re-introducing some foods she ate before.
Ultimately, the "So What" singer said working on her physical health and losing weight wasn't the main takeaway from her time at the wellness clinic.
"I got rest," P!nk said. "I wasn't getting rest before. I slept in a bed by myself for the first time in 11 years. I had time to meditate and cry and journal."
Check out P!nk's full Women's Health cover story, here.