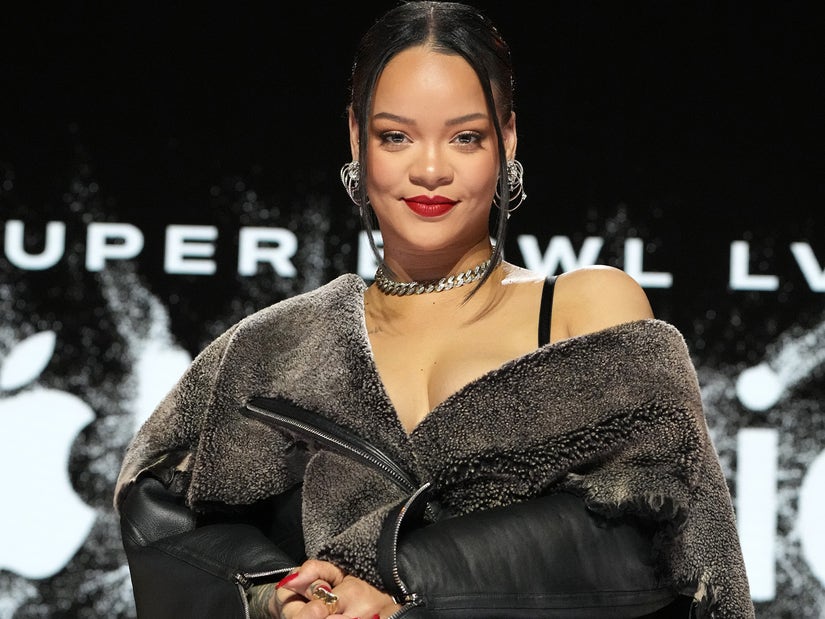 Getty
"You're trying to cram 17 years of work into 13 minutes … but I think we did a pretty good job of narrowing it down."
New mom Rihanna opened up about how she's been balancing work and family time during a press conference ahead of her Apple Music Super Bowl Halftime Show this Sunday.
"It's very different," she admitted the "Diamonds" singer, who welcomed her first baby with boyfriend A$AP Rocky back in May. "The balance is almost impossible because no matter how you look at it, work is always something that's going to rob you of time with your child. That's the currency now, that's where it goes. The magnitude of how much it weighs."
Rihanna said she's become more selective of the things she decides to take on in order to spend more time bonding with her newborn, whose name hasn't yet been revealed.
"When you make decisions of what you're going to say yes to, it has to be worth it," added the artist, whose Super Bowl performance marks her return to the stage after a seven year hiatus.
"When you become a mom, there's something that just happens where you feel like you can take on the world. You can do anything, and the Super Bowl is one of the biggest stages in the world," the nine-time Grammy winner continued. "So, as scary as that was... there's something exhilarating about the challenge of it all, and it's important for me to do this this year. It's important for representation. It's important for my son to see that."
Rihanna revealed that she signed on to perform when she was just three months postpartum and opened up the "immense" physical demands of performing again.
"You're just running around for 13 minutes, trying to put like a two-hour set for 13 minutes," she explained. "And you're gonna see on Sunday, from the time it starts, it just never ends until the very last second. I know I'm saying too much, but it's a jam-packed show."
Curating the setlist from her massive discography proved to be challenging.
"That was the hardest, hardest part — deciding how to maximize 13 minutes but also celebrate. That's what this show's gonna be. It's gonna be a celebration of my catalog in the best way that we could have put it together," she said. "You're trying to cram 17 years of work into 13 minutes … but I think we did a pretty good job of narrowing it down. There were probably about 39 version of the setlist right now. We're on our 39th. Every little change counts, whether I want a guitar cut out, something muted, something added or just put in a whole new song, or take out a whole song."