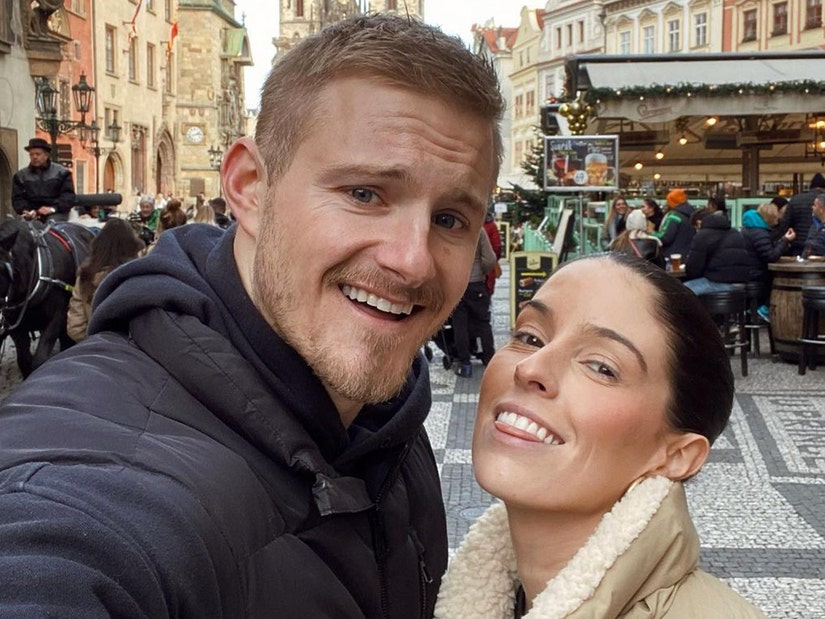 Instagram
"Thank you guys for all of the support. We couldn't be more grateful."
Congratulations are in order for Alexander and Lauren Ludwig!
On Friday, the 30-year-old actor and his wife took to Instagram to announce that they are expecting a baby, with the new addition to arrive in May. The exciting news comes after the couple previously suffered three pregnancy losses.
Alexander and Lauren both shared a sweet photo of themselves posing in front of a mirror. In the shot, "The Hunger Games" star can be seen cradling his wife's pregnancy belly, which was on full display in the photo. The pair's pup, Yam, also made an appearance.
"It's been a long road, and we wanted to wait until things were looking promising this time around," Alexander captioned the post. "Thank you guys for all of the support. We couldn't be more grateful. ❤️ and if you were wondering…yam is stoked."
Meanwhile, in her post, Lauren wrote, "Baby Ludwig coming May 2023 🥹❤️."
"As a lot of you know it's been a long road for @alexanderludwig and myself," she added. "We suffered 3 losses before this one but each one of those losses taught us about ourselves and each other."
Lauren then concluded her post by sharing a message for those who have experienced similar struggles. "To everyone out there who has suffered miscarriages before, there is light on the other side of your journey," she wrote. "You are not alone."
Waiting for your permission to load the Instagram Media.
Fans and celebrity pals alike took to the comments section of Alexander's post to offer their congratulations.
"Yay yay yay!!! So happy for you both 😍," Ashley Greene commented.
"Omg congratulations!!!!!!! Da bubbaaaaaa," Vanessa Hudgens wrote, while Nina Dobrev added, "Omg yay!!!!! 🥰🥰🥰🥰 congrats to you both!"
Chase Stokes chimed in, writing, "Hello manny reporting for duty."
Alexander's "Vikings" co-stars Katheryn Winnick and Alex Høgh Andersen also commented. "So happy for you both!!!❤️❤️❤️," Winnick wrote, while Andersen said, "Yeeeees. So happy for you beautiful people. ❤️❤️ All the best ❤️."
In late 2020, Alexander and Lauren eloped on a gorgeous mountaintop in Wanship, Utah, just a few months after they revealed their engagement.
Last May, Lauren shared that she had suffered her third miscarriage.
The entrepreneur took to Instagram to reveal the sad news, while also raising awareness about how common miscarriages are.
"I have gone back and forth on whether or not to post anything about this but decided we all need to start talking about the truth more," she wrote at the time. "Last week @alexanderludwig and I had our 3rd miscarriage."
"I decided I wanted to share because I don't think it's a shameful thing to talk about," she continued. "I want to help others realize how common miscarriages are and how they aren't something to be embarrassed about. Going through this has made me realize, I definitely am not alone. It's so common and yet, I feel it's not talked about nearly enough. If more of us talked about these things, maybe we would feel less alone and at fault. Information is power and I want to start sharing more of it."
She concluded, "This will forever be a part of our story. My hope by sharing this, if for no other reason, is for that one person reading this to know they are not alone."
Alexander applauded his wife for her candidness in the comment section of her post, "I'm so proud to call you my wife, you amaze me every day with your resilience strength and just love of life. We got this baby."