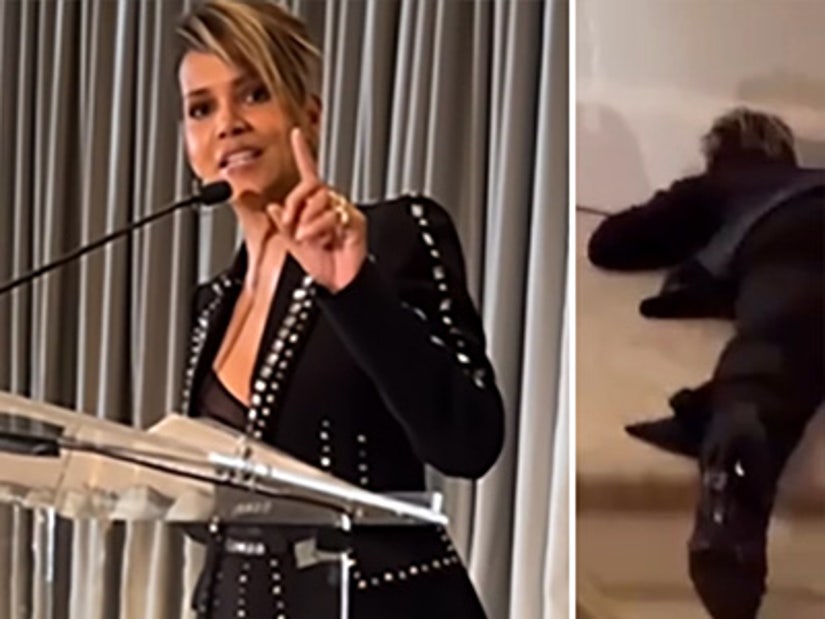 Instagram
The actress edited multiple videos of the incident with voiceover narration to create a comedic masterpiece.
Halle Berry is the epitome of grace and beauty -- until she isn't.
The actress apparently suffered an epic face plant while coming up on stage at a charity event to raise money for children with special needs. But she's making the most of it.
In fact, she made the moment even more incredible by editing video from multiple angles and even adding a voiceover before posting it to her own Instagram page.
Waiting for your permission to load the Instagram Media.
After a close-up of Berry falling while trying to climb the short steps to the stage, the clip freezes and even zooms in on one of her feet as the narration says, "Yup, that's me. You're probably wondering how I ended up in this situation."
After showing the drop and plop from several angles, the clip cuts to Berry hanging her head in shame with her hand over her face while standing at the podium.
"Okay, if I see this on the internet ... Van [Hunt] is coming for you." Berry's boyfriend was in attendance, but he doesn't have to unfurl his fists as she took matters into her own hands and posted it herself.
"Sometimes you bust your a--!" Berry kicked off the caption to her crowning moment at the charity event.
In truth, her sharing what many would see as a mortifyingly embarrassing moment like this might do even more to raise awareness and funds for Looking Beyond. The organization raises money for children and young adults with special needs.
Halle's stylist Lindsay Flores had her back in the comments, writing, "When this magical woman FALLS.... She gets RIGHT THE F--- BACK UP!!!!!!!! ❤️🔥❤️🔥🔥❤️🔥❤️🔥❤️❤️🔥❤️"
Other fans had her back too, with one commenting, "You didn't fall. The floor was just getting up. Glad you're okay!" Another noted, "way to take a blunder and turn it into a positive to help people! more people should follow in your footsteps! (maybe not the exact ones but close!)."