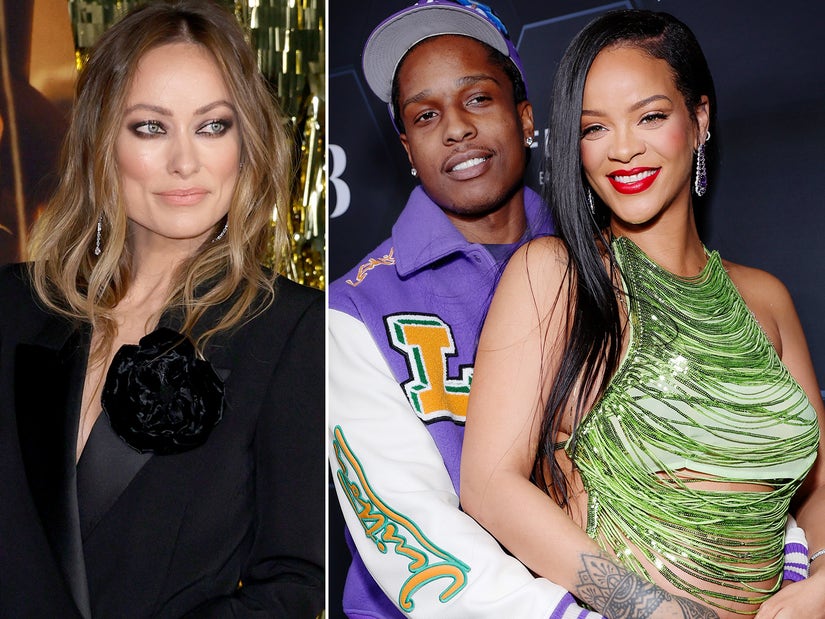 Getty
"If I thought he was hot before, this really put me over the edge," Wilde captioned video of the rapper watching girlfriend Rihanna's Halftime Show.
Was Olivia Wilde shooting her shot at a taken man on Super Bowl Sunday? That's certainly how many on social media took her comments about Rihanna's Halftime Show.
The actress shared the viral clip of A$AP Rocky recording his pregnant girlfriend's high-flying performance, just beaming with joy, to her Instagram Stories. But it was the caption she added that left some people scratching their heads.
"If I thought he was hot before, this really put me over the edge," Wilde wrote on the slide, which is no longer available on her Instagram page.
One day later, after seeing the backlash -- which earned a rolling eye emoji from Wilde -- she returned to her IG Stories to share an image from the same video with an updated caption to address the negative perception and backlash.
"For anyone who got it twisted," she wrote. "It's hot to respect your partner. Especially when your partner just did thaaaaaat."
It is worth noting, too, that in her original share, which can still be seen on Twitter and other social media platforms where fans captured it, Wilde tagged both A$AP Rocky and Rihanna, which certainly makes it seem more complimentary than thirsty.
Even in the immediate aftermath of her post, which saw some pretty ugly responses on social media there were those coming to Wilde's defense. Adding fuel to the fire is the fact that Wilde is recently single, having broken up with Harry Styles in November 2022 after nearly two years of dating.
All of the noise was enough to get the controversy -- or non-troversy as the case has turned out to be -- trending. You can see a sampling of those reactions below.
I wonder if you guys will ever just let this woman breathe. She said that him recording Rihanna was hot and she tagged Rihanna bc she didn't have any ill intention. Harries, stop obsessing over Olivia Wilde challenge!! pic.twitter.com/wi4ktN95lQ

— 🌹🌷🌻 (@harry99styles) February 14, 2023 @harry99styles
Olivia wilde is a very good actress, anyway she said Rihanna's boyfriend is hot and hotter for filming his girlfriend, and tagged even the girlfriend into it. She is just telling Riri your bf is hot. internet is waiting to judge on things that needs no judgement honestly

— Swᵉ | YuLu Neozen (@yulu_neozen) February 14, 2023 @yulu_neozen
Olivia Wilde only a-holes got it twisted I knew exactly what she was referencing. Asap Rocky is also hot him doing this just made him hotter. Hope she gets a partner who openly hypes her and respects her the way anyone deserves. Not what she got in the past. pic.twitter.com/MkAtZkaziz

— Kerri (@KerriKisses1234) February 14, 2023 @KerriKisses1234