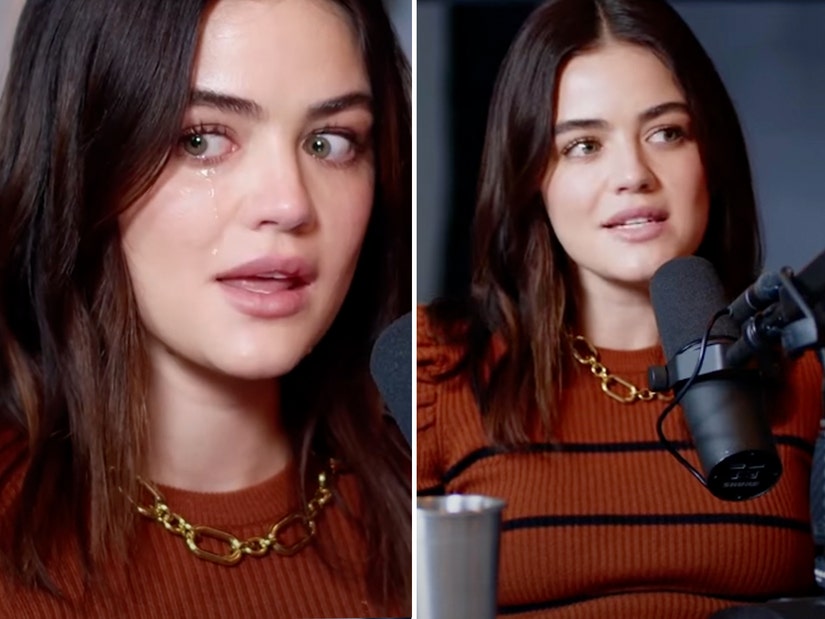 YouTube
In her first interview about her sobriety journey, the Pretty Little Liars star opens up about her "emotional rock bottoms" and going to a "crazy dark place" every time she drank.
Lucy Hale got very candid about her struggle with alcohol in her first interview since she revealed earlier this month that she's been sober for a year as part of a private sobriety journey.
The "Pretty Little Liars" alum gave her first public comments about her issues during a lengthy and emotional conversation with Steven Bartlett on "The Diary Of A CEO" podcast, reflecting on just how bad things were when she drank and expressing positivity and pride with where she is today.
The first tears came when she talked about overcoming a tough childhood, telling Bartlett that, for her, "anything that's traumatic and painful, I use that as ammunition to move forward."
"At some point, you have to take ownership of your life ... I don't ever want to be a victim in my life or of my circumstances, ever," she said, speaking more generally before getting choked up. "I want to be the happiest I can be and learn the most I can about myself and sometimes that means ... you have to go to a dark place sometimes to get to that point."
"It's been a really powerful last year for me. I just love where I've landed in my life and it's been a really ... it's just been a really powerful and painful, insightful, joyous, horrible journey and I love that I can sit across from you now and be my most authentic self," she proclaimed, before getting into the specifics of her journey with sobriety.
"I have a little over a year of sobriety ... I've been working on getting sober since I was 20. I'm 33. It takes time. It took time and it took patience with myself," she said.
Explaining that before getting sober she always felt like her "truest self" while drinking, Hale said she believed she was cooler and funnier whenever she had alcohol. "That's all bulls---. Not true. I was not myself, not my truest self," she added, "but it started with I can be free, funny and boys will like me. And I held onto that belief that real Lucy came out when she was drinking."
"Guess what, Real Lucy did come out, but it was that rage and pain that I had been holding onto for so long," she told Bartlett.
"I was text-book binge-drinker, blackout, wouldn't remember what I did, what I said, which is scary. Past drink two, I wouldn't remember the rest of the night," said Hale, who added that she's had "an issue" with alcohol since her very first time drinking, when she was 14. She said she could never just be a "normal, moderate drinker," and would instead "go to this crazy dark place, every time" she drank.
"My brain doesn't work the same way as someone who can just have a glass of wine. It always wants more, it's craving that feeling," she said. Hale -- who said she would never let her drinking "get in the way of my job" -- added that her desire to drink came partly from issues with self-esteem and self-worth.
"Oh, I don't have to think about being good enough or whatever the problem was ... it worked for a long time until it just left me feeling depressed, anxious, lonely, just worthless," she continued. And while she believes she would have struggled with sobriety regardless of her career, finding success at an early age only added to her desire to please others and be "be what people wanted me to be, which made me feel like a fraud."
When asked about her "darkest day," Hale couldn't pinpoint one, instead deadpanning, "Where do we begin?"
"I had many, many, many what I thought were my emotional rock bottoms. Dozens. That's why it was so hard, I thought we already went to the depths of hell, how could it be worse?" she continued. "From the outside, no one would have known. Darkest day? I had many. But I'd always pull myself out of it. If I have one thing, I'm resilient. I know that my resilience is what's slingshotted me the other way."
Though she realized she had a problem, Hale said that no external forces could get her to stop. It wasn't until she decided to change for herself that she was able to stop drinking.
"One of my best friends died of alcoholism and that still didn't make me want to get sober. Alcohol isn't the problem – the problem is this feeling inside of me," explained Hale. "I had so many things happen where you would have thought I would change. I tried to change for boyfriends, I tried to change for my mom, I tried to change for my career, I tried to change for vain reasons, I'll look younger and be skinnier ... none of that s--- works."
That changed on January 22, 2022, when she decided she deserved "more out of this life" for herself.
"I'm proud that I've faced what I thought were my worst fears about myself," she concluded. "I am proud of how I show up every day. I'm proud of how I treat people. I'm proud of having this conversation with you."
Hale, who is currently single, said that while she is open to new relationships, being sober is her "#1 priority." She added, "so I'd love to find someone who has an understanding of that element of my life too."
Hale first revealed she was one-year sober earlier this month, in an Instagram post marking the milestone.
"Bear with me, this is an alternative Valentine's Day post," she wrote, sharing a photo of a cake with "1 Year!" written on it in frosting. "This is a post about self-love and about the greatest thing I've ever done. On January 2, 2023 I celebrated one year of sobriety."
"While this journey has mostly been private, I felt compelled tonight to let anyone who is struggling know that you are not alone and you are loved," she added.
The post was flooded with messages from her fans and famous friends, who all praised her for her accomplishment and for being open about her situation.
Waiting for your permission to load the Instagram Media.