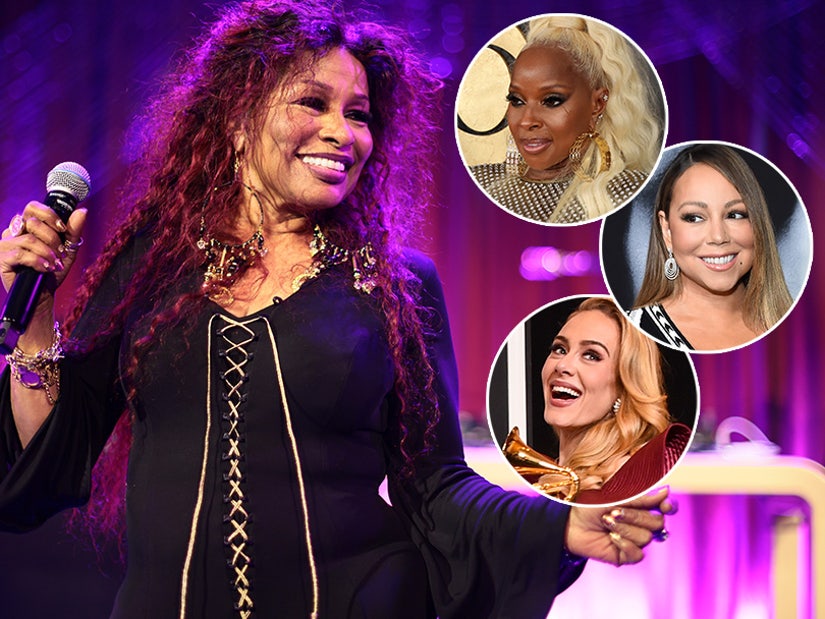 Getty
Chaka Khan ranked 29th on Rolling Stone's best singer list, coming behind Mariah Carey, Adele and Mary J. Blige, leading her to decry, "These must be the children of Helen Keller!"
It was controversial when Rolling Stone first released their best singer list on New Year's Day, and it's become controversial again now that number 29 has discovered its existence -- and who ranked higher than her.
Chaka Khan was a guest on Los Angeles magazine's "The Originals" podcast and had no idea the list even existed until it was brought up during the show, per The Daily Mail. To say she was unimpressed would be a gross understatement.
The legendary singer had a respectable ranking in the Top 30, but she was more bothered by some of the singers the magazine ranked higher than her. When told Mariah Carey placed higher than her, in fifth place, Khan said, "That must be some payola or some s--- like that!"
In response to Adele landing higher than her on the list (22nd), Khan simply said, "Okay, I quit." But she finally erupted when 25th place Mary J. Blige was mentioned.
"These b------ are blind as a motherf------ bat! They need hearing aids. They don't have hearing aids? They have no eyes. They have no ears. They must have a -- these b------, you know what? These must be be the children of Helen Keller!"
As noted by The Daily Mail, her vitriol after Blige's name came up may have to do with more than just the list. The two women have some history dating back to a 1992 cover of Khan's "Sweet Thing" by Blige. Khan was not impressed, calling it "the song Mary J. Blige f----- up" in her own concerts for years.
The two did reconcile, at least somewhat, in subsequent years -- at least enough to collaborate on a duet together, "Disrespectful."
Khan did not say anything negative about the list's eighth singer, Beyoncé. "I'm not gonna comment on that," she said, before adding, "she's a great singer, okay? She really has opportunity to be a great singer. She has what it takes. She got the chops, she does, okay?"
Khan, who is famously candid with her thoughts about her fellow artists, denied years ago ever calling Beyoncé a b----, so her careful response might have come with a full awareness of that.
Khan also took no issue at all with the top voice on the list. Rolling Stone put Aretha Franklin at number one, "as she f------ should be," Khan agreed. She also thought it was "great" Whitney Houston scored number two.
Ultimately, though, Khan said she doesn't put too much weight on the list. "These people don't quantify or validate me in any way," she told the podcast.
Other female vocalists ahead of Khan on the list include Billie Holiday (4), Patsy Cline (13), Celia Cruz (18), Nina Simone (21), Dolly Parton (27), and Mahalia Jackson (29). The legendary Queen of Funk wasn't the only critic of the list, either.
Celine Dion fans, in particular, were horrified to find that their favorite didn't even make the magazine's Top 200. Other artists snubbed from the list entirely include Madonna, Cher, Janet Jackson, and Nat King Cole.
All lists are controversial, but these snubs made this one particularly so, and definitely gave people something to argue about on the New Year's Day holiday.