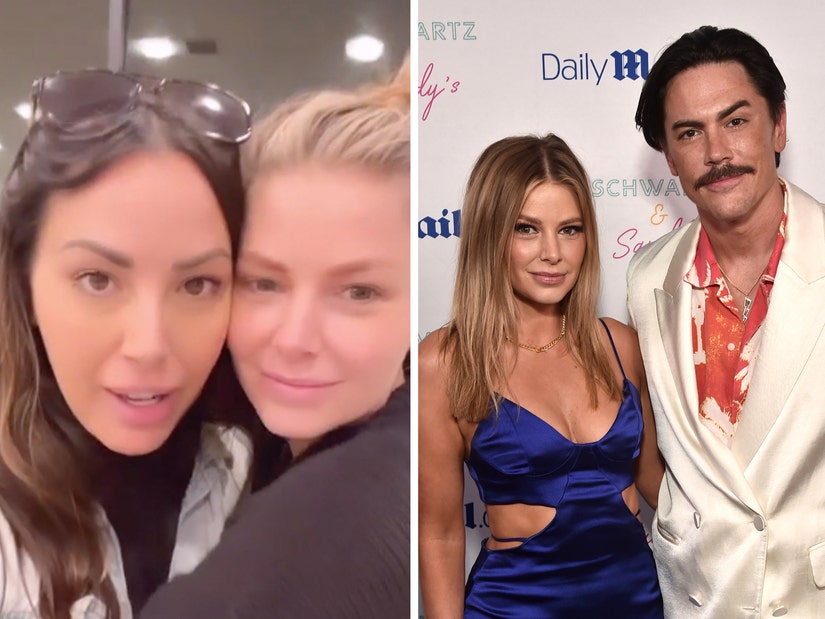 Instagram/Getty
Doute -- who also previously dated Sandoval -- and Scheana Shay stepped out to support Madix hours following the news that she and Sandoval split after he allegedly cheated on her with Leviss.
On Friday afternoon, TMZ reported that Ariana ended her relationship with Tom Sandoval after learning he allegedly cheated on her with co-star Raquel Leviss. Later that night, Kristen posted a video of herself and Ariana together, revealing she was at her pal's side following her nasty breakup.
"I stan Ariana. This is in real time. I love you so much," Doute, 40, said as she hugged Madix, 37, in the clip. She then gave her friend a smooch on the lips.
"I love you," Ariana said, to which Kristen replied, "I love you more than anything in the whole wide world."
"I ❤️ Ariana. PERIOD," Doute captioned the video, adding the hashtags, "#TeamAriana #TeamSandwichShop."
A few hours after the shocking news of Madix and Sandoval's split broke on Friday, Doute took to her Instagram Stories to react. Kristen wrote that she's "#TeamAriana," before further elaborating in a short video.
"I don't know why I feel like I need to make this clear, but there's so many people right now wondering if this is making me happy," explained Doute, who also dated Sandoval, 39. "You guys, Ariana and I have been really good friends for many, many years now, so I'm Team Ariana, all day, every day. That's what's up."
Waiting for your permission to load the Instagram Media.
Meanwhile, in addition to Doute, Madix's "Vanderpump Rules" co-star, Scheana Shay, also showed her support for Ariana, with the two attending a Tove Lo concert together in Los Angeles on Friday night.
Shay, 37, posted videos of herself and Madix at the concert on her Instagram Stories. "We rally," she wrote alongside the first clip.
The second video featured Ariana singing along to Lo's song, "Cool Girl." "I'm a, I'm a, I'm a cool girl, I'm a, I'm a cool girl / Ice cold, I roll my eyes at you, boy," she sang, while also rolling her eyes to the music.
Scheana later posted a photo of Ariana on her Stories, writing, "She's beauty and grace! I love you so much Ariana!"
Click here to see how more "Pump Rules" stars are reacting to Ariana and Tom's split and the latter's alleged infidelity.
Madix and Sandoval were together for nine years, with the former couple first confirming their romance in 2014.
The pair started dating a year after Kristen and Tom split following the former's confession that she had an affair with Jax Taylor. Doute later claimed in her 2020 memoir, "He's Making You Crazy," that Sandoval cheated on her with Madix.
On Friday, "Pump Rules" fans were in for a shock following TMZ's bombshell report that Ariana and Tom split after he allegedly cheated on her with Raquel.
Sources also told TMZ that Madix called things off with Sandoval after she found text messages -- and a video -- on his phone that were said to be "sexual in nature." The insiders added that Ariana told friends she discovered Raquel and Sandoval's alleged affair had been going on for months.
Madix and Sandoval's split comes after a series of romantic entanglements for Leviss, who was already making headlines for some of her post-James Kennedy hookups. Check out the story, below, to see a full breakdown of all the Raquel drama ... so far.