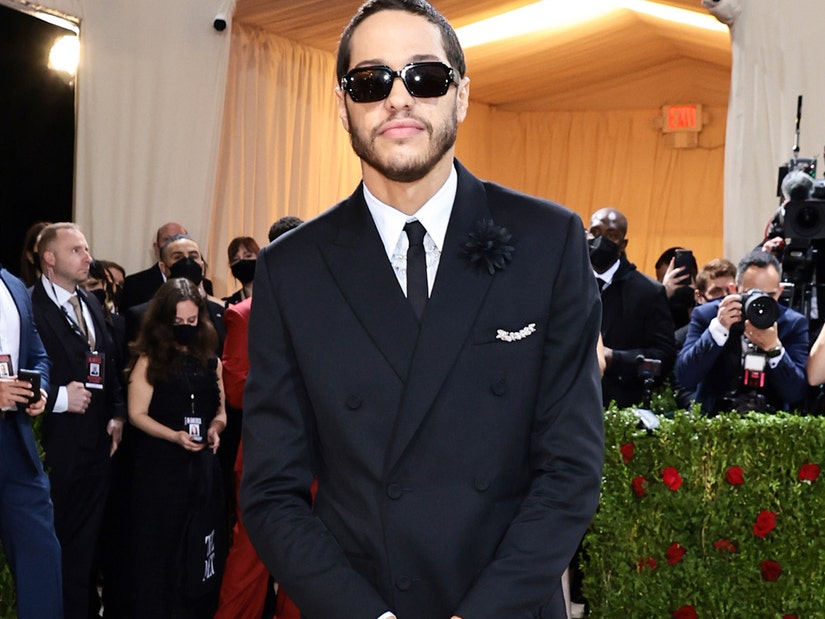 Getty
"You'll show up to set and you're playing yourself and [you're] like, 'Hey I'm a big idiot with a d--k that smokes weed,'" Davidson shared
Pete Davidson isn't a fan of the public scrutiny surrounding his love life.
During an appearance on the "Real Ones with Jon Bernthal" podcast, the 29-year-old comedian opened up about how the interest around his romantic relationships has made him insecure in more ways than one.
"I'm in my 20's and I've dated people. And for some reason, that's very crazy and interesting to people. I don't think it's interesting," Davidson explained. "I've been in showbusiness for, like, half my life almost — for 14 or 15 years and on a national TV show. In 12 years I've dated 10 people. I don't think that's that crazy, but to some people, that's very interesting. That became all anyone would talk about."
The "Bodies Bodies Bodies" star shared that he doesn't use any social media platforms, and thus refrains from "flexing" his history of dating high profile celebrities. Davidson claimed he's met all of his partners through work, and "I wasn't in anyone's DMs, no one was in mine. I worked at one of the five Hollywood epicenters of where you meet people and that's how it happened."
The "King of Staten Island" actor shared that the hubbub surrounding his love life has overshadowed the work he's put into his craft. Rather than for his acting or comedic chops, Davidson said many believe he's become famous for the beautiful women he dates -- which has led to insecurities about his career.
"Suddenly you're in this zeitgeist and that has nothing to do with the work. And that's a really shitty feeling," he confessed. "I became more known before the work was there, but I was always working."
Davidson also revealed he's trying to move away from his comedic persona in order to be taken more seriously as an actor.
"That's why I'm trying to… just act, be an actor in something and not just be what people think is me," he explained. Pete recalled working on projects where he was essentially playing himself, when he realized that he no longer wanted to be perceived as a "big idiot" who "smokes weed."
"You'll show up to set and you're playing yourself and [you're] like, 'Hey I'm a big idiot with a d--k that smokes weed' and you're like, 'Jesus Christ, this is what Oscar winners think of me?'"
"That's humiliating, oh my God," Davidson continued. "You do it because you want them to like you and you want to work with people and that was my thing for a bit but it doesn't have to be my thing forever."
When Pete began making headlines for his high profile relationships, the jokes became more and more frequent during his time on "Saturday Night Live." Though he's ultimately "cool" with his "late-night friends" poking fun at his romantic life, the "Suicide Squad" star admitted he often felt like a "loser" when he was constantly made the butt of the joke.
"When it's your own show, and I'll be sitting in the back watching the cold open and [it's] topical political humor or whatever in the culture, and they're making fun of you and you gotta walk out and do a sketch next and hit your mark — the show just made fun of you, so why are they going to laugh at you? They just dogged you."
Though he "loves" his former co-stars and claims he owes his "life" to "SNL" creator Lorne Michaels, Davidson admitted it was "f—king confusing because it's the nature of entertainment."
"It was a really difficult thing to do. You feel insecure. You feel like a small person," he added.
Back in 2018, Davidson first made headlines for this romantic endeavors when he got engaged to Ariana Grande after just a few weeks of dating. The former couple eventually called it quits in October of that year, and Grande went on to write, "Thank U, Next" a hit song that referenced Davidson by name.
Pete's famous ex-girlfriends have included Margaret Qualley, Kaia Gerber and Phoebe Dynevor. The comedian also famously dated Kim Kardashian after the reality star's hosting stint on "SNL" for nine months before parting ways.
The "Meet Cute" actor has also dated Emily Ratajkwoski and has most recently been linked to his "Bodies Bodies Bodies" co-star, Chase Sui Wonders.