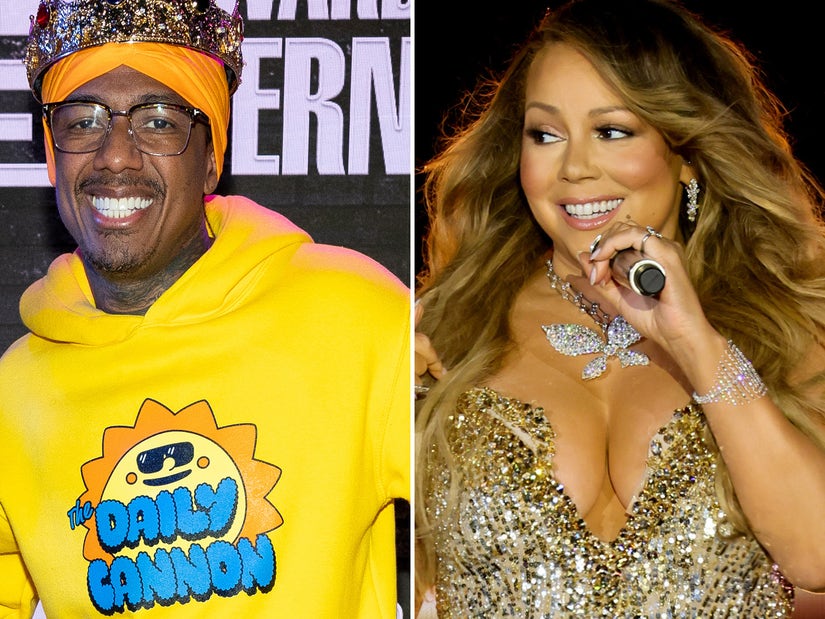 Getty
Nick Cannon opens up about how ex-wife Mariah Carey, and mother of his 12-year-old twins Monroe and Moroccan, feels about the fact he's since gone on to have 11 more children with five additional women.
After welcoming twins with then-wife Carey in 2011, Cannon has gone on to famously welcome nearly a dozen more children with five more women. Now, he's revealing how she feels about his massive brood. No surprise, the elusive chanteuse is keeping it real with her ex!
"She high frequency, man. She always asks me, 'You aight? You good? How you doing? You handling it all?'" Cannon said, per Page Six. He shared that the exes talk daily, but "she's just checking on my spirit."
After their split, Cannon added 11 more children with five different women, with many of them coming in just the last couple of years. While he and Carey appear to have stayed close, she has apparently established clear boundaries when it comes to the rest of Cannon's life.
"She's like, as long as you don't bring none of that bulls--- to the Manor of Carey," Cannon said on the podcast. "Like, she lives in her own world, nothing can infiltrate that stuff."
In addition to his twins with Carey, the "Wild 'N Out" host is also dad to sons Golden and Rise Messiah, as well as daughter Powerful Queen with Brittany Bell, son Legendary with Bre Tiesi, daughter Onyx with LaNisha Cole and three children -- daughter Beautiful and twin boys Zion and Zillion -- with Abby De La Rosa.
Cannon most recently welcomed his 12th child, daughter Halo Marie, with Alyssa Scott in December. He and the model were also parents to son Zen, who passed away at five months from a brain tumor in 2021.
As for rumors that Carey wants full custody of their children in light of his unorthodox family structure, Cannon was quick to shoot that down.
"It's, like, people create low-frequency messages to try and say that there's something wrong," he said. "So, she encourages and me. She's like, 'Yo, let's make sure we on the same page every day so when some bulls--- comes up, we know that it ain't true.'"
One of those "ain't true" things Cannon recently spoke out against was the idea that he's a "deadbeat dad" because he has so many children with so many different women.
Speaking with the Los Angeles Times over the weekend, Cannon said he has been "villainized" for having so many kids. "I hear all the time: 'You can't be present for all those children.' So therefore I get this deadbeat dad title," he told the publication.
Breaking down how he navigates being a dad to so many kids, he explained he has a calendar for each of them which includes their school and extracurricular activity schedules ... and spends the most time with his children by acting as their driver.
The fill-in host for "Beat Shazam" told the outlet he'll usually spend the night at the home of whichever kid he drops off last ... and has clothes at all their homes in case he stops by.
"A lot of times it's whichever of them has called me that day, to be honest," he added of where he decides to sleep, "I am such a creature of habit. I like who like me." Cannon also said that the women are "so busy, nobody's looking to have sex with me" anymore -- adding, "everybody's focus is on the children."
As for supporting his children, Cannon told the outlet he pays $3 million in child support each year and makes around $100 million annually.
"That's not a lot of money. When you think about my lifestyle, I have to generate at least $100 million a year," he said. "Everybody thinks Ryan Seacrest has tons of money. I do everything that he does times ten. Well, not times ten -- times three, because he does a lot."