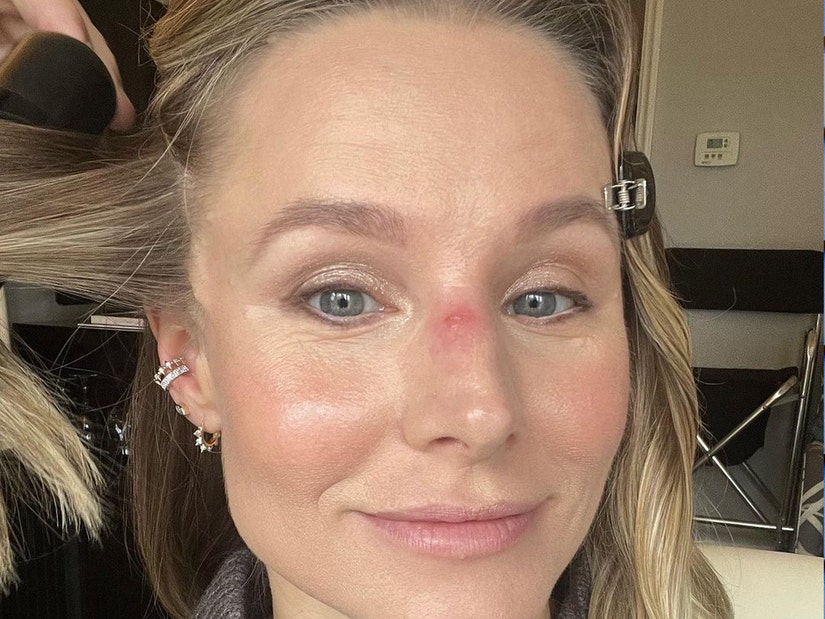 Instagram
"She is 8, the fruit of my loins, and has big, sharp, buck teeth," the Good Place star added
Kristen Bell is rolling with the punches ... and the nose bites!
The 42-year-old "Frozen" actress took to Instagram on Tuesday to share a series of close-up photos and videos of her recent nose injury after she got "some teeth to the nose" while apparently practicing jiu-jitsu with her youngest daughter Delta.
In the video, Bell was seen getting ready for an event as she showed off a big red welt on the bridge of her nose.
Waiting for your permission to load the Instagram Media.
"Minor jujitsu injury…took some teeth to the nose. Will recover," the mom of two captioned the post. "You should see the other guy!!!! (she is 8, the fruit of my loins, and has big, sharp, buck teeth.)"
Though she didn't share the specifics of her wound, the "Good Place" star's fans flocked to the comments to share the stories of their own battle scars while navigating parenthood.
"Few months ago, my 8-year-old sat up abruptly to kiss me goodnight in the dark and broke my nose. It still clicks," one follower recalled.
Another fan commented, "Yaaaasss every scar has its story! Our bodies are books :) My boy was so proud to unlock the front door of our apt, and when he pulled the key out, his hand went back so hard and hit me in the eye. Blackeye."
"Kid took out Veronica Mars! Impressive!!!" a fan quipped, referencing Bell's famous TV role.
In addition to Delta, the actress also shares 10-year-old daughter Lincoln with her husband Dax Shepard.
Shepard has previously spoken about his daughters studying Brazilian Jiu-Jitsu for self-defense.