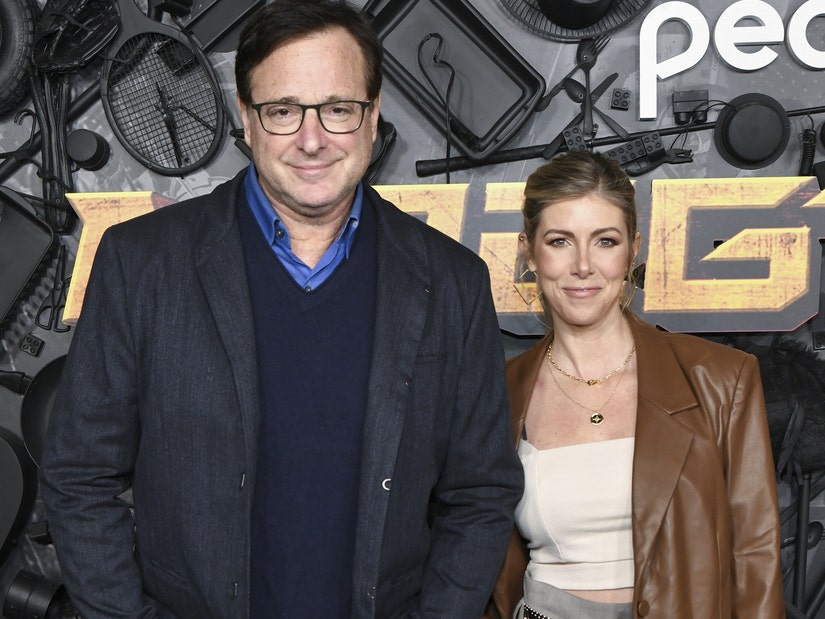 Getty
"I'll never stop feeling like the luckiest person on Earth to have had the privilege of spending 6 years with this amazing man," Rizzo wrote, while Saget's friends John Stamos, John Mayer and Candace Cameron Bure also honored the late "Full House" star.
On Wednesday, the 43-year-old blogger took to Instagram to honor the late "Full House" star, while also expressing her gratitude for the six years she was able to spend with Saget, who died in January 2022 at the age of 65.
Rizzo posted a series of photos of Saget and the two of them together, with the late actor smoking a cigar in the majority of the shots, which Rizzo called his "favorite thing."
"Happy birthday 🎂🩶 This truly never gets less weird or surreal," she began in the post's caption. "But the gratitude grows every single day. I'll never stop feeling like the luckiest person on Earth to have had the privilege of spending 6 years with this amazing man."
"Life is short and we never know how long we are going to be here," she continued. "And I still take comfort in the fact that Bob used every minute on this planet to enjoy life to the fullest and make the world a better place."
Rizzo went on to share how she'll celebrate Saget, and how others should as well.
"To celebrate Bob on his birthday, do as he would do…tell all the people you love that you love them, preferably in a very long & verbose voice text dictated by Siri," she wrote. "I'll celebrate him today by having a very-cold, extra dry dirty martini with blue-cheese olives (IYKYK). And I hope he's celebrating up there with a massive cigar (his favorite thing), a martini, and a few dozen oysters while sitting on a beach. He would love that."
"Thank you all for still loving Bob so much. 🎂🎂🎂🎂❤️❤️❤️❤️," she concluded.
Waiting for your permission to load the Instagram Media.
Meanwhile, several of Saget's celebrity friends and "Full House" co-stars also paid tribute to him on his birthday.
John Mayer shared a black-and-white photo of himself and Saget on Instagram. "I guess what I'm saying is… thank God for our ability to remember those who have left us. It's one of the rare divine traits of being human; we can reflect and revisit and keep the flame of someone's impact on our lives burning bright," he captione the post. "Thank God we don't ever have to let go. Thank God for our memories. Happy Birthday Bob, I love you. ♥️."
In his post, Stamos shared a funny clip of himself and Saget performing as John Wilkes Booth and Abraham Lincoln on the series, "Historical Roasts."
"Happy birthday @bobsaget It still doesn't seem real," he captioned the post. "I was thinking about you all day and thinking about all the wonderful birthdays that we celebrated together. Usually me throwing you a gigantic expensive party and you taking me to The Smokehouse in the Valley. I'll be John Wilkes Booth to your Abe Lincoln anytime. I miss you so much."
Waiting for your permission to load the Instagram Media.
Cameron Bure shared a video on her Instagram Stories, noting that it's a "special day because it would have been Bob's 67th birthday today."
"I didn't post anything for it 'cause I know I'm gonna go down a rabbit hole of photos," she continued. "I just had too much on my plate to get to that emotional state, but I've been thinking about him all day today. I mean, I think about him all the time. I thought about him so much yesterday."
She added, "I still have on my computer -- because his birthday is in my calendar -- so, like, even yesterday it popped up, like, 'Bob's birthday tomorrow!' So it's still really weird that Bob's not here, and I wasn't in town to be with all of my family, my Bob family, my 'Full House' family. But, anyway, thinking of him."
Saget passed away on January 9, 2022 following a standup performance in Jacksonville. He was pronounced dead at the scene.
Waiting for your permission to load the Instagram Media.
His family released a statement at the time, saying, "Now that we have the final conclusions from the authorities' investigation, we felt it only proper that the fans hear those conclusions directly from us. The authorities have determined that Bob passed away from head trauma. They have concluded that he accidentally hit the back of his head on something, thought nothing of it and went to sleep. No drugs or alcohol were involved."
The statement continued, "As we continue to mourn together, we ask everyone to remember the love and laughter that Bob brought to this world, and the lessons he taught us all: to be kind to everyone, to let the people you love know you love them, and to face difficult times with hugs and laughter."
Rizzo and Saget met in 2015 and wed in 2018. Saget is also survived by daughters Aubrey, 35, Lara, 33, and Jennifer, 30, whom he shared with ex-wife Sherri Kramer.