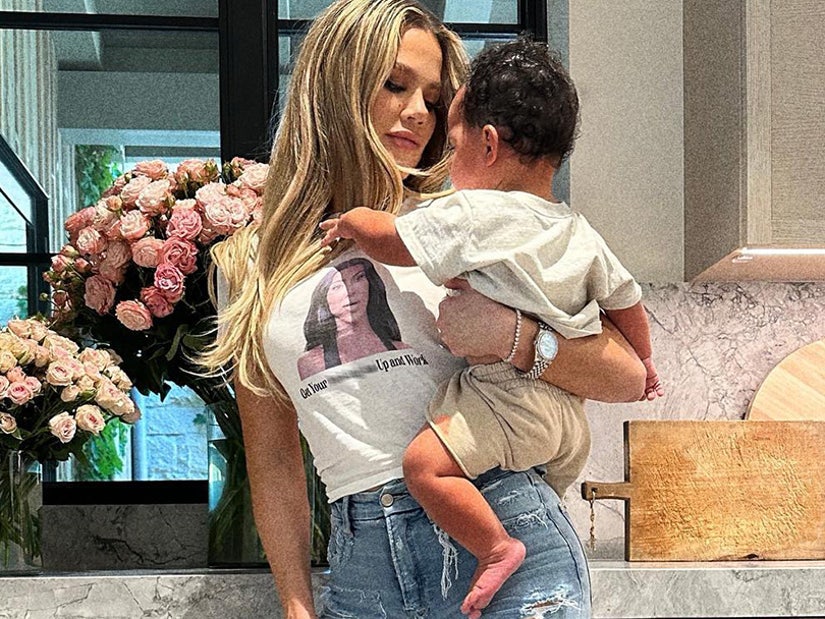 Instagram
"Naming a human is really hard," says Khloe Kardashian in the series premiere of Hulu's "The Kardashians" as she finally reveals the name of her second child with Tristan Thompson, born all the way back in July 2022.
Of course it was all about giving fans a reason to tune in for the new season of their Hulu show -- the Kardashians know how to market. While Kim got real about her relationships with Pete Davidson and Kanye West in the episode, it was Khloé who dropped the real bombshell.
The 38-year-old reality star welcomed her son via surrogate on July 28, 2022. During the premiere, she was at an event for Kendall Jenner's 818 Tequila when James Corden asked her about her life these days.
She then just casually dropped her baby's name in a confessional (after being prodded by a producer) -- we've only been asking for almost a year, Ms. Khloé! -- before adding, "Naming a human is really hard."
Last month, she teased that the name began with a "T," perhaps setting up the same tradition that Kris Jenner did in having all of her children's names begin with the letter "K," even if it led to some unorthodox spellings like Kourtney and Khloé.
Joining big sister True in the family is Tatum. She didn't clarify when she'd come up with the name, though. During an appearance on "The Jennifer Hudson Show" last month, Khloé teased that she didn't come up with a name right away after he was born.
"I wanted to meet him and feel him out a little bit, and so at first, he didn't have a name," she told the host. It was there she admitted they were holding out for the season premiere to reveal the name -- laughing that she didn't realize quite how far out that premiere would be, meaning she had to hold the secret longer than expected (and hope True didn't out her).
In the premiere, Khloé also sheepishly revealed that she doesn't feel the same way with Tatum as she did with True, thinking that her lack of similar connection is because Tatum was delivered via surrogate. "It's a mindf---," she said. "It's really the weirdest thing."
Tatum's origin story is more complex, too, as Khloé had previously said that Tristan encouraged her to go do an embryo transfor just days before it was revealed he'd fathered another child with another woman. He and Khloé were engaged at the time, and he tried to deny the child at first until a DNA test confirmed his parentage.
Khloé conceded that this complexity might be playing into her connection to her son, as well. "I definitely buried my head in the sand during that pregnancy, that I didn't digest what was happening," she told Scott Disick in the episode. "I think when I went to the hospital, I think that was the first time that it really registered."
"I think it has nothing to do with the baby," she concluded, saying she was "in a state of shock" at the time over everything that was happening, and even the process of first meeting her son.
"I felt really guilty that this woman just had my baby and then I take the baby and I go to another room and you're just sort of separated," she shared. "I felt it's such a transactional experience because it's not about him."
She said that she wished people were more honest about the differences with surrogate babies, adding that "it doesn't mean it's bad. It's still great, it's just very different."