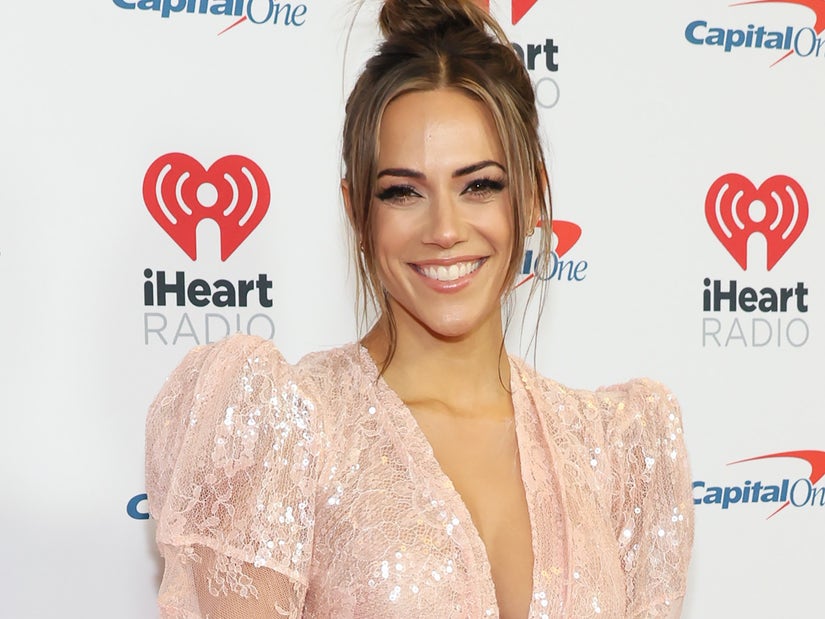 Getty
"One Tree Hill" alum Jana Kramer opens up about the scary moment she thought she was going to miscarry the baby she's currently carrying, calling it "the worst nightmare when you've carried before."
Jana Kramer is joyously pregnant with her third child, and first with fiancé Allan Russell, but it was a challenging and at times scary road to getting here.
In fact, the "One Tree Hill" alum admitted on the latest episode of her "Whine Down" podcast that she was hesitant to even agree trying for a third child, feeling worn down and discouraged after suffering multiple miscarriages.
The 39 year old already has son Jace, 4, and daughter Jolie, 7, with ex-husband Mike Caussin, while her fiancé has a 16-year-old son from a previous relationship, as well as a stepdaughter.
Kramer shared that he was completely supportive after she told him, "I might not be your girl because I don't know if I can physically carry a baby again." He told, "I've got my son and my stepdaughter, but it would be so beautiful to have something together."
The actress and country singer said that she told him it's not a matter of want, but rather she doesn't want him to regret choosing her if a child is something he really wants, "because I, as a woman who has had a bunch of miscarriages, I feel broken."
"I mean, I know I'm a woman, but when you miscarry that many times, you're like, 'Am I? Because I can't even carry a baby,'" she said. "I don't want to relive that again, feeling that way. That was awful."
Nevertheless, and coming as an admitted "shock," Kramer and Russell did find out they were pregnant. But even that came with a scary moment that left Kramer doubting if she would be able to carry to term.
She recalled a terrifying moment early on where she "bled so bad -- like gushing blood." She found herself thinking, "Here we go, i'm miscarrying," while bawling her eyes out. She called it the "worst nightmare when you've carried before."
Luckily, the diagnosis was not a miscarriage, but rather a "big hemorrhage." Her doctor still urged caution, telling her, "It's 50/50 until the baby [gets] bigger than the hemorrhage." In her darkest moments during this, she said Russell was positive enough for both of them, and coordinated with Cuassin to help take care of their other children.
Just this past Thursday, Kramer finally announced her pregnancy to the world. It comes less than a month after she and Russell announced their engagement.
"I didn't think it would ever happen again, if I'm being honest. I've been through a lot, so this has just been a really beautiful thing," Kramer told People. "I'm letting it all sink in. It's everything I've wanted and more. Allan was so sweet. He wrote me this little sticky note saying, 'You deserve the happy ending.'"
Waiting for your permission to load the Instagram Media.