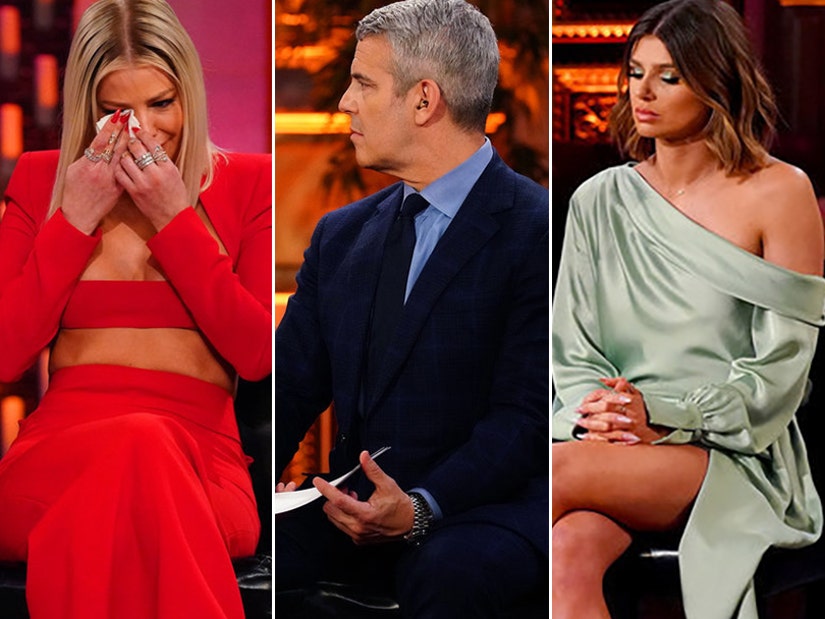 Bravo
After a three-part "Vanderpump Rules" reunion that saw Ariana Madix, Tom Sandoval and Raquel Leviss all sit down for one-on-one chats with Andy Cohen, as well as the entire cast coming together post-"Scandoval," Andy details one big moment that didn't make the final cut.
There was so much to digest in the epic three-part "Vanderpump Rules" reunion, that many Bravo fans are still trying to decide if they're mad at Raquel Leviss for cheating on her best friend Ariana Madix with her long-time boyfriend Tom Sandoval, or maybe feeling a bit sorry for her.
She's been on host Andy Cohen's mind, too, but in regards to one insensitive comment he made, and one pivotal moment from taping that didn't make the final cut. For all that it was three hours of intense confrontation, there was so much more that didn't make the final cut.
That's the norm for these Bravo reunions, as tapings often go eight, nine, ten hours or more! Still, Andy said on Tuesday's episode of his Sirius XM show, "Andy Cohen Live," that there was one moment fans were clearly waiting for that "didn't make the cut."
The "Watch What Happens Live" host gave the intel in response to fan questions asking if he'd ever asked Raquel about that heartfelt glamping speech Ariana made about their close bond and friendship. It's just one of the moments filled with extra ick and cringe since the cheating scandal broke, but also certainly one of the hardest to watch in hindsight.
"I did," Andy said, adding, "I asked her in my one-on-one, and I asked her when we were all there and I asked Ariana about it." Unfortunately, decisions were made to cut all three of those moments from the show, so neither woman's response about their thoughts on that moment now aired -- nor did Andy share them.
Ariana was gushing about Raquel in the aforementioned scene, saying that "she's someone that's kind and sweet and loyal and just a delight since the day I met her." It's moments like this that cement just how deep the betrayal, and subsequent hurt, is in this whole ugly affair. Sounds like we need a director's cut!
Ariana had a whole laundry list of different words to describe her one-time BFF when they came face-to-face on the third part of the reunion, including diabolical, demented, disgusting, and subhuman. For Raquel's part, she "took it all on the chin like a champ," per Andy.
She appeared mostly stoic and emotionless in the hot seat, but Raquel did stay through some pretty relentless attacks from Ariana and the bulk of her "Pump Rules" co-stars. Her demeanor was so unexpected, it led to Andy speculating something he's come to regret.
He admitted on the show that there were no regrets about bringing Raquel out to face the firing squad from her former friends and colleagues. At the same time, he said they prepared with those one-on-one interviews, just in case.
"I did not know how long Raquel would last on set, you know? What she sat through, whatever she did or didn't do, but she sat there and really took it all," he said.
That led to him publicly speculating that perhaps she was medicated in some way for that appearance. "I don't know, and I think it was maybe wrong of me to speculate on that," he acknowledged on his show. "But to me, she sat there…she took it all on the chin like a champ and those people all had stuff to say to her and they were relentless and she just sat there and took it."
He went on to add, "I didn't know that she would be able to, which is probably why I hypothesized because, to me, given my years of experience in these forums, I would've thought that she would've walked off way sooner and maybe walked into her car never to having been seen again."
Andy was speaking with Variety following the reunion when he let drop the possibility that her "unemotional" expressions throughout the traumatic ordeal could be because she was "medicated."
"I was worried for Raquel's mental health going into the reunion. I mean, I still am," Andy told the outlet of Raquel, who checked into a mental health facility in mid-April. "But actually, when I saw how unemotional she was, it made me think she was either really medicated or really out of touch with maybe her role in everything."
The "Vanderpump Rules" scandal began in March after news broke that Sandoval and Ariana had split after nine years together following the latter's discovery of the former's month-long affair with Raquel.
Production of Season 10 had wrapped last fall, but filming started up again just two days after Ariana found a compromising video of her longtime partner and good friend on his phone in early March. "Vanderpump Rules" chronicled the drama in a bonus finale, titled "#Scandoval." The three-part reunion was shot a few weeks later.
This Wednesday, Bravo dips into the "Scandoval" well one last time -- for now -- with a "Secrets Revealed" special that includes some footage that didn't make the cut throughout the season. As for the future of the hit series, Season 11 is expected to begin filming later this month -- how that will play out -- and who might be involved -- remains to be seen.