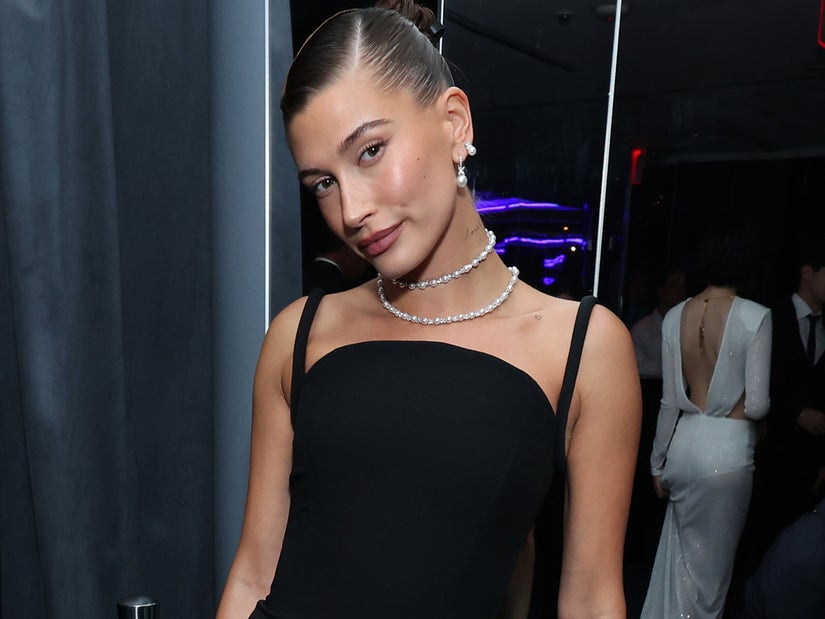 Getty
Hailey Bieber also weighs in on why she thinks rumors about a non-existent feud between her and Selena Gomez don't seem as if they'll ever stop -- no matter how much both women protest and deny there is any beef.
Hailey Bieber is setting the record straight about one of her most notable style choices, and lamenting that the truth isn't even powerful enough to stop some ugly rumors that seem to take on a life of their own -- like her so-called, made-up feud with Selena Gomez.
Just weeks after "nepo baby" joined the cultural conversation following New York Magazine's cover story in December 2022, Hailey leaned into it by proudly walking the streets in a t-shirt emblazoned with the (very tiny) words "Nepo Baby."
In an interview with Bloomberg, Hailey explained it as her "little comment on the whole discourse" of the time. She also emphasized that she wasn't trying to "poke fun at it or be like, 'Yeah, I'm a nepo baby' and ha-ha type of thing."
That said, she absolutely acknowledges that the term is appropriate. "t was more so to be like this is what everyone is saying, and I want you to know this is my way of responding to it and my way of acknowledging it," she said, "in a way that is so overly literal that it's like, "I'm just going to call myself a nepo baby because I am one and I embrace that I am."
She was amused that she actually got a "mixed" reaction when she wore the t-shirt. "you're going to sit there and call me a nepo baby all day long but then I acknowledge it and then I'm not enough of a nepo baby?" said the daughter of Stephen Baldwin, one of the famed Baldwin brothers. "So, , it's like, there is never any winning with the internet."
That's certainly proven true for both Hailey and Selena Gomez, whose only real association is that they are either now or were at one time in a romantic relationship with Justin Bieber. Hailey is married to him and Selena had a tumultuous relationship with him years ago starting when they were teens.
Ever since Hailey and Justin first got involved, fans have been attacking both women and even started pitting them against one another. Both have gone on the record multiple times denying there's any beef and even trying to get the ugly discourse to stop.
Now, Hailey realizes there may be no stopping it ... because she doesn't even think it's really about her and Selena.
"This is not about this pitting between two women and division between two women," she said on Bloomberg's "The Circuit with Emily Chang." "It's about the vile, disgusting hatred that can come from completely made up and twisted and perpetuated narratives. That can be really dangerous."
She said she's frustrated with the whole idea of forming a team behind this person or that person and then going to war against another person and their team online. "I'm just not about that," she said. "I want to be able to bring people together."
She and Chang agreed that pitting two women against one another -- "Because of a guy? It's awful," Hailey said -- is also a "frustrating, old" cliché that serves to diminish women by reducing them to sparring and fawning over a man.
"It's so disappointing that people still behave this way over a man," she lamented. "It's the world we live in, unfortunately."
And in regards to this perceived feud fans have created between her and Selena, Hailey believes that it "kind of goes back to a little bit of just being misunderstood when it's like time and time again, I don't know why I keep having to say, and we keep having to say, that there is no issue and there is no problem."
Hailey's latest comments come just a couple of weeks after she blasted her followers for going to war in the comments section of one of Selena's posts.
"If you're leaving mean or rude comments on my behalf on anyone's posts just know that I don't want that, nor do I ever or will I ever support or condone hateful, mean, or nasty comments," she posted to her Instagram Stories.
"Doing that is not supporting me," she continued. "If you are participating in that you are a part of a culture that I want no part of. Please be nice or don't say anything."
Of course, this led to an onslaught of nasty comments in Hailey's own posts, but at least both women are trying to stay above the fray.
They tried to quell their fans back in March, as well, even working together to try to convince them to calm down. This was after Hailey shared with Selena that she's started receiving death threats among all the normal negativity and bashing.
"This isn't what I stand for. No one should have to experience hate or bullying," Selena wrote to her own IG Stories at the time. "I've always advocated for kindness and really want this all to stop."
It's a shame that Hailey and Selena are promoting peace and love and they're existing in perfect harmony with one another, while their so-called fans are ignoring reality over and over again to perpetuate something that appears to have never existed. Maybe Hailey's right and it was never about her and Selena at all.