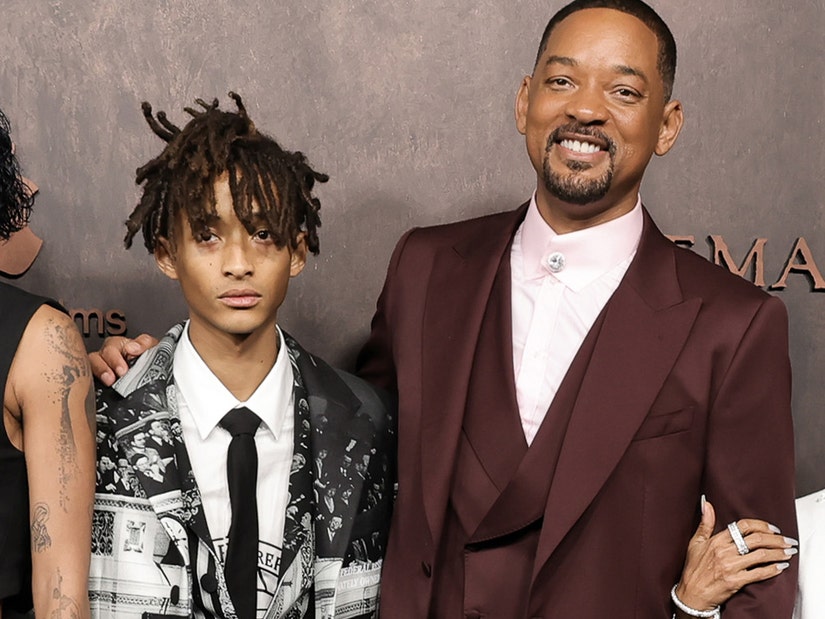 Getty
"What you doin' over there?" Smith teased his son in a social media post on his birthday.
The saying goes, "Like father, like son," but in this case it's not exactly true.
Will Smith wished his son Jaden Smith a happy 25th birthday over the weekend, as only he could. In his post, the Oscar-winning King Richard actor was quick to tease his son for not having any children as he turns a year older.
"Happy Birthday, J-Diggy. It's crazy that you're 25?!?! When I was 25 I had a 2 yr. old ... I'm just sayin'…," Smith wrote alongside a black and white photo of him embracing his son.
Waiting for your permission to load the Instagram Media.
The Fresh Prince of Bel Air actor, 54, and his then-wife Sheree Zampino welcomed their first child together, son Trey, when he was just 24 in 1992.
The pair divorced three years later, before Smith went on to wed actor and singer Jada Pinkett Smith in 1997. They share two kids, Willow, 22, and Jaden.
Pinkett Smith, 51, also took to social media to wish her son a happy birthday, sharing a black and white picture of her kissing him when he was a baby.
"Happy 25th Birthday my sweet, sweet Jaden!💝" the Red Table Talk host wrote on Instagram.
Waiting for your permission to load the Instagram Media.
While none of the three Smith siblings have made their dad a grandfather just yet, they each have forged their way into the industry with careers as actors and musicians.
Best known for his career in rap, Jaden has also worked on multiple on-screen projects with his dad since he was a child. Featured in films such as The Pursuit of Happyness and The Karate Kid, he's established an eclectic resume in film for himself. However, it was revealed in his father's self-titled memoir that after starring alongside his father in box-office dud After Earth, he asked to become an emancipated minor at the age of 15.
"After Earth was an abysmal box office and critical failure, and what was worse was that Jaden took the hit. Fans and the press were absolutely vicious; they said and printed things about Jaden that I refuse to repeat. Jaden had faithfully done everything that I'd instructed him to do, and I had coached him," Will said.
"We never discussed it, but I know he felt betrayed. He felt misled, and he lost his trust in my leadership," wrote Will. "At fifteen years old, when Jaden asked about being an emancipated minor, my heart shattered. He ultimately decided against it, but it sucks to feel like you've hurt your kids."
Since the 2022 release of the memoir, Jaden has opened up about how psychedelics have helped strengthen his emotional bond to his siblings and parents. The young rapper recently revealed at the Psychedelic Science conference in Colorado that his mother introduced to hallucinogenics.
"I think it was my mom, actually, that was really the first one to make that step for the family," Jaden said. "It was just her for a really, really long time and then eventually it just trickled and evolved, and everybody found it in their own ways."
"Siblings can argue so much and fight so much, and lord knows me and my siblings have done so much of that in the past. But the level of love and empathy that I can feel for them inside of the [psychedelic] experiences and outside of the experiences has been something that's profound and beautiful."