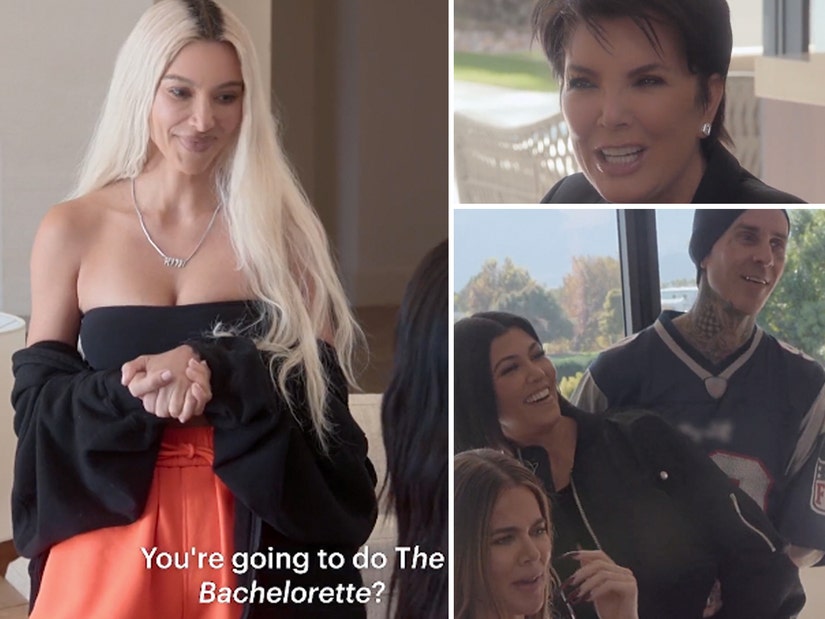 Hulu
"No, not happening, nope," said Kris Jenner, who really does not want her daughter to be on the dating competition show.
A lot of men would accept this rose.
"No one knows. So ... an executive from Disney called me, Rob Mills," she began, referring to the Executive Vice President of Unscripted content for Disney -- which, of course, owns both Hulu and ABC.
"They wanted to call me directly and then I was gonna connect them with you once I decided if I was gonna do it or not," she then said to her mom, before saying, "I'm gonna do the show The Bachelorette."
Everyone was in disbelief, but but no one more than Kris.
"No, not happening. Nope," she said in a confessional. "I'm not momager, manager, mother, name a title, I'll put any hat on that you want. But you're not doing this."
Khloe also seemed skeptical, telling her sister, "100% you're not doing this. There's no way in hell she's doing this."
Viewers will have to tune into tonight's episode to see what happens next, but over on the show's Instagram page, a few members of Bachelor Nation have reacted to the possibility of Kim joining the franchise.
"Had to check if this post was dated 4/01" joked Jason Tartick, while Kaitlyn Bristowe added, "Kim k and a bunch of personal trainers, and medical sales reps. I like it."
"SIGN ME BACK UP BABY LMAO," exclaimed Connor Falcon, who was a contestant on Katie Thurston's season in 2021.
The most recent season of The Bachelorette started last month on ABC ... and, no, Kim isn't the lead. That honor goes to Charity Lawson, who appeared on Zach Shallcross' season of The Bachelor before fronting the franchise.
However, Kim did spoof The Bachelorette when she was on SNL back in 2021. Revisit that sketch below.
New episodes of The Kardashians drop Thursdays on Hulu.