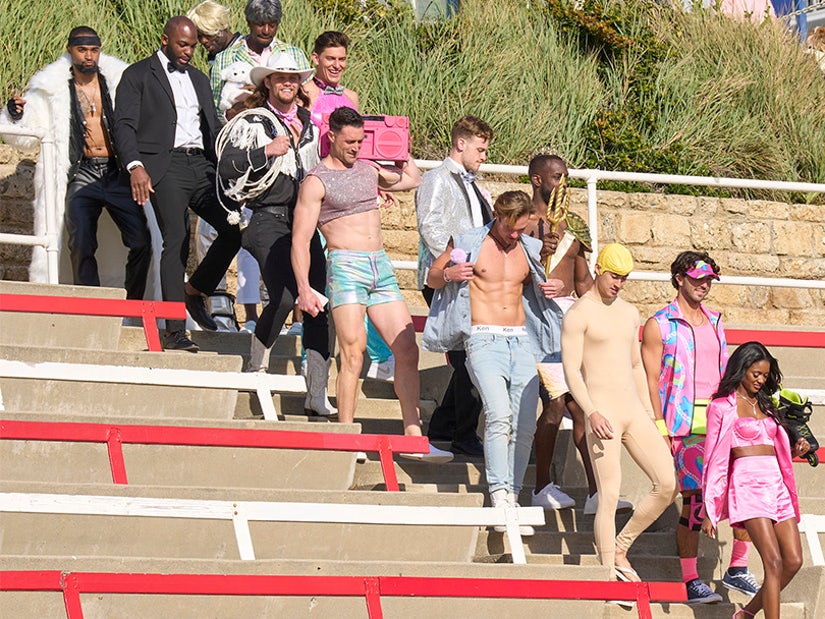 ABC
"Bachelorette" Barbie Charity Lawson has a wild Week 3 as she is serenaded by a dozen Kens, endures the most awkward date and wonders if she should "rip" a Rose off someone's chest after she hears what he's been saying about her.
We find ourselves asking this question every season as someone starts to struggle with the idea that the Bachelorette or Bachelor is dating so many other people. Uh, yeah, ding-doing, read the product description. It's right there on the label! Did you think all those other people in the mansion with you were your personal staff?
Once again, Brayden Bowers takes center stage and it's not because of his earrings -- they just help us keep straight which one he is (it's so hard in these early weeks). Instead, Brayden is again talking about how he's not sure how ready he is for this.
The biggest problem that we see with Brayden is his maturity. It's one thing to be giddy and jumping around like an excited kid (and he definitely is), but it's another to speak without really thinking through what you're saying.
On top of that, you've been called out to Charity already for the dumba-- s--- coming out of your mouth, so you'd think you'd step back and check yourself before spewing even more of it in front of that same dude. That's where some of the maturity comes in.
After picking up the First Impression Rose and surviving a week of doubts based on him talking about his insecurities with Charity dating other guys, Brayden got another huge vote of confidence from Charity as his second One-on-One of the season.
She definitely leaned into his giddy childlike side by taking him on a helicopter ride to his home digs of San Diego, and even landing in Petco Park. Actually, that would be pretty awesome for anyone!
It was here that we learned how differently guys communicate with women than they do with their bros ... okay, most guys, but we'll get to that later. Brayden was clear and sincere and eloquent in telling Charity that he can't commit to how far he can go.
He opened up about having been cheated on in his last relationship and how this experience triggers all that trauma for him. He struggles seeing her leave for dates with other guys and is completely forthright and honest with her that it's hard for him and he doesn't know if he can make it the distance.
But he also tells her that he believes she's worth trying to do it, and he promises to do just that. It's actually a surprisingly effective moment, after his buffoonery of almost every moment before and after that.
It's that when he's later and talking all "bro" this and "bro" that -- the male posturing -- that he's not nearly so eloquent. And so he says things like how he's not sure he could get down on one knee after his girl dated 20 other dudes.
He's kind of (kind of) saying the same thing, he's just saying it in that dumb "cool" way guys feel they have to say things before taking off their shirts and chest bumping and crushing a beer or some other such nonsense.
By the end of his One-on-One, his honest sincerity scored him another pre-Rose Ceremony Rose, which only fueled his confidence and ego. But his later words would put everything in jeopardy.
Timed perfectly -- what an amazing coincidence -- with this weekend's premiere of the "Barbie" film, the guys all dressed up as classic Ken dolls and performed an original song for Charity as this week's 12-person Group Date.
The guys looked somewhere between great and ridiculous and their singing ranged from terrible to terrible, with the exception of Caleb B, who dropped a surprisingly okay singing voice. It wasn't the voice of an angel, as one misguided suitor suggested. Well, compared to everyone else, maybe it was.
Alas, Caleb's "angelic" voice wasn't enough to sway Barbie Charity (Barbity? Charbie?) his way. Instead, she went with the boldest of the Kens, which was Sean. Sure, his singing voice was terrible, but it was his commitment, overall performance and the fact he pulled her up for a kiss at the end that won her over.
Brazen moves like that in group settings certainly don't sit well with anyone else, but they seem to sit pretty well with Charity. In fact, Sean's brazenness continued into the evening portion, which really didn't make him any friends.
For winning the sing-off, Sean got to spend time with Charity one-on-one between the competition and the evening portion of the date. Then, when the evening portion started, he snagged her first in front of everyone for even more time.
Again, Charity didn't seem to mind, but Sean wasn't making any friends among the eleven other guys there. Especially because every single time there is an event, some guys get zero time, so for the guy who just had one-on-one time to take time away from someone else -- we get it, from their point of view.
But an even bigger statement came from Charity herself, who may be starting to show her cards. Rather than just sit down with Dotun, she took him to her room to give him a little more intimacy in their time together. It's not the first time she's gone out of her way to make him feel special, and he's noticing it. So are we, my dude!
It was a very sweet moment, in truth, and we are loving the sweet, gentle vibe the two are sharing. Could Dotun be a finalist this season? Could he perhaps even be the finalist? Who else is getting this kind of personalized attention, outside of Brayden?
We were with Joey when the Group Date card revealed that the week's second One-on-One was going to Warwick. We were like, who? Warwick Davis? Willow? Isn't he married? And way too old? Then, when the camera cut to him we were like, oh ... who?
Has this dude gotten any screen time before this moment? It was pretty clear that this was a One-on-One because there was something about this very, very quiet guy that grabbed Charity's attention, but also something fundamentally missing and a Group Date setting is not enough to dig into it.
She quickly make it clear what the draw was, and it's pretty straightforward. Warwick is gorgeous. Straight up, that's the appeal. He's got a pretty face; he does look like a model. But what else is there?
Honestly, this is one of the most awkwardly uncomfortable dates in Bachelor Nation history. No one was creepy or inappropriate or anything, but we've never seen someone give less than Warwick. We're sure the edit helped sell this almost hilarious narrative, but at the same time, there had to be some truth to his lack of everything.
The evening portion was even more screechingly awkward as Charity tried to pull any kernel of conversation of out of him. He just had nothing to offer. At least he admitted that communication isn't his strong suit.
He said he doesn't know why his two previous relationships didn't work out, but we can think of one reason and it's these long, drawn out silences that he seems oblivious to that leave girls gasping. Oh, and maybe scoop her damned ice cream for her.
In his defense, he did say that amusement parks make him sleepy, so Charity was nice enough to send him home so he could take a nap in the ilmo ... which he totally did. Scripted? We sure hope note (but probably), because we were dying as he kept yawning through his exit interview and finally fell asleep. Us too, not-Willow, us too.
Once again, Aaron B decided to be the champion of the day by ruining everyone's night. It's a magnanimous gesture he does to ensure that she sees him as trustworthy and Brayden as someone who's talking mad trash at the mansion.
Honestly, we're not sure if he's really looking out for her or if he's more looking out for himself, as Brayden sees it. He seems sincere and concerned about what Brayden's saying, which we get, but it's hurting everyone!
After Aaron B dropped the "20" other dudes comment on Charity, she was once again incensed with Brayden and once again pulling him aside to try and get some clarity as to what is going on in the house. Brayden things he's already talked to her about all of this, but that's why we were talking about how you say these things. He expressed his feelings to Charity one way (respectfully) and to the guys another way (cool-ly?).
Charity was ready to rip the Rose he'd already earned off his chest after Aaron B told her that Brayden not only wasn't ready to propose at the end of this but didn't know if he could get engaged to someone who'd just dated 20 guys.
Again, this is kind of what Brayden told her, just worded far more crassly. And so, he again shifted his communication tactics to try and explain himself better to Charity. But still, she was conflicted and again canceled the rest of the Cocktail Party, just as she'd done last week's barbecue.
Do you think the leads really cancel all these events without talking to so many suitors, or is this production's idea to take advantage of a tense emotional moment to ratchet up the overall drama? We could go either way as it does seem these Bachelorette and Bachelors are emotional messes throughout this journey.
Ultimately, Charity didn't make her decision about Brayden until the final seconds of the episode when Jesse Palmer walked in and confirmed that those who got roses were staying, including Brayden. That meant a goodbye to Adrian, Aaron S and James.
For the most part, we're not crushed by these choices. James had lamented all night that if he didn't get time, he'd probably be going home, so that foreshadowing was pretty obvious. Adrian was someone we liked, but he seemed uncomfortable all night, so we get it.
As for Aaron S, he was coming across like a Grade-A tool with every talking head comment he made, so we found ourselves really hoping he'd go home because we just didn't think we could take any more of his commentary (seriously, see "Mansion Chatter" below to see what we're talking about.
And as for next week, it looks like "The Brayden Show" continues for a third straight week of drama, drama, drama! This franchise loves to milk this kind of drama early season and the cut the chaff midway through, so we're just about there. If Brayden can't stop being the epicenter, we don't see him lasting much longer.
On top of that, his posturing and immature outbursts aren't limited to being giddy and smitten with Charity. He also "bros" out and appears to make threats about the other guys. He's got no real handle on his emotions, which is volatile and unpredictable. It looks like it might reach a peak next week.
"That's so cruel. I love it. I'm turning into an evil person." --Brayden (as he and Charity fly over mansion and guys during 1-on-1)
"Can you imagine if we landed in the middle of Petco Park. That would be so gnarly. Oh wait!" --Brayden (as they land in the middle of Petco Park)
"I go through those doubts when I'm away [from you] and I'm like, can I keep doing this? And the fear comes into play, like, is this attitude I have going to end up hurting her. I don't want to do that." --Brayden (to Charity during 1-on-1)
"I personally am a fighter and I will fight to the end for something that I care about and want. If I feel like I'm having this connection with a person and they're not meeting me there, that's, like, scary." --Charity
"Coming into this situation, it's hard because I'm walking back into that trauma." --Brayden (to Charity about having been cheated on)
"You're putting so much pressure on yourself. Do you realize that?" --Charity
"When I see you walk out that door with other guys, it hurts. I sit there and I get in my head and I kind of spiral." --Brayden
"My name is Cowboy Ken. There's not much room to crack it right now, but I will be cracking this whip soon." --Caleb B (as chryon notes he "doesn't know what a lasso is")
"I am Birthday Suit Ken. I had male genitalia an hour ago, but I currently do not." --John
"That's the confidence I'm looking for … made me a little flustered … I forgot for a second we were on a group date." --Charity (when Sean kissed her)
"You want a pretty boy, go chase after Sean. But look at me, I'm a f---ing man." --Aaron S
"Sean, are you an only child? Like the whole way you walked in here. Have a slice of humble pie, bro. Act like you've been there before." --Aaron S (not liking how Sean walked in after his time with Charity)
"I'm the one that read that date card and I was trying to figure out, who the hell is not on this list?" --Joey (forgetting about Warwick, who's very quiet)
"I think it's going well with Charity. I think we are connecting. But amusement parks make me tired." --Warwick (not engaging with Charity at all)
"For me, I pride myself on being a really good communicator." --Charity (trying to pull something out of Warwick)
"Yeah, so, like a weakness of mine is communicating." --Warwick (understatement)
"I can't afford to hand out roses just because you're cute." --Charity (about Warwick)
"I had a weird dream last night, bro, that I was at the Rose Ceremony and then all of a sudden, I have my rose on … I come up and she takes my rose off me and she gives it to someone else." --Brayden (to guys)
"The thing that's hard for me that I'm not sure I can do is, like, getting engaged after just dating with 20 other dudes." --Brayden (not sure if he can get engaged at the end of this experience)
"At this point, with the connection I have with Charity, I'm looking out for her. I'm gonna tell her the whole truth about Brayden." --Aaron B
"Feel like we need music, you know what I'm saying?" --Brayden (dancing after spending time with Charity)
"I think hearing it from someone as trustworthy as Aaron B is making me a little sick." --Charity (after Aaron B tells her about Brayden)
"You're breathing hard. What's going on?" --Brayden (to Aaron B)
"I had to be candid, you know, about your intentions with Charity." --Aaron B
"I was being transparent. I was just putting stuff out there. I did not expect that be used as fuel to burn me alive. But the thing that blows my mind is it's not anything I haven't told Charity yet." --Brayden
"I feel like I need to be Will Smith right now and, like, 'Keep my name out your motherf---ing mouth. Luke, dude, I'm f---ing annoyed!" --Brayden
"I will do what has not been done .. He has a rose on his chest, I will rip that s--- off!" --Charity (about Brayden)
"F--- off! That's what I got to say about that. Thank you for coming to my TED talk." --Brayden (about Aaron B)
"The Bachelorette" continues next Monday at 9 p.m. ET on ABC.