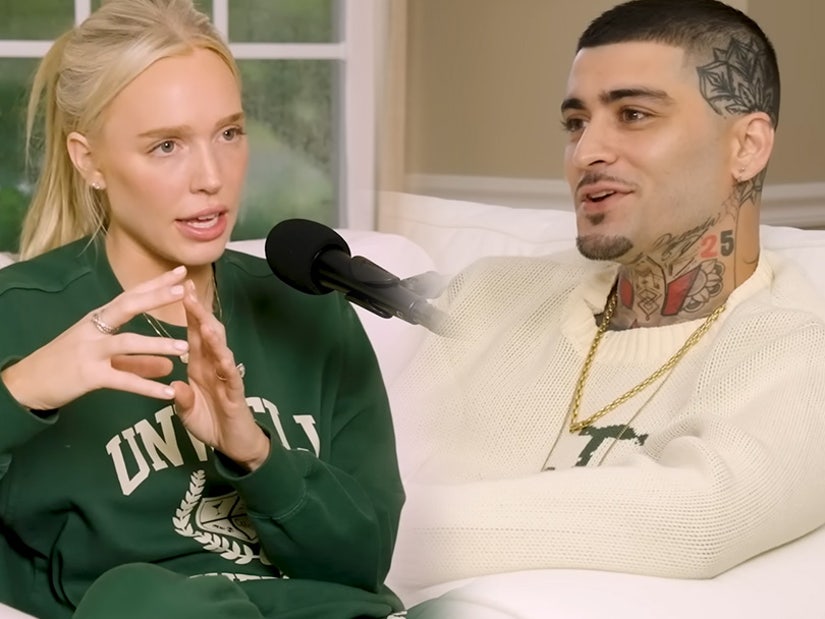 Spotify
In his first interview in six years, former One Direction member Zayn Malik opens up with Alex Cooper on "Call Her Daddy" about co-parenting with Gigi Hadid, how daughter Khai has changed him, and the 2021 harassment charges to which he pled no contest.
Zayn Malik has been laying low in the suburbs of Pennsylvania for quite awhile now, unconsciously maintaining his "mysterious" aura "Call Her Daddy" host Alex Cooper kept saying he carries with him.
The former One Direction band member sat down with Cooper at her parents' house -- also in PA -- for a very chill conversation that covered a wide array of topics from his upbringing to his explosion into the spotlight with 1D to leaving the group and trying to find his way as a solo artist and individual in the years since.
They also touched on his daughter Khai. Malik shares the two-and-a-half year old with Gigi Hadid and said that he currently has a fifty-fifty custody split with her after their October 2021 breakup.
As it turned out, that breakup was far from amicable at the time, though Malik says "co-parenting is good" these days. "We have a really good relationship for Khai," he told Cooper. "She's the main importance."
Things were allegedly way more volatile at the time of their breakup, with TMZ reporting that Malik pled no contest to four different charges of harassment. There were allegations that he went in on Gigi's mother Yolanda, even shoving her into a dresser at one point (he denied any physical contact at the time).
He was fined with conditions, including 360 days probation and classes for anger management and domestic violence. Cooper, who has positioned herself as an advocate for women with her podcast, delved into the incident toward the end of the podcast, albeit gingerly.
Previously, Malik had said that he really doesn't bother himself with what the public or the media thinks of him, instead preferring to keep his focus on those who are directly part of his life. He echoed those sentiments in his response.
"I don't tend to get involved when people say things online, whether it's got something to do with me, or whether it doesn't, because for me, time is my most valuable thing that I have in life and that takes so much time in a toxic environment to explain yourself to people and justify this," he explained, "so I just kind of keep to myself."
"I knew what the situation was, I knew what happened and the people involved knew what happened, too," he explained. "And that's all I really cared about."
As for why he basically did not weigh in on the public discourse at all, even as his name and character were being dragged, Malik said that one major factor in his mind was his daughter. "I just wasn't trying to get into a negative back and forth with her, any sort of narrative online where my daughter was going to look back and read that and be able to read into it," he explained. "It would just be something that there was no point."
Cooper didn't push him for details, but did note that the fact he has a full fifty-fifty custody arrangement with Hadid for their daughter, and his time with Khai is not supervised, says a lot about where things stand with Malik and between the former couple.
"I believe I dealt with it in the best way, in an amicable, respectful way and that's all that needs to be said," he said. "I feel like there's a lot of negativity."
Focusing on positive connections with Khai is what Malik is all about these days, sharing that while he's been busy writing and recording new music, he doesn't work at all during the fifty percent of the time he has his daughter.
"That time I have with her is so important because I feel like she's growing up so fast," he said. "So when I'm with her, I don't work at all. I just spend a full day with her doing the things that she wants to do, like painting, Play-Doh, this, that, go to the park, go to the theme park, go to the zoo, we just have fun."
"I feel like I've rekindled my own childhood through her," he added. "I feel like we get to a certain point in adult life where everything's kind of vague and gray and boring and she's brought that color back for me."
He also credits his daughter with helping him better learn how to manage and control his anxiety, and it's all about what he wants her to see in him as an example and a father. "I can do things and I can achieve things, I can overcome things, and you can do this, too," he said.
"To let things like a feeling stop you from doing that, after having a child, feels like a really small thing. I feel like I have to step up as a man, as a person, and be this example to her that doesn't succumb to these feelings," he continued, noting that even doing this interview was a part of that process.
"I used to get a lot of anxiety around having a conversation like this in this kind of environment, and I want her to be able to look at me and be like, yo, my dad's doing this, you know, he's the man, he's cool, he's a cool guy," he explained. "That's helped me a lot, for sure."
But he's also conscious of keeping her out of the heightened spotlight he experienced for so many years at a young age. He's not trying to shield her from his fame, because he figures she'll find out anyway, but rather he wants to "give her an option."
Malik was adamant that he would support his daughter no matter what she chose to do with her life, but he also touted that the apple may not fall far from the tree when it comes to musical talent. One of the things they love to do together is sing and play music, and he marvels at her talents at such a young age.
"Like, I'll sing and she sings along. She can do good harmonies and stuff, already, and she's only two-and-a-half," he said with a smile. "She harmonizes with me well and finishes notes and she can hold them for a long time. I'm like, you might have a bit of ability, you."
He even said that she has this ability to remember "full lyrics to songs, every word." So while the door is wide open, it might well be that she's destined to follow in her papa's footsteps when it comes to the gifts she already has.
She's already serving as inspiration on his new album. Teasing that his new release is "a different sound" than his fans are used to, with more narrative elements pulling from his real-life experiences, Malik teased that his "daughter's mentioned in there a couple of times."
Malik is dropping "Love Liked This," the debut single of his new album on July 21. He has yet to reveal the name or release date of the full album.
Waiting for your permission to load the Instagram Media.