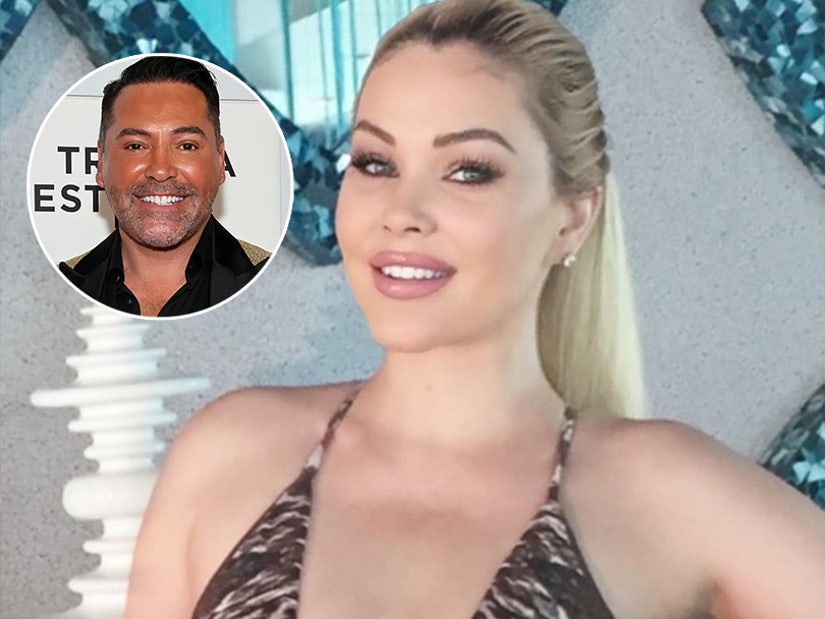 Instagram/Getty
Shanna Moakler opens up about her tumultuous relationship with Oscar De La Hoya in Part 2 of HBO's "The Golden Boy" docuseries, including finding out he'd fathered other children and getting dumped for Millie Corretjer to help his career in Mexico.
Not that we would expect any different from Shanna Moakler, but she did not hold back when discussing her years with Oscar De La Hoya in HBO's "The Golden Boy."
From the multiple affairs, children with other women, rape allegations and even how he dumped her to try and further his career, she laid it all out there in the second part of the docuseries. For his part, the 50-year-old De La Hoya appears to own up to most of the stories lobbed against him.
He even admitted that just as he apparently dumped Moakler in an attempt to bolster his credibility and career in Mexico, he first started dating her with some of those same thoughts in mind. While she thought she'd just "met a soulmate," as detailed by Us Weekly, De La Hoya thought, "Whoa, this is gonna enhance or help my career."
He was looking at her resume as a former Miss USA and actress, as well as her natural beauty. That said, Moakler admitted that once they did start dating, she was enjoying the perks, as well. "I loved the attention and loved our life," she said.
"I had a car to pick me up in my apartment and drive me to Big Bear and then we flew on this private jet," she continued. "And, you know, we're escorted by security guards and bodyguards and the secret tunnels, you know, through the Bellagio to these penthouses."
It was underneath all the glitz and glamor that things weren't going so smoothly, with lies and infidelity looming to destroy what she thought they were building together. In fact, it was just after the birth of their daughter that things started to get "weird," as she put it.
Atiana De La Hoya was born in March 1999, just barely over a year into their relationship. Around that time, the boxer's ex-girlfriend claimed he was the father of her son, who was born more than a year before Atiana. He denied it, but a DNA test confirmed it was his.
"I was like 'OK, well, we're gonna love him and you have a son, congratulations,'" Moakler recalled. But it didn't stop there, because he'd apparently fathered another son that same year following a one-night stand.
De La Hoya admitted he was immediately overwhelmed at the though of suddenly having three children, "and my answer was to drink." And for Moakler, it didn't stop there. This wasn't a case of two previous incidents and over.
"I didn't want to believe -- even though it was happening to me even though I was living it, you know, I was seeing it-- maybe I was in love with the idea. You know what I envisioned him in my mind to be," she said. "Women would call me up and say, 'I slept with your fiancé.' And I would say 'No, you didn't. He would never do that to me. You just want his money.'"
She said that as more and more allegations flew, his security would help him escape her when she'd try to catch him at a nightclub. Meanwhile, he'd deny everything and tell her he loved her and she continued to believe the best of him.
"And then I had heard that he was accused of rape by women in Mexico," said Moakler. "Things like that started to happen and I stood by him because I just didn't believe any of it."
De La Hoya denied rape claims with one woman and settled out of court in 2001. Another allegation dating back to 1999 where he was accused of rape in his home with Moakler De La Hoya also denied; there were no criminal charges filed.
He continues to maintain his innocence, as well, though he admitted to being "reckless." "Did I put myself in the position where I was vulnerable? Where people can, you know, accuse me of anything? Yeah, I did put myself in positions like that,. Because I was reckless," he admitted. "But I'm not a bad guy. I would never. It's not in my DNA. It's not in my bones to ever do something like that
"I never thought he was guilty of any of it," Moakler said. "You know, I thought these women were just trying to make a quick buck."
Even as she was standing by his side, De La Hoya was preparing to leave hers. It all started when he made a decision to launch a Latin music career. He fired his whole team after two big boxing losses and hired a business manager.
Right away, the advice De La Hoya received was that Moakler "wasn't Latina enough" and that in order to be respected in the Mexican community, he needed to "be with a Mexican or Latina woman." The manager then showed him a picture of Millie Corretjer, who would become his wife from 2001 to 2016.
Moakler said that De La Hoya promised her they'd "start fresh" after a trip to New York, but he instead ghosted her. Meanwhile, his record company was making sure he and Corretjer met by having her appear in a music video. Moakler then saw them holding hands on the Latin Grammy Awards red carpet.
"The next day, he got in the car with me. I just said, 'Why did you do that?' He looked me dead in the face -- he goes, 'I don't love you anymore,'" Moakler said. "He goes, 'Shanna, I have more money than God.' And he got out of the car. And he came over to the window where I was sitting there bawling and he knocked on the window. And he goes, 'Don't be too hard on me!'"
"Nothing he said to me was the truth," she said. As for De La Hoya, he said that they were already not a couple at the time of the 2000 awards show where he was spotted holding hands with his future wife. He and Corretjer would go on to have three children together. De La Hoya was accused of cheating on her with dancer Milana Dravnel.