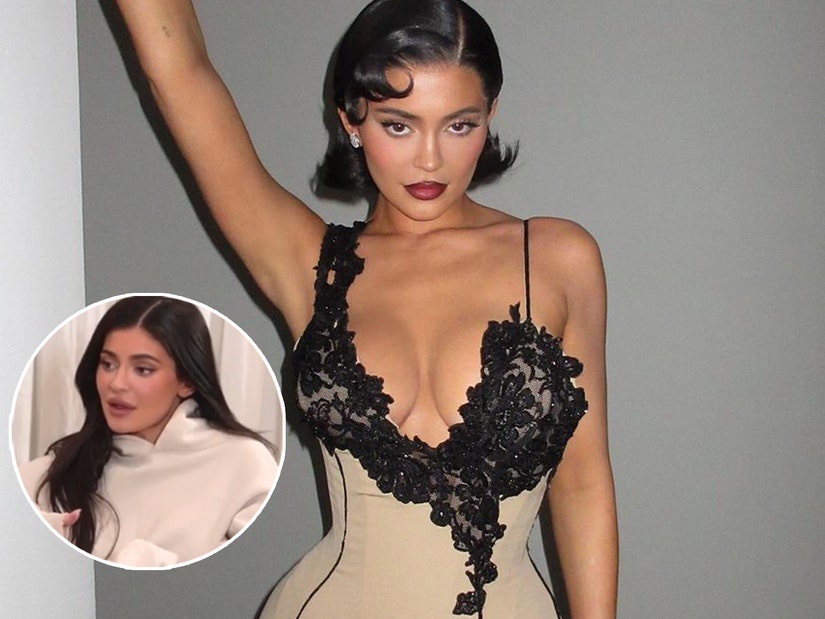 Instagram / Hulu
"I had beautiful breasts, natural tits, just gorgeous," she said on The Kardashians, before sharing her advice to other young women considering going under the knife.
Kylie Jenner just confirmed one of the world's worst secrets: she's had breast implants for years.
"So I, you know, got my breasts done before Stormi. Within six months of having Stormi, not thinking I would have a child when I was 20," the now-25-year-old shared, totally unprompted, "they were still healing."
"I had beautiful breasts, natural tits, just gorgeous. Perfect size ... and I just wish I never got them done to begin with," she continued, expressing regret over the procedure before warning others against following suit. Added Kylie: "I would recommend anyone who is thinking about it to wait until after children."
She also said having a daughter has changed her perspective quite a bit as well, saying she "would be heartbroken if she wanted to get her body done at 19."
She continued, saying, "She's the most beautiful thing ever, I wanna be like the best mom and best example for her and I wish I could be her and do it all differently."
Jenner -- who has also copped to lip injections in the past and has only, carefully, denied having plastic surgery on her face -- concluded, "I wouldn't touch anything."
During the same conversation, both Kylie and Stassie denied having a sexual or romantic relationship with one another ... after photos of the two playfully kissing sparked speculation from fans.
"Isn't it so funny that everyone thinks we're dating these days," said Jenner. "All the comments are like, 'We know you guys are having sex,' and we're not. I wish we were. It just would have been way easier if I were sexually attracted to you."
She continued, "Anastasia and I have been friends since were probably 12 or 13. She's definitely my oldest friend. We grew up together, we've been through so much together, she's like a sister."
Jenner also addressed why she changed her son's name from Wolf to Aire, almost a full year after the child's birth.
"It's the hormones that took me out," Jenner told her bestie, saying she was "too emotional" and felt "there's not a name good enough for him" because he's "so special to me."
"I didn't realize the post-partum hit me that hard. I've never called him Wolf, ever," she added in a confessional. "That night I cried in the shower, like, 'It's not his name. What did I just do? Wolf?!' It wasn't even on the list."
As for why she and Travis Scott chose "Aire" for the replacement, he said she "wanted a name that has meaning"; Aire is a Hebrew name meaning "Lion of God."
Though the child was born in February 2022, Jenner revealed in March that same year that "ours sons name isn't Wolf anymore." The new name wasn't revealed until January 2023, before it was legally changed in June.
The Kardashians is streaming now on Hulu.