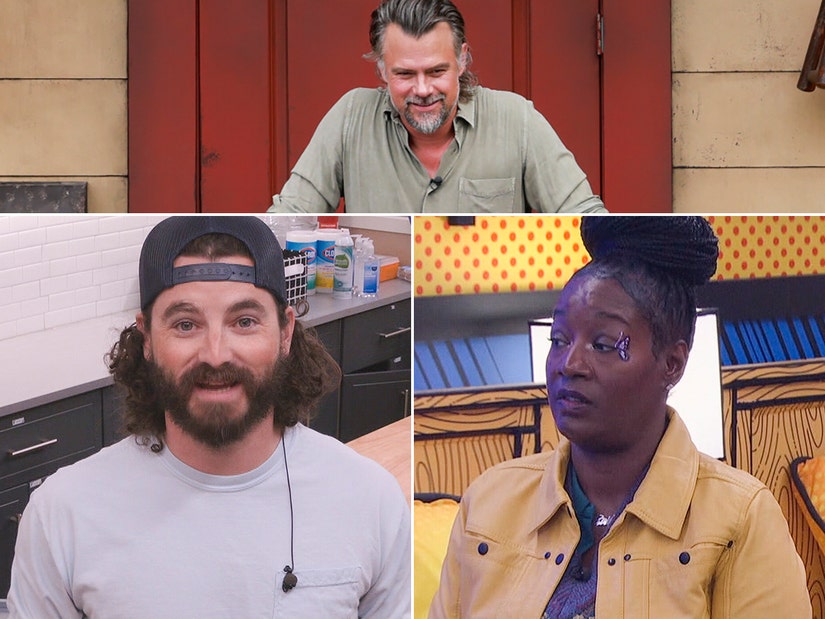 CBS
The Humiliverse is unleashed in a two-hour Big Brother that sees two Houseguests trapped in a kayak, two more pigged out and one hanging with special guest Josh Duhamal all week (with a wicked twist) -- plus, will Veto help Cameron setup a backdoor of Survivor legend Cirie?
Cameron took the reins of Big Brother this week and began implementing his master plan of chaos after the house sent his boy Red home last week. For the first time all season, someone is taking a shot at the power trio that's been running the game.
His strategy was not to take out the "president," as he refers to Suvivor legend Cirie, but to weaken her by targeting her veep Felicia and secretary of state Izzy. And so, those two ladies found themselves nominated. But, he did want to backdoor the prez onto the block.
The challenge for the whole house, though, was that Cameron wasn't telling anyone his plans. In fact, he had everyone believing he was going to nominate Jag and Blue again before he took his shots at Cirie's closest allies (not counting Jared).
That's actually the biggest weakness in Cameron's play this week; the fact that he doesn't know that Jared is Cirie's son. All season long, Jared and Cirie have been playing on different sides of the house, and despite both of them dropping hints accidentally, no one really knows the truth.
Izzy figured it out right away, but she and Cirie have built this incredibly tight bond that might as well be family. In fact, after tonight, we're totally confident that they have one another's backs with as much loyalty as Jared and Cirie have one another's.
Jared hinted at his secret with Blue, but she seems convinced that it's Felicia. Either way, that does make her a bit of a risk factor. Luckily, they're in a pretty solid showmance right now. If it should hold together, Blue could stay loyal.
The biggest risk, of course, is when someone who knows something gets evicted, what will they say on their way out? But that's neither here nor there just yet (maybe Thursday).
For now, there's Cameron and the fact that out of a house that burned him in its entirety -- save Bowie, who barely counts as a player -- he's decided to start almost trusting Jared. The one person he absolutely should not trust while he's targeting the power trio is Jared, but here we are.
Aside from that, Cameron is easily playing one of the most enjoyable games of this season so far this week. We are here for the choas and the drama and the scrambling. Is there any way to save Izzy or Felicia from eviction? Will Cirie see a seat as a backdoor?
Buddy Games with Josh Duhamel
It's more than just a new game debuting on Thursday after Big Brother , in its new earlier time at 8pm ET. It's also a game in the backyard hosted by Buddy Games host Josh Duhamel. There are a lot of classic BB elements to this game.
There's the spinning, the oversized skee-ball, and the round robin of prizes and punishments starting with the Veto. In other words, even without all of this week's humiliations, this was a competition with a lot going on.
There was even more going on with the relationships in the house. When they got to pick players for the competition, Felicia was hoping to pull Jared because as his mom in the house, she feels he would save her. If only she knew about his actual mom in the house!
In the end, she did pull Jared's chip, which left her pretty happy. Matt's chip was pulled by Cameron, while Izzy got Houseguest's Choice and chose Jag as someone in her alliance who has proven himself in comps.
As for the comp itself, we were getting dizzy just watching it, much less imagining doing it. Poor Felicia was falling out all over the place whenever she'd get up from the spinning chair and try to cross the spinning platform.
Things got even worse for Mama F as after three rounds, she got overheated and collapsed on the field. Luckily, that's all it was, and after getting her cooled down, she was ready to accept the third prize/punishments.
As always, the first person out got the Power of Veto, but anyone who gets eliminated after them can still it or any other revealed prize/punishment. Izzy was first eliminated, followed by Cameron in the second round.
At this point, though, Cameron was rooting for Jared, because he was thinking Jared might be the closest thing to an ally he has in the house. He even told him most of the plan that had been playing out this week and creating chaos. But, by hinting the plan had more steps, Jared quickly sussed out that those steps involved backdooring Cirie.
Cameron got a "Piggy Pals" punishment, which would see him and a HG of his choice wearing piggy costumes all week and having to transport 2,000 scoops of dirt to create a muddy pigpen they could roll around in or he would lose out on his ability to play in next week's Veto. He, obviously, swapped with Izzy.
The next out was Felicia, who quickly snatched the Veto for herself, handing Cameron her European vacation. She may have just passed out, but she was with it enough to know she needed Veto more than that. The problem was there were still three people in there.
Dashing Cameron's hopes, as well as Cirie's -- by this point everyone was suspicious of a backdoor plan -- Jared fell out fourth, nabbing a "Kayak Companions" punishment. He swapped with a reluctant Felicia, leaving her with the punishment.
This one would see her and the HG of her choice dressed in their safety gear and attached by a massive kayak that they had to use to navigate through the house together for a full 48 hours. Already, Cameron's week of chaos is already getting crazier, and these punishments hadn't even started.
That left Jag and Matt to battle it out for the final round, with Matt emerging triumphant and nabbing his second competition win of the season. For coming in second, Jag scored a cool $5,000. Matt got "Duhamel-a-Maniac."
Josh Duhamel himself explained that this would allow Matt to hang with him all week and take selfies. Poor, sweet, naïve Matt actually believed that this is really what would happen, while the rest of the house understood there was a twist and this was a punishment. Alas, he opted to keep it.
Instead of the real Josh, Matt had a lifesize cutout of the actor that he had to cart around with him everywhere, and take any selfies BB ordered at any time of day or night.
Sweet Moments and Punishment Complications
There were a lot of sweet character moments this week. Honestly, with all of the chaos in the house and the punishments and these more intimate moments -- if BB could be like this all the time, we could handle two-hour episodes every time. It was a lot, but it was a really satisfying two-hour experience.
In a beautiful moment that anyone should have seen coming, Izzy immediately picked Cameron to join her as her Piggy Pal this week. Not only did he give her the punishment, he's the one who put her on the block.
We found ourselves wondering if he might just sabotage the competition to deny her a chance to play in next week's Veto, if she can survive this week. What we didn't expect was a reminder that there really can be two layers to this game: the game itself and the person.
In a confessional, Cameron said that while he does not like Izzy as a competitor in the house, he "completely admires" her as a person. As such, he committed to helping her see through their mission, which was a grueling hours-long marathon that took all night long.
It didn't necessarily bring them closer together, but it was nice to see that Cameron has that level of respect for her. We hope that when she gets out of the house that she's able to see that moment and internalize it.
Izzy's confidence and self-image was part of another poignant segment where she opened up to Cirie about her insecurities and how she's let fear stop her from doing things in life that she really wants to do. Her example was as innocuous as rock climbing before coming into the BB house, but she froze and couldn't do it.
Cirie, who's basically adopted Izzy at this point, was able to equate it to her own experience before she first got up off the couch and went o Survivor. She'd been afraid to live life to that point and took a chance on herself, just as Izzy did here. Honestly, these two are so sweet together!
That's one of the reasons Cirie is so dangerous in these games, because she can have that same separation of game and personal that Cameron has, but she is so much more overt about the personal side. Cameron is in game mode on the outside, but Cirie is personal on the outside. Her game is so much more stealthy.
Cameron was ready to make his own stealthy move to put Cirie on the block, finally filling Jared in on his ultimate dream of seeing the Suvivor legend in the same hot seat he's spent two weeks on. Jared had to think fast, and to his credit, he was able to do so.
That's because Cameron gave him an in by telling him he still wanted Izzy out. In his perfect world, Cirie has to campaign against her closest ally and then watch as her right-hand woman and intelligence officer gets sent out the door.
That gave Jared the opportunity to throw out his own concern that if Cirie went on the block, she'd more than likely be the one to get voted out. For whatever reason, Cameron doesn't seem to want that to happen, which left him open to listening to other options.
Unfortunately for Jared, he didn't have a opportunity to talk it out with his mom as Felicia thought it would be fun for the Mamas to be tethered together with that kayak. Don't get us wrong, it was an absolute hoot watching them try and navigate the house, but it also created a huge problem ... for both of them and Jared.
With Jared having the Power of Veto around his neck, he really needed to have conversations with Felicia and Cirie, but thanks to their punishments, he had to have it with both of them together. Felicia wanted him to use it on her, but he wasn't willing to risk his mom getting backdoored.
In the end, Jared seemed to manage damage control pretty well and nobody seems to upset that he ultimately opted not to use the Power of Veto. Cirie was safe from the block -- for now -- and Cameron was still pretty content that she was about to lose at least one of her lieutenants ... and he didn't even really care which one.
In his perfect scenario, it would be Izzy to go out, but Cameron realizes that he doesn't have that kind of control this week, and he has even less next week. That's another reason he was open to listening to Jared.
He was ready to make the explosive move, but he also wants to somehow survive in this game. As public enemy number one, that means treading carefully through this week and into the next. He needs allies, but his abrasive approach to the game to this point has made that hard.
Cory and America have been wanting to target Cirie pretty much since the beginning of the game, but they seem to have zero interest in working with Cameron. This is a numbers game, though, so they all need to get over it and realize they need each other to sever that power structure.
They also need to quickly figure out that Jared is not their friend. Right now, Cameron could be working with Bowie, Cory and America as a solid four targeting Cirie's side of the house. They might be able to convince Mecole to work with them, but Blue is tied to Jared and Jared is a wolf in sheep's clothing to their side.
Jag and Matt are loyal to one another -- creating the adorable Minutemen alliance this week -- but Matt also is really fond of Cirie. He plays a very loyal game with his heart, which would make it hard to convince him to throw her under the bus this soon.
These are interesting times in the Big Brother house with a lot of things in flux and relationships getting tested and challenged. Either Izzy or Felicia will go. At this point, it's like every other week. We fully expect the house to go back and forth half a dozen times or more about who to eliminate before a final decision is reached an hour or so before Thursday's live show.
Matthew Klotz (27, deaflympics gold medalist) is coasting through this game on cruise control. Everyone in the house absolutely loves him and sees what a pure sweetheart he is. He's got the competition prowess, but he's also incredibly loyal and straightforward. At some point, you'd think they'll see the threat he is to run away with this, but maybe not. [Grade: A-]
Cirie Fields (53, nurse) is about to lose one of her biggest allies in the game and she's still in a pretty good spot. The forces against her can't seem to get it together enough to unite and come after her, and she's so very good at making genuine personal connections, it makes people reluctant to target her or see her in danger. Can she ride that to the end as she did on The Traitors? Only time will tell. [Grade: B-]
Cory Wurtenberger (21, college student) is probably the strongest chance of actually getting Cirie out of the game if he can buckle down and decide when he's really ready to start playing this game. He's been laying low in the middle, which is mostly working thus far, but eventually there won't be a middle left. Plus, you have to play a game the jury will respect in the end. [Grade: B-]
Mecole Hayes (30, political consultant) could find herself in a pivotal role in this game sooner or later as sides start to square off. Where are her true allegiances? She's been appearing to work with Cirie and her side, but she's also quietly watching everything. When she chooses to strike, it could change everything. [Grade: C+]
Jared Fields (25, exterminator) did a lot of great work to start to redeem his game this week, insofar as he's protecting himself and his mom. It's still a tough position to be in, and there's only so long before people will pick up on who he seems to really be working with. At that point, he's the biggest threat on that side. Will anyone be organized enough to do anything about it, though? [Grade: C+]
Blue Kim (25, brand strategist) is mostly overlooked and seen as an easy target to choose, at least to sit on the block next to her buddy Jag so the house can try to get him out. Is that still something anyone wants to do? It's hard to tell at this point. She's kind of fading into the wallpaper a bit, which might be best for her game right now. [Grade: C]
Jag Bains (25, truck company owner) wants to be a big move maker, but he's also aware just how much he's been targeted in this house by this whole house. His thing with Matt is probably good for his game, but we fear he'll still be a target to a lot of factions in the house. Who he decides to trust for now will be key to how long he can make it. [Grade: C]
America Lopez (27, medical receptionist) is ready to play, but for some reason, she seems to be on everyone's radar as someone they can't trust or someone they keep talking about trying to get rid of sooner rather than later. This Cameron versus Cirie battle is the best thing that could have happened to her game. She just needs the focus to stay right there while she comes up with a plan for the next phase of the game. [Grade: C-]
Bowie Jane Ball (45, barrister/DJ) isn't really respected by anyone in the game, and we think that includes Cameron. People will use her as needed to progress their agenda, but she doesn't seem to have any real connections in the house, which is sad for her. It also makes her extremely expendable. And as someone who most recently aligned with Cameron, she might be an easy target to weaken him if he managed to protect himself with a Veto or something. [Grade: D+]
Cameron Hardin (34, stay-at-home dad) is playing a hell of a fun game this week, but he's not really doing anything to create a future for himself in this game. Trusting Jared was a critical mistake. There are still enough numbers in the house to change his fate, but has he made too many people in the house unwilling to work with him (a la Hisam)? [Grade: D+]
Izzy Gleicher (32, professional flutist) & Felicia Cannon (63, real estate agent) are facing the long walk out the door to meet Julie, and we're not sure who it will be this week. Cirie will push to save Izzy, while Cameron wants her out. But it isn't up to either of them, and there is no real consensus within the other smaller groups as to which move would be better for their game, so it's a toss-up right now. [Grade: D-]
"Legend 25 is dead and I am to blow the whole thing up from the inside out." --Cameron (in DR after nominations)
"An amateur would go after the president. No thanks. I wanna go ahead and chop off all the arms first." --Cameron (in DR about Cirie)
"You guys don't have to hug with all this stuff on. I'm good." --Felicia (to pie-faced Houseguests)
"Yesterday, we were actually voting out Jag until about an hour, an hour-and-a-half before the ceremony." --Felicia (to Cameron about voting out Red)
"I was in the house an hour before the ceremony … It was as if I was left out of the conversation to spite me." --Cameron
"You are not my target." --Cameron (to Felicia)
"We're just doing a merry-go-round of s--t. At least I get to control the speed." --Cameron (in DR about conversation with Izzy)
"You're not the target. Please know that." --Cameron
"Please know that that's hard for me to believe in this situation." --Izzy
"I love Cirie." --Cameron (to Izzy)
"I do love CIrie. But she is too good at this game. There is no world where the three of us can work together." --Cameron (in DR)
"I can just tell by the way that Cameron is talking that she is absolutely his replacement option if someone comes down after the Veto." --Izzy (in DR)
"That was the first real moment of the season." --Cameron (about nominations)
"My Cirie senses are telling me this is not the ultimate plan." --Cirie (in DR about nominations)
"If I win the Veto, I'm not gonna pull myself down." --Izzy (to Cirie worried about a backdoor)
This is my olive branch … Right now, this doesn't get talked about … Anything comes back to me, I will turn that bitch around." --Cameron (to Jag about not nominating him)
"Cam, if you're trying to start a working relationship with someone, threatening them is not the way to go." --Jag (in DR)
"Now we're The Minutemen and time's about to be up for these other Houseguests." --Jag (in DR about alliance with Matt)
"It's about to be bananas in this house." --Jared (to Cameron)
"Good." --Cameron
"Now I can let you in on this. Step 1: have the entire house believe that I'm gonna put up Blue and Jag. Step 2: put up Felicia and Izzy. Step 3: Have each one of them believe that they're a pawn. She just sang like a bird, dude. We're in the middle of Step 3, I'll let you know when Step 4 starts." --Cameron (to Jared about Izzy)
"The fact that Cameron is telling me that his plan isn't done yet, I'm already jumping to conclusions and I'm almost sure that the rest of his plan that he isn't telling me about is definitely to nominate my mom, and that cannot happen." --Jared (in DR)
"I want to win … I just wanna be good at this." --Izzy (to Cirie)
"I think you're better than you give yourself credit for. Really, I think if it wasn't for you, I'm not really sure how or where I would be." --Cameron
"Oh come on, you're Cirie Fields." --Izzy
"Why are you not confident in yourself?" --Cirie
"I don't know. Like, I wanted to try rock climbing before coming here, and I was like, 'I can't be the short, fat, ugly person trying for the first time and being scared of heights.' I just can't bring myself to do it even though I want to, like, do things." --Izzy
"Damn, Izzy. That feeling you just told me about. I walked into Survivor with that feeling, and you see how it turned out, right? I took that feeling and took a chance, the same chance you took right now." --Cirie
"Has anyone hooked up?" --Josh Duhamel (to Houseguests)
"I actually get to hang out with him, right?" --Matt (after accepting Duhamel-a-Maniac prize)
"No dude, humili-verse!" --Cameron
"The plan is I put Cirie up next to Izzy. Nobody's voting out Cirie. Izzy has been her eyes and her ears. We will remove that from her." --Cameron (to Jared after Veto)
"Cirie will be a standalone player dying for an alliance. Cirie is on an island. How poetic, the Survivor." --Cameron (to Jared)
"I truly, wholeheartedly believe if you put CIrie next to Izzy, she's gone." --Jared
"Izzy versus Cirie. That's the move I want to make, but I also want to make a smart move." --Cameron (to Jared thinking long-term)
"I don't have to be doing this; it's her punishment. But as much as I don't like Izzy the player, I completely admire her as a person. I will see to it that she completes this mission. Then, I will make sure that she meets Julie [Chen] Thursday wearing this costume." --Cameron (in DR)
"The problem is, my mom is watching the feeds and can see how much I like America. Would you want to be making out in front of your mom?" --Cory (in DR about not kissing America)
"You said you would never kiss me." --America (after their first kiss)
"Yeah, but I'm also a guy. I'm stupid." --Cory
Big Brother continues Thursday at 8pm ET, Sunday at 10:30pm ET and next Wednesday at 8pm ET on CBS.