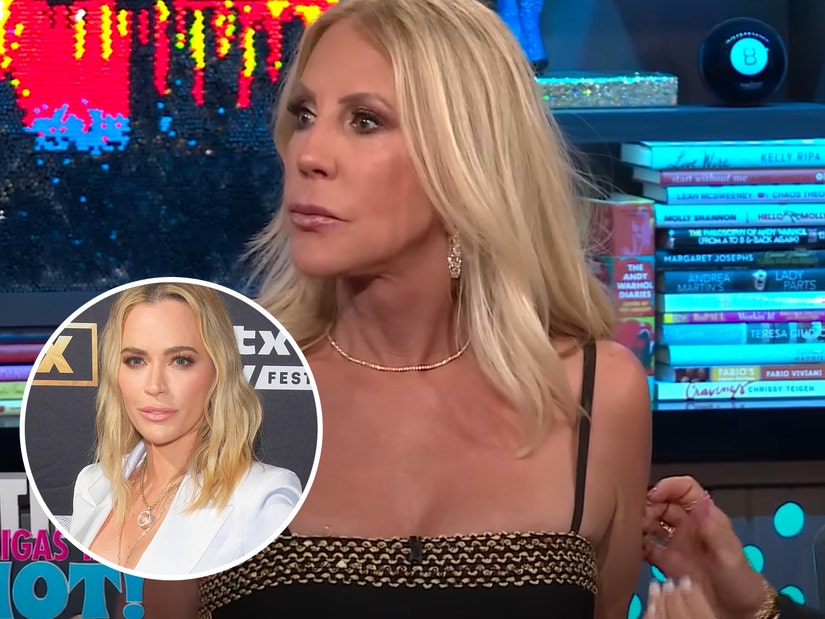 Bravo / Getty
"I do not like her," said Vicki, who said she found Teddi to be "annoying," before Teddi reacted to the diss on social media.
During an appearance on Wednesday's Watch What Happens Live with Andy Cohen, Vicki didn't hold back on expressing her dislike for Teddi, sharing that she found her to be "annoying" and the "rudest Housewife" she's ever met.
At one point, Vicki and Shannon were asked to rate "how annoying" they find Teddi -- who is Tamra's close friend -- on a scale of 1 to 10.
"I really like Teddi. She's been nothing but nice to me," Shannon said, adding, "I'm going to give her a 1."
Vicki interjected while Shannon was answering, "I do not like her, so give me a shot!" She added, "She's a 10."
Elsewhere during the game, host Andy Cohen asked all three ladies: "Who is the rudest Housewife from another city you've ever interacted with?"
Andy asked Vicki to answer first, with the reality star immediately saying, "Teddi Mellencamp!" Tamra said she's never encountered a "rude" Housewife, and Shannon agreed.
Meanwhile, Teddi learned about the comments Vicki made on WWHL, and took to X (formerly Twitter) to share her thoughts.
"At least I'm aware that I'm annoying," she quipped, before she then responded to one of Vicki's fans who said, "YOU BE NICE TO VICKI!"
"You get what you give," The Real Housewives of Beverly Hills alum wrote back.
The feud between Teddi, 42, and Vicki, 61, began last June after the latter said she didn't "like" the former during an interview.
Sharing a clip of the interview to Instagram at the time, Teddi responded by writing, "I can only hope @vickigunvalson got paid in gas cards cause her love tank seems like it's stuck on empty lately." She added, "Hope this post doesn't have her calling my @iheartradio boss to try and take my job again."
The two went back and forth in the comments section, before Teddi took the feud to X with another shady post aimed at Vicki.
"Any other Bravo fans watching I Love That for You on Showtime with Vanessa Bayer? It's about a girl who scams her way into a job by lying about having cancer. Just feels so familiar," she wrote -- a reference to Vicki's ex Brooks Ayer, who faked hospital records about having cancer during his time on the show.
"Wow ... Low blow! You know nothing about what transpired with my x," Vicki replied. "This is why you only lasted 3 years… ME…14."
Tedid then put an end to the heated exchange at the time by asking, "Well if we're talking numbers, could you let us all know where you were on January 6th?"
However, things continued the next month when Vicki and Tamra appeared on WWHL.
Tamra said it felt "very awkward" to be friends with the feuding women, noting that she wants "them to get along."
Vicki clapped back saying, "I've never met her. You can not like people you've never met."
"She asked me where I was on January 6," Vicki then recalled of Teddi referencing former President Donald Trump's supporters storming the Capitol. "That's an idiotic thing to say to somebody. I know where I was. I was in Puerto Vallarta."
Tamra claimed that Teddi's quip had come "after [Vicki] went after her" and called her podcast cohost a "nice" and "good person."
Vicki answered definitively, "I don't like her. That doesn't mean I'm after her. … We can talk about it later. I don't like her. Don't be so defensive."