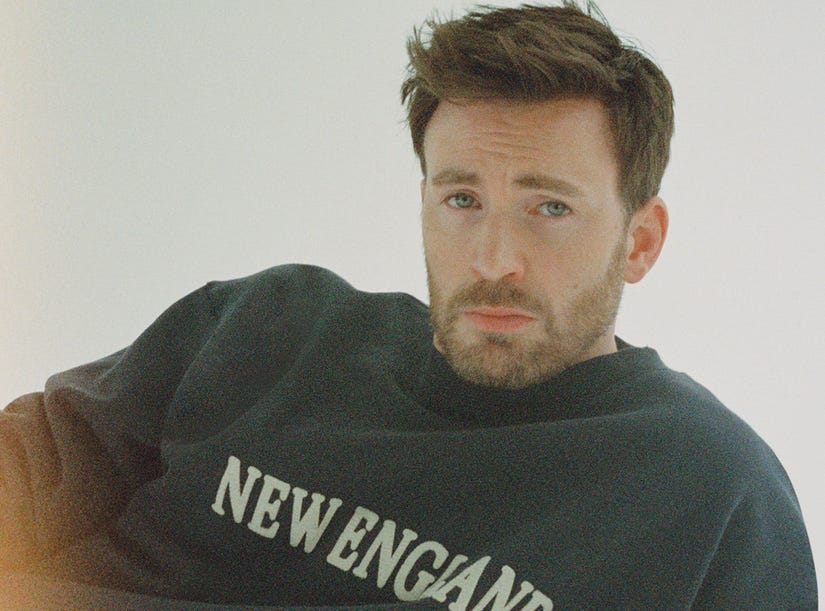 Stevie Dance/GQ
"I'd like to just smoke a joint, put on some music, and like, get into pottery. You know what I mean?" Evans says of life in New England with now-wife Alba Baptista
While we all know Chris Evans as the beacon of justice that is Captain America, it was a role he initially turned down... and more than once.
In the October issue of GQ, Evans details why he said no to the role that he has become best known for, and why he's since left Los Angeles for a return to his New England roots.
"I was really apprehensive about taking the role initially," Evans, who would go on to star in five films for the franchise, said, admitting he said no a few times before saying yes. "I remember in my late 20s having a real shift in how I felt on set, how I felt promoting films: a little more anxiety, a little more uncertainty. You always end up questioning, Is this what I should be doing?"
He continued, "I just wasn't sure if I was moving closer to myself or further away. And something inside me kept saying that I was getting further away -- that something about this industry wasn't healthy."
After some negotiation, Evans ultimately said yes, with the pros of putting on the suit outweighing the cons he feared the immense fame would bring him.
In the end, Evans said, it's a role he loved playing, and still loves to this day.
Waiting for your permission to load the Instagram Media.
"I love playing that role," Evans told the outlet. "I feel connected to it in a way that when you revisit a character so many times you can't help but try to absorb some of their traits and measure yourself against them."
While he hasn't played the role of Steve Rogers since 2019's Avengers: Endgame, Evans isn't ruling out a return to Marvel.
"Yeah, maybe," he offered. "I'll never say never, just because it was such a wonderful experience. But I'm also very precious with it. It's something that I am very proud of."
While he admitted that he sometimes "can't believe it even happened," he wouldn't return to the franchise unless it felt absolutely right.
"I wouldn't want the black eye if it felt like a cash grab or if it didn't live up to expectations or if it just felt like it wasn't connected to that original thing," Evans added. "So, no time soon."
That step away from the MCU has allowed Evans to decompress. Though he's stayed busy, filming three movies in 2022 -- Ghosted, Pain Killer and Red One -- the 42-year-old actor has yet to step on a set in 2023. Saying "never again" as he recounted the jam-packed year prior.
"I was like: 'Yeah, I do one movie a year. I try to never work now,'" He remembers telling then-girlfriend, Alba Baptista, of his stripped-down schedule since leaving Marvel. "And then, after like a few months of dating, boom, guess what? We're living in Atlanta for a year. Get ready."
"And even when that year was happening, I was like, man, never again," Evans added.
The Captain America alum has since moved out of Los Angeles -- a town he associates with "Pavlovian anxiety," and shifted his focus to his personal life back home, in a town just outside Boston, Massachusetts.
"[It] takes me back to a place when life was not just simpler -- that's too reductive -- but to a time where I was more pure, I guess; where my ego and my insecurities weren't such a dominant force that I had to push against," Evans said of the return to his native New England.
There, he's taken the time to notice the passing of the seasons, spend time with his now wife and invest in his "other interests."
"I like autonomous things. I'd like to just smoke a joint, put on some music, and like, get into pottery. You know what I mean? Seth Rogen, what he's doing. It's good for you, man," he remarked. "You just go to your workshop and make something. And how satisfying, how simple, how quotidian."
Evans continued, "I love acting, but you can't act alone. I chose a profession that requires not just a lot of different artists, but it requires an audience."
"Ultimately," he said, "I really hope to just maybe act a little bit less in my life. I have a lot of other interests."
And many of them, Evans added, have little to do with reading a script.
"I have a lot of energy. I wake up early, I get a lot done in a day, but it's not always focused on acting," the movie star, who has spent 20 years in the industry, added. "Sometimes, reading a script is the last thing I want to do."