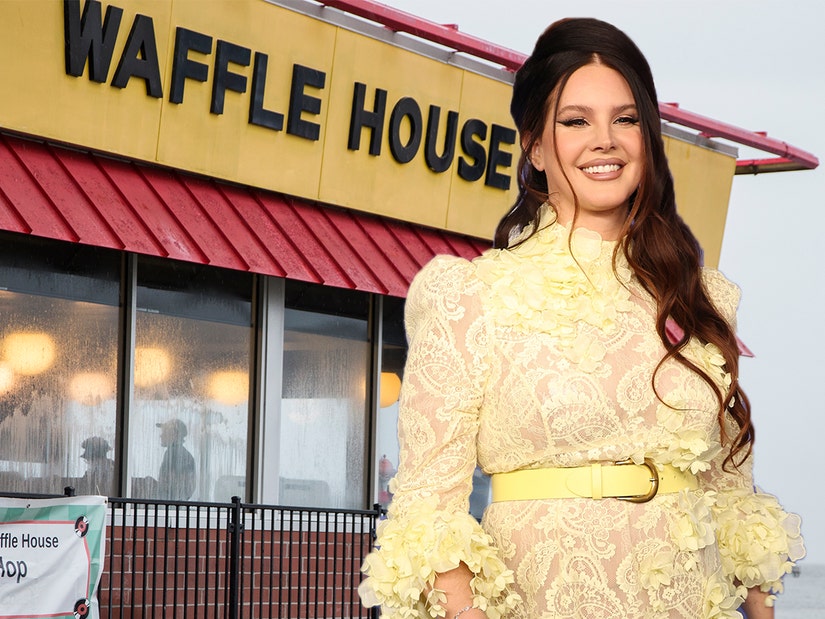 Getty
Two months after video of Lana Del Rey working at a Waffle House in Florence, Alabama went viral, the singer is finally explaining just what that was all about.
Lana Del Rey left her fans scratching their heads in July when video of her seemingly working at a Waffle House in Florence, Alabama went viral. They quickly decided it must be a publicity stunt and even tied it to her track "Paris, Texas."
That's because the lyrics in that song read, "I took a train to Spain, just a notebook in my hand/Then I went to see some friends of mine, down in Florence, Alabama." Maybe she was filming a music video.
Exactly one month later, they wondered if it was maybe to help promote the tour for her latest album, Did You Know That There's a Tunnel Under Ocean Blvd. That's when Del Rey announced the 10-stop US tour. She had still not addressed the Waffle House incident.
Well, now it's been exactly one more month later and Del Rey is finally coming clean. And it turns out, there was nothing so elaborate going on.
Del Rey set the record straight as part of a larger discussion with The Hollywood Reporter, sharing that she was in Florence visiting her siblings and that Waffle House had kind of become a regular part of their hanging out together.
She said they'd been there three hours that day when one of the servers asked if they wanted Waffle House shirts. "Hell yeah!" Del Rey said, "We were thrilled."
From there, things just kind of escalated organically. She said the staff gave her a name tag and encouraged her to help out that day. "This guy, a regular, comes in every day and orders two things, so they were like, 'Just go get it for him!' I brought him a Coke. No ice. And an empty cup," she said, "For dip [chewing tobacco]."
Despite her radio silence about her viral shift at the local WH, Del Rey definitely knew all about it. "I wish my album had gone as viral," she quipped.
"I woke up to, like, 10,000 texts the next morning -- some from folks I had not heard from for 10 years. 'Saw your picture at the Waffle House!'" she laughed. "I was like, 'Did you hear the new album?'"