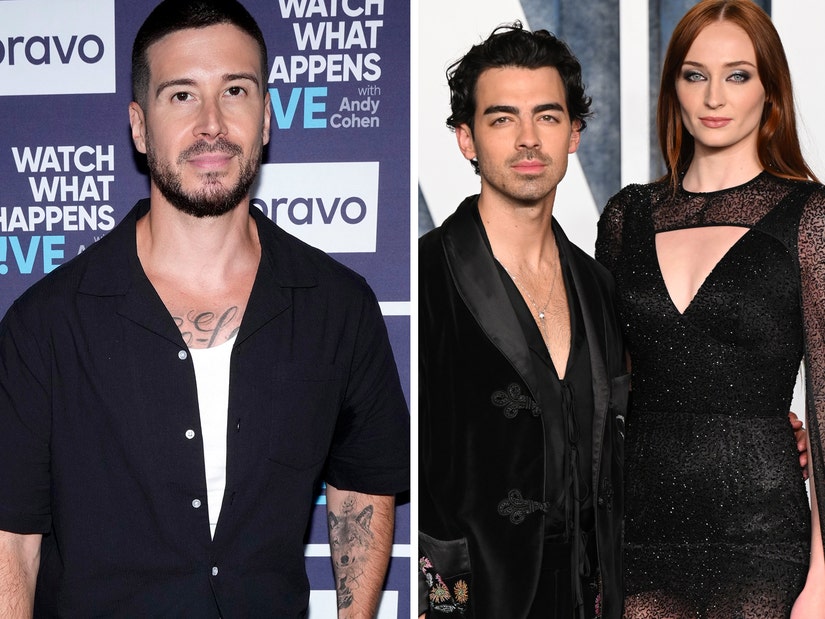 Getty
The Jersey Shore star revealed the possibly "messy" reason he won't be pursuing the Game of Thrones actress.
During an appearance on Page Six's Virtual Reali-Tea podcast, the Jersey Shore star weighed in on the possibility of dating Sophie since she's now single, revealing the "messy" reason why he's not going to pursue the actress.
"I actually was friends with Joe at a certain point, so that might get a little messy," said Vinny, 35.
"I hung out with him in Vegas for one weekend, and I think this was, like, in more of the off years with the Jonas Brothers," he continued, adding, "I have friends that know Joe, and we were just partying. He's a good guy."
Joe, 34, filed for divorce from Sophie, 27, earlier this month following four years of marriage.
The next day, the former couple -- who shares two daughtesr: Willa, and a second child born in 2022 -- shared a joint statement that read: "After four wonderful years of marriage we have mutually decided to amicably end our marriage. There are many narratives as to why but, truly this is a united decision and we sincerely hope that everyone can respect our wishes for privacy for us and our children."
While the pair labeled their split as "amicable" in the statement, it's turning out to be anything but.
As reported by TMZ on Thursday, following Joe's divorce filing, Sophie has filed a lawsuit against the singer, in which she accused Joe of unlawfully keeping their children in New York instead of allowing them to return to England with her. She even cited a child abduction law. She's asking for a court order demanding that Joe produce the passports and return the kids to her.
Joe -- who filed for divorce in Miami Dade County where the pair formerly resided -- has since denied the accusations, saying it is Sophie who has crossed the line by violating a Florida court order that restricts both parents from relocating their kids.
Sophie gets into some of the details in her filing, citing an August 15 argument that led Joe to file for divorce on September 1. She claims she found out about the divorce days later, through the media.
It's also worth noting that August 15 is Joe's birthday.
Amid their custody battle, Sophie has been seen hanging out with Joe's ex, Taylor Swift, while Joe shared an emotional message for hopeful parents during the Jonas Brothers' Philly concert on Thursday night. See what he said in the story, below.