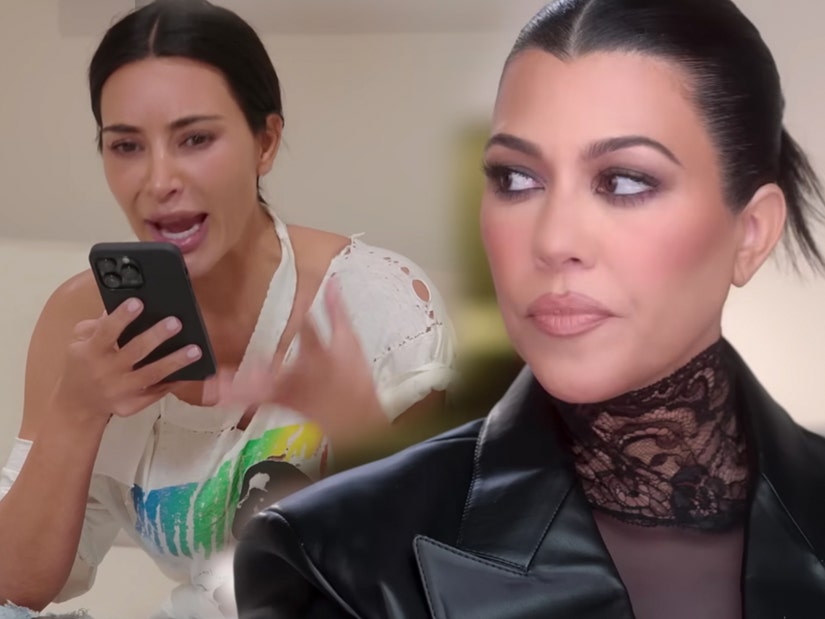 Hulu
As Kim brings her sister's kids into the feud and reveals the family has a side text chain all about Kourtney, Kourt exclaims her "happiness comes when I get the f--k away from you guys."
While the pair seemed to hash things out last season on The Kardashians, Season 4's premiere kicked off with them already at odds with one another again. This time, the tension came after they began watching the Season 3 episodes as they dropped -- seeing the nasty comments they each made about other behind their backs during confessionals or conversations with other family members amid their feud.
ICYMI: Kourtney made it clear previously she felt Kim's collaboration with Dolce & Gabbana stepped on the toes of her recent wedding celebrations, during which she wore curated looks from the brand's vault. She also believed the partnership spoke to a larger issue she had with Kim, who she felt didn't prioritize family over business deals.
"The problem is, last season was really rough ... then we were over it, we had fun, we did that Christmas album, we talked it out, everything had been fine," Kim shared at the top of the Season 4 premiere. "And then we watched the edits for our show and I start hearing what she's saying about me, she hears what I'm saying about her, and then we get mad all over again. It brings up so many feelings."
"I think last season was really hard," added Kourtney in her own confessional. "What's harder than living it in real time, is watching it back in the edit, which isn't a natural way of living."
As Kim, Khloe Kardashian, Kylie Jenner, Kendall Jenner, Kris Jenner and Corey Gamble all went on a trip together to Cabo, Kourtney sat out on vacation -- following a particularly explosive phone call with Kim days before they left. That call, thankfully, was caught on camera.
Kim rang her sister to invite her to a dinner in Milan to launch another campaign for her Dolce collaboration, extending an olive branch while acknowledging Kourtney probably wouldn't want to go. She was right, with Kourt saying she was "a little Dolce-d out." Though she said she was "always supporting" her sister, Kourtney still felt a certain type of way about the whole situation -- calling it "not cool" and adding they had "deeper things" to talk about.
Those deeper issues, it seemed, stemmed from Kourtney finally watching the Season 3 episodes.
"I understand, I got worked up watching the episode and watching the cut. I see both sides. You think things, so you're getting riled up. I think things, so I get riled up," said Kim, while Kourtney denied being "riled up." Instead, she said, watching the footage "just makes me not want to be around."
"I think you saw this thing that was mine, it that wasn't yours and you wanted it," she then said, before Kim denied trying to copy anything Kourtney did for her wedding.
"You're talking about the bulls--t details because it's all your egotistical selfish mind can think about," Kourtney then said, beginning to unleash on her sister. "You cannot stand someone else being the center of attention. You came to my wedding, you couldn't be happy, you complained from the second you got there 'til the second you left, that's what it's about. You couldn't be happy for me, you couldn't be happy I was the center of attention and you weren't."
Kim exclaimed that she was, of course, happy for her sibling on her big day, telling Kourtney she needed to "dig deep and find out why you hate me so much and why you're so angry with me, because all of this never happened." She said she felt like Kourtney didn't believe she was happy because "you have a serious vendetta," adding, "You hate us, you're a different person, we all talk about it."
"I don't need you guys anymore, I don't need to be a part of it," Kourt shot back, before Kim claimed "all" of her sister's friends call the rest of the family "complaining" about her behavior. She added they all had a group chat labeled "NOT KOURTNEY" where they talk about everything her friends tell them and in which they try to "figure out why you're such a different person and you have this vendetta out."
Kim said they were all "concerned" and felt she wasn't really happy. Kourtney, however, said she was, just "not when I'm on the phone with you" -- before exclaiming, "I have a happy life and the happiness comes when I get the f--k away from you guys. Specifically, you."
Kourt then slammed her whole family for having side chats about her, asking, "Who the f--k has time?" She added, "Maybe you guys need to think about if you're not happy. Get a f--king life. I don't have side chats about anyone."
Kim then set off her sister by claiming Kourtney's own kids "have even come to me with problems they have and how you are." With that, Kourt was livid, wondering if Kim truly thought it was "helpful" to bring something like that into their fight. Getting audibly choked up, she exclaimed, "Like it's you and my friends and my kids and everyone against me. It's like you're just a f--king witch and I hate you."
The call ended there, with Kourtney deciding against joining her family for their planned trip to Mexico.
"I think the phone conversation was really hurtful and I felt reminded of this characteristic that has been in my family for so many years, where we say mean things to hurt each other and it's what I work hard at in therapy to change," Kourtney said in a confessional after the call. "When I'm reminded of those types of things, it really is hurtful. Like, why would my family treat me that way? I want to protect my energy and be around positivity and good vibes and Palm Springs with my husband is where it's at."
The two continued to go at it over text message throughout the trip, as Kourt started watching more episodes of Season 3 on her own and began "sending these scathing text messages."
Despite all the drama, the sisters did sit down for a joint confessional clearly filmed some time later -- where a producer asked Kourtney what "triggered" her so much during the earlier phone call.
"I think It's just, there's so many thoughts that come up after watching all of the edits," she responded. "I think it felt to me in the call, that Kim was using any weapon she could find to hurt me. Like weaponizing everyone against me and I think we both got to a place we weren't proud of."
"Sometimes I don't feel understood," she added. "I think it gets played out in an unnatural way, through the show and watching the edits and the interviews and it just brings it up, where people would just move on."
During the Cabo trip, Kim at least acknowledged some of Kourtney's previous complaints about her -- specifically how she never says no to anything, even if it could cause issues with her family. As she and her siblings shared their intentions for the year, she said she didn't want to "feel like I have to fill every available hour" with work, saying she hoped to "say no to more things" and "be more present."
We'll see how they work through their issues as new episodes of The Kardashians drop Thursdays on Hulu.