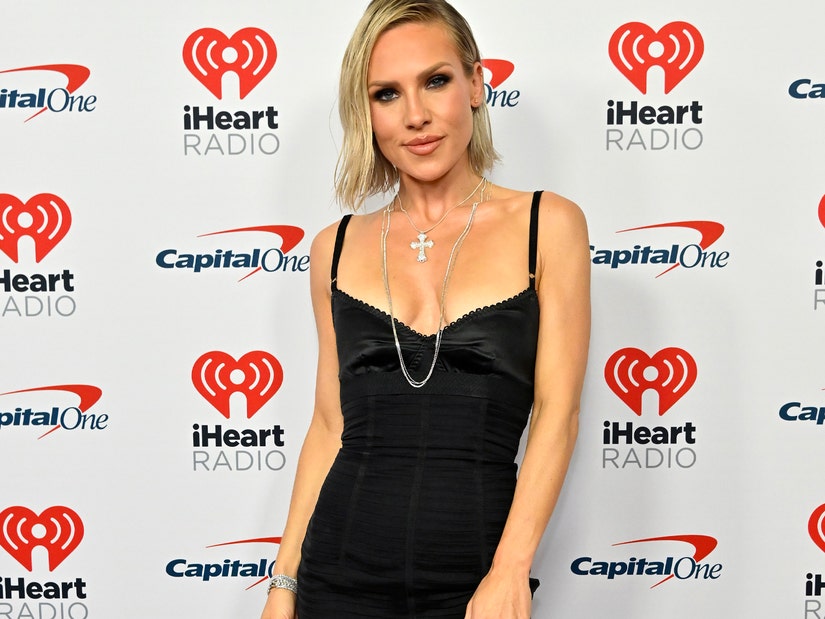 Getty
Speaking with her husband and Randy Spelling about her party days as a teen, she also recalled a time she started "frothing and foaming" from the mouth at a rave.
Sharna Burgess is getting real about experimenting with drugs as a teen.
On the latest episode of the Dancing With the Stars pro's podcast, Old-ish, which she co-hosts with her now-fiancé, Brian Austin Green and Randy Spelling, Burgess detailed smoking meth at the age of 17.
"We were sitting at the backyard of someone's house, and a crack pipe was being passed around with meth in it, and we were all taking hits of it," Burgess recalled.
The Australian-born dancer, who revealed that she began dabbling with drugs when she was just 15, admitted that meth was fairly "new" to her, so she wasn't smoking it every day, and didn't consider herself to be addicted to it.
"It was definitely, at that time, a party drug, and I was partying -- pretty much three to four days a week," she said.
"Here I was, 17 years old, high awake for three days, watching 20-somethings and maybe even young 30-somethings passing around this crack pipe just waiting to get a little bit more out of it," Burgess shared.
While it was just a part of Burgess' partying lifestyle at that time, the pro athlete, who said a knee injury forced her to take a step back from the ballroom, began to slowly see what was going on around her.
She continued, "I realized that I had come from being an Australian champion ballroom dancer, I represented my country at the World Championships, I was an athlete, the best in the country at the time. And because of a knee injury, I fell off... But I realized how far I'd fell and how much I needed to get back to that person, that this was not what I was meant for."
Burgess called that moment a "blessing," that not only brought dance back into her life, but took her away from the party crowd she was surrounding herself with at that time. Crediting dance and this "moment that the universe" gave her, the now-mom, who shares one-year-old son, Zane, with Green, said she was truly able to change her life.
That moment, was just one of many "scary" situations the DWTS star recounted, however. Looking back on a night at rave where she "had taken too many things," Burgess said she became dehydrated and started "frothing and foaming" at the mouth.
A result of dehydration and the "cocktail" of drugs she said she took at the time, Burgess admitted that her motivation to seek out this "place of euphoria" often came from her dysfunctional life at home.
Noting that her relationship with her father was one of the "triggers that sent [her] back into it," Burges shared that she was "very uncomfortable" in her reality, and used drugs to "escape."
"And eventually, the things I would take to get to that place of euphoria weren't strong enough or enough," she continued. "And I do more and have more and more often. And that was the slippery slope for me."
Those years she didn't have dance as she healed from her knee injury were tough, with Burgess calling the sport, the one thing "that kept me safe and sane."
It became her solution and therapy of sorts, helping her more than just stopping cold turkey, as she leaned back into dance and away from drugs.
If you or someone you know is struggling with substance abuse, get help. The Substance Abuse and Mental Health Services Administration (SAMHSA) National Helpline (1-800-662-4357) provides 24/7, free, confidential support for people in distress.