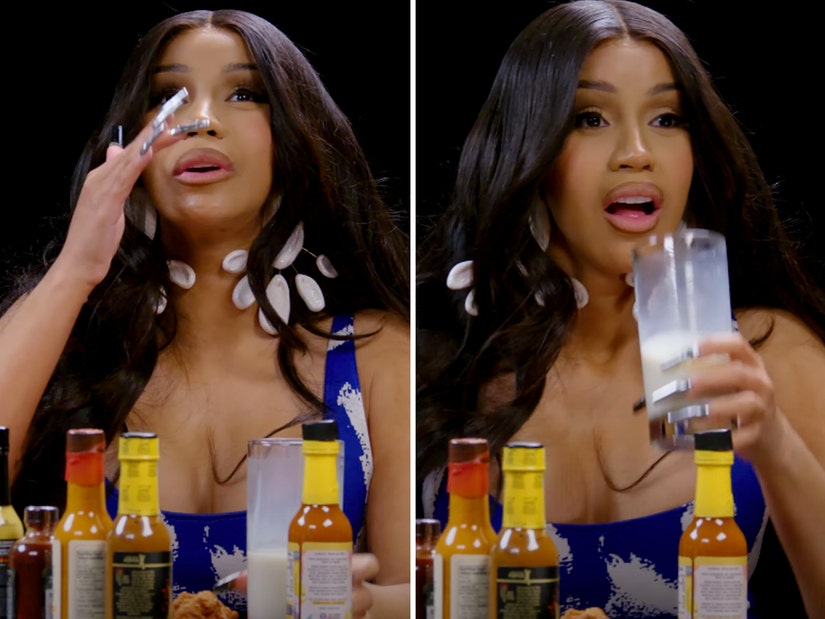 YouTube
Cardi B tried her hand at the hot wings challenge on the latest episode of 'Hot Ones,' as she answered questions about her new music, her love of history and more through bites of spicy wings.
Breaking a sweat and often taking breaks for milk and ice cream, the "WAP" rapper still managed to touch on a few hot-button topics, including her absolute annoyance over having to self-censor her songs for the radio.
"So annoying," Cardi said before recalling the recording process for the clean version of her recent single "Bongos" with Megan Thee Stallion. "I just did it practically two weeks ago, and I was so over it because it's like -- you know, my new song, I be like, 'N---- eat this ass like a plum.'"
Even after settling on a cleaner line, Cardi still got pushback.
"I'm doing the clean version, and it's like, 'Baby, eat it up like a plum,' and it's like, 'No, you still can't play that for pop radio' or whatever," she continued.
To make the lyrics more suitable for all ages, they landed on, "Baby, eat these peaches and plums,'" and and the 30-year-old rapper was not happy about it. "I was so over it," she said, "That sounds so corny, like that sounds like Kidz Bop, but I have no choice, so, 'Baby, eat these peaches and plums.'"
Elsewhere in the interview, host Sean Evans spoke to Cardi about where she stands on aliens and her love of World War II.
"I don't believe that aliens are real," Cardi maintained. "Because it's like, OK, if aliens are real, and they're smarter than us, right? I feel like, why they just haven't invaded us?"
She continued, "So, aliens, if they smart, they know how humans are. Humans are despicable, they want to take over everything. They just want to have power over everything."
While she maintained that if aliens were real, and wanted to invade earth at all, they would've done it already, she boiled down their apprehension to one simple reason: the art of war.
War is something the rapper thinks about often, with the self-proclaimed history buff calling World War II her favorite wartime-era.
"What stays in mind for a long time, is that I went to FDR's house. Anybody that loves me, knows me, I love FDR. And I love Eleanor Roosevelt," Cardi said when asked about her appearance on David Letterman's Netflix series, My Next Guest Needs No Introduction.
Professing her love for U.S. president Franklin D. Roosevelt and his wife, Eleanor, Cardi continued, "You know how he got us through The Great Depression, with a war, only president that got elected four times, while he's in a wheelchair."
She added, through bites of ice cream, "As I grew up reading a lot about Eleanor Roosevelt, she had a very sad life. When I went to her house -- well, she had a different house from her husband, because FDR mama, she was always around, and she ain't really like that. Eleanor wanted her space. Just like me, I want my own space all the time."
The most mind-blowing part, Cardi said, was getting to see the room where FDR and Winston Churchill discussed the nuclear bomb that would eventually go on to devastate the Japanese cities of Hiroshima and Nagasaki.
"That is crazy to me. Like, I am really here. I don't know why, I'm obsessed with war," Cardi gushed. "I'm obsessed with World War I, like I don't like reading about that, but World War II -- I'm obsessed with just learning everything about it."
She continued, "So, for me, to be in the same room that Churchill and FDR was discussing the nuke? It was just such a moment for me. It was just like, 'Ah, I love this.'"
Check out more epic Hot Ones moments in the articles below.