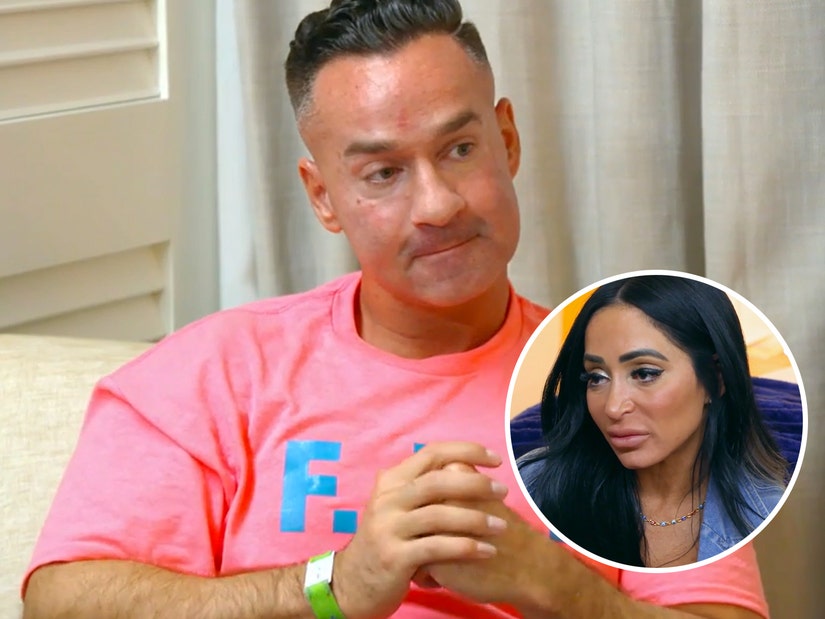 MTV
"I was just too scared to admit how I feel, you know?" Mike said, while Angelina suggested the girls were actually "upset with themselves" over their absence and that's why her comments "hit a nerve."
In TooFab's exclusive preview of Thursday night's episode of Jersey Shore Family Vacation, Mike and his wife Lauren sat down with Angelina Pivarnick to discuss the fallout that ensued after the other girls didn't attend Mike's events, with Sitch admitting that he "was really hurt more than I let on."
However, the store opening was the second event the girls -- sans Angelina -- missed. The ladies also weren't present for the "baby day," in which Mike and Lauren introduced the group to their second child, a baby girl named Mia.
Lauren suggested that Angelina's "comments hit a nerve," to which Angelina agreed, asking, "if they think they were right about what they did, why would it have hit a nerve?"
"Maybe they were upset with themselves, and you sort of pointed it out, and maybe they should have showed up for a friend," Mike replied.
In a confessional, Lauren said, "Did Angelina say things that upset the girls? Yes. Did Angelina say anything that wasn't true? No."
Mike admitted it "definitely bothered" him that the girls were absent for two events, especially when he and Lauren introduced their baby girl.
"Most people don't show up for you, you know what I mean? And it does hurt if someone doesn't show up for a baby event, [it] definitely hurts a lot," he said.
"Two events in a row," Sitch added in a confessional. "That upset me, but I was just too scared to admit how I feel, you know?"
When Angelina said the girls "owe [him] an apology," Mike said he tries to "give people the benefit of the doubt." While Pivarnick noted it's commendable that Mike is "being very positive," she believed he was "guarding" himself.
"I am," he admitted in reply. "I'm trying to manage expectations, I guess, to a certain extent."
Mike continued to share his feelings about the situation in a confessional, telling the cameras, "I was really hurt more than I let on to during that store opening, and I know that they had their excuses, and they couldn't make it, but I still felt some type of way."
After both Mike and Angelina again considered the possibility that the girls lashed out because they were actually "upset with themselves," she said that's why she's "always in a fight" with Jenni and the other girls.
"That's exactly what happens," Angelina explained. "I point out what I see, and then they come for me. That's not fair anymore."
Meanwhile, in another hotel room, Jenni, Sammi, Deena, and Vinny Guadagnino were waiting for their pals, believing Mike and Angelina were fighting for over an hour and a half.
The group made funny comparisons to express the amount of time that had passed.
"Wars have been fought quicker," Vinny said, whole Jenni joked, "Columbus got here faster. They created a vaccine faster. My marriage was shorter than this argument."
Watch the full clip, above, and see what happens next when the full episode drops tonight on MTV.