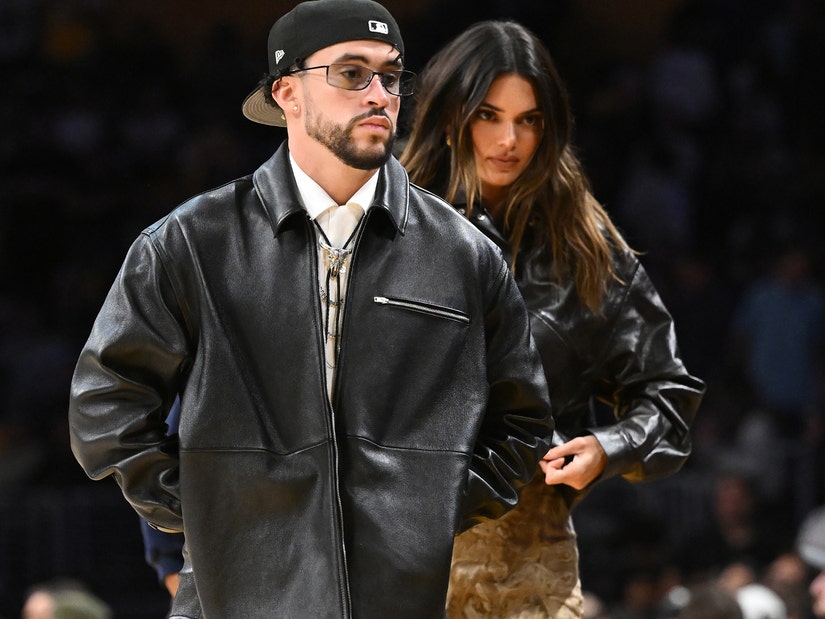 Getty
In a new profile, the musician reflects on his personal life, famous friends and viral moment he was seen grabbing a fan's phone and appeared to toss it into the water.
When he's not making headlines for his new music and energetic live performances, it's Bad Bunny's personal life that takes center stage -- namely thanks to his relationship with Kendall Jenner.
The two were first linked back in February; she then supported him at Coachella before they had some more public date nights at a Met Gala after-party and Lakers game in May. While neither has commented publicly on the partnership, Bad Bunny was asked about it in a new cover story for Rolling Stone.
In the profile, the publication first brought up his personal life more generally, with Bad Bunny -- real name Benito Antonio Martínez Ocasio -- responding, "I know something is going to come out. I know [people are] going to say something. People know everything about me, so what's left for me to protect? My private life, my personal life."
When asked whether he would like to "clear up anything about his relationship status and the tabloid rumors with Jenner" specifically following rumors around the time of his Coachella performance, he added, "That's the only answer. In the end, the only thing I have is my privacy."
"I keep living," he continued after the public's interest in his love life was brought up. "Fans are always going to want to know more, but I don't focus on that. I'm always going to keep living my way."
In the same interview, Martínez said he's recently been "trying to socialize more, get to know more people" as he makes famous friends in Hollywood. He explained that, for him, it was always "a little complicated when it comes to getting to know people my whole life," saying he was "closed off" a bit in his youth. Clearly, he's still a little closed off now when it comes to keeping some things private, something which is harder in the age of ever-present cell phones with built in cameras.
"Today, everyone's a paparazzi. We're in the worst time, the worst moment for the privacy of other humans; not just artists, but human beings," he lamented.
"Today, no one respects the privacy or life of anyone. There could be someone in line with, I don't know, weird pants on or something, and someone is there filming them."
"People were recording. I love going to D.R., so I was waving to everyone ... Suddenly, a woman jumped in front of him for a selfie," he recalled. "That person got right on me, leaned directly on my body."
He said he felt bad about grabbing and tossing the phone "the next day," but claimed it never actually went into the water.
"Bro, that cellphone didn't break. It exists. It bothers me that people haven't said that. I didn't throw that phone into the water. I threw it into some bushes," he said. "She has it. She should upload the video."