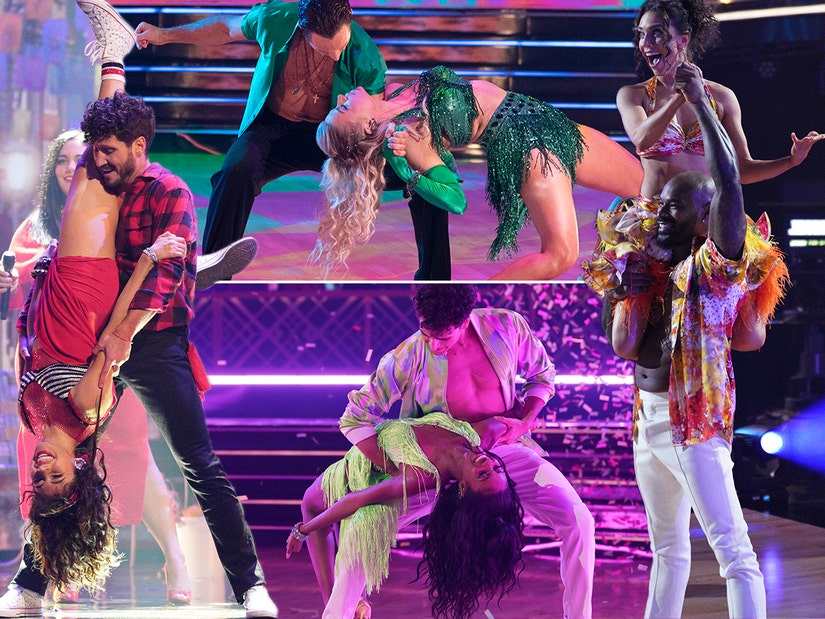 ABC
It's Latin Night on Dancing with the Stars, with the challenging steamy styles causing new leaders to emerge, and nearly half the celebrities to drop their scores from last week's premiere -- then, America's vote sent a shocking celeb packing.
Latin Night did a number on the 13 contestants left on Dancing with the Stars with a massive change on the leader board from top to bottom. Some of last week's leaders really faltered, with five couples actually dropping their scores, while two climbed from the basement and soared.
In other words, whatever you thought you knew about who was killing it in this competition could be thrown out the window. That also goes for this week's eliminated celebrity, who shouldn't have been in danger at all, were it not for viewer votes. Without a judges' save, it's all down to America, and they continue to make unexpected choices.
Things were even tougher for Bachelorette Charity Lawson, who was atop the leader board last week. This week, her partner Artem Chigvintsev tested positive for Covid, thrusting her into the arms of another partner already in Week 2. Could she handle that transition?
Could Mauricio Umansky rebound from being in the Bottom 2 last week? How about Tyson Beckford and Harry Jowsey, who tied for the lowest scores from the judges last week? This show is all about improvement, so could these guys make that happen?
We're still a little surprised at this week's results and who went home after what went down across these two hours. So while we take a moment to try and collect ourselves and make sense of it, you can start making your way through these dances and see what you think.
Who do I think I am? you ask. Well, I spent nearly a decade of my life sweating and bleeding to the music as a dancer. From a young boy learning a shuffle-ball-change to performing with the St. Louis Ballet Company, I experienced the ups and downs of one of the most difficult physically demanding sports on the planet. During this time, I was also a member of the St. Louis Symphony Youth Orchestra, as well as a gymnast, writer and cartoonist. I had a lot more energy in my younger years. And I've spent the last twenty years analyzing and critiquing reality competition shows for various media publications. I've got this.
Fair warning, since I'm safe at home, I'm probably going to be a little harsher than my colleagues Carrie Ann Inaba, Derek Hough, and Bruno Tonioli. But I might be nicer, too. Maybe.
Lele Pons & Brandon Armstrong
(Samba - "Gasalina," Daddy Yankee) Lele was feeling good about the style and the song, reaching into her Venezuelan roots to try and pull out her sexiest, most commanding Latin performance ever. She definitely was feeling the song, which she says she's danced to before, and she had some nice movement with Brandon. We were hoping for a little more rapid staccato movement and tightness in her footwork to match that swivel in her hips. She had everything happening correctly, she just needs to keep cleaning up the work.
Tyson Beckford & Jenna Johnson
(Salsa - "Aguanilé," Willie Colón & Héctor Lavoe) Props to Jenna and Tyson for pulling off some pretty risky lifts in Week 2. He definitely loosened up a bit from the premiere, but not nearly enough. He needs to work on loosening his hips some more so a swivel is more than just a thrust (some side to side would work well, too). He's still a lot too heavy, lumbering around the stage a bit, but we saw a little more grace in his movement and finesse in being where he needs to be. He's barely thinking about his arms (and it shows) as he focuses on improving his footwork. It's good to see growth.
Barry Williams & Peta Murgatroyd
(Cha-cha-cha - "Oye Cómo Va," Tito Puente) Peta kept this one slow and steady to help Barry out, and it was great seeing his passion and conviction in the performance. He needs to watch those heel leads as it leaves him looking flat-footed and heavier in a style that should be light and moving. There was a distinct lack of grace in a lot of his movement as he walked, rather than danced, across the stage at points and it felt as if he was even a little too intense for the cha-cha style. He was definitely there for Peta as needed, but he's got a ways to go yet as we didn't feel that we saw growth or improvement.
Adrian Peterson & Britt Stewart
(Samba - "Taki Taki" DJ Snake f. Selena Gomez, Ozuna & Cardi B) Adrian took to this style the way Frankenstein's monster took to walking his first time off the table. It was so incredibly stiff throughout, as if all he wanted to do was make sure he was physically where he was supposed to be at each moment and kind of looked like he was doing a samba. There was almost no musicality, no presence, no personality in his delivery at all. He said he was going to show the family man smile, but there wasn't much to smile about here. This might have been a (very heavy) step backwards.
Mira Sorvino & Gleb Savchenko
(Salsa - "Bailando," Enirique Iglesias) Mira consistently gave us about 80 percent of the dance she was trying to deliver. We could see her in her head and maybe that was why she didn't quite give fully to any of the movements in the dance. It was all a bit withdrawn and inward expressing rather than outward. The moves were there, she's got the grace to really open up and shine on this style, but it was as if her nerves and anxiety and a severe lack of confidence had her dancing at a whisper rather than a euphoric shout.
Xochitl Gomez & Val Chmerkovskiy
(Salsa - "Don't Go Yet," Camila Cabello) It was certainly interesting seeing Xochitl perform this in sneakers, which left things a little off as she was on her heels a bit more than we would have liked. Mostly, though, she delivered a lot of fast movement and a real sense of energy that felt right for the dance. It was kinetic and contagious, leaving us smiling right along with her. Yeah, they pretty much botched that last lift entirely, but she conquered a fear of heights with two big jumps and really brought the ballroom alive in a way we'd not seen yet tonight. She was performing nonstop and we could have watched that on and on and on.
Ariana Madix & Pasha Pashkov
(Samba - "Me Porto Bonito," Bad Bunny & Chencho Corleone) We saw a little resistance in the samba rolls moving forward, but we were definitely feeling the ferocity of her attitude. Those opening moves were a lot of fun, but those closing moves were either supposed to be a fraction of their fullness or she didn't execute them properly at all. Throughout, she had some hesitation at times and wasn't quite sunk into the floor to really loosen up her hips as consistently as she needed. This was a tough routine and she gave a lot to it, but she definitely needs to continue working on each step and moving consistently throughout the whole dance.
Mauricio Umansky & Emma Slater
(Salsa - "Quimbara," Celia Cruz, Willie Colón, Johnny Pacheco Y Su Charanga) The first third of this dance was a night-and-day difference from his messy first week. Then, he forgot the choreography for a moment which caused him to lose his way -- and then stopped at a complete loss for a moment before Emma got them back on track. It was a shame that it fell apart so badly there because that rattled his confidence down to almost nothing. Before that, we were blown away by his attack in the style and the grace of his movement. We'd love to see him dance this style clean and see how it finishes.
Alyson Hannigan & Sasha Farber
(Tango - "Can't Remember to Forget You," Shakira f. Rihanna) There was so much attack and presence throughout this dance, it was like a whole different Alyson from Week 1. We did find ourselves distracted by the tilt of her hand on Sasha's back in hold, and she seemed a bit too stiff overall, especially with her shoulders slightly up. Yes, we know it's a tight hold, but there's also a fluidity to the way the rest of the body moves below the waist to create that illusion of gliding across the floor. Don't get us wrong, this was incredibly engaging and she really was in the pocket, we just wanted her to relax a bit more into it.
Charity Lawson & Ezra Sosa
(Cha-cha-cha - "She Bangs," Ricky Martin) With Artem Chigvintsev testing positive for Covid, Charity was given a slight disadvantage for Week 2 by having to already switch up partners. She rebounded beautifully, though, and continues to make her mark on this dance floor and make those past Bachelorette winners proud. She is off to such a strong start and really embodied the spirit of this style. Her hip movement was great, there was a sharpness in her movements, and her footwork was just about perfect through much of this. As for character, Charity was over the top with her joyousness, now if we can just get her to not sing along to the track and focus entirely on the art she's presenting and her partnership, we can be transported with her.
Harry Jowsey & Rylee Arnold
(Salsa - "Arranca," Becky G f. Omega) Rylee actually choreographed Harry standing there while she danced in front of him and he managed to make that look like your dad crashing your college party and pretending to dance in the corner but really he'd watching to make sure you behave. His moves were just about as stiff as last week, when he had them, as he lumbered around the stage. There was no liquidity in his hips or grace in his movement. Rylee looked at times like she was dancing next to a tree. We saw no notable difference from last week, despite him saying how much he wanted to improve.
Jamie Lynn Spears & Alan Bersten
(Cha-cha-cha - ""Shake Señora," Pitbull f. T-Pain & Sean Paul) You would have thought her dress was too tight for her to move her hips at all because they were locked. She had the attitude in her face and her arms (mostly), but everything below the waist had been poured in concrete and was drying fast. It was all just so heavy and felt labored to get any movement out of her at all, which completely sucked out the sexy character of the dance. This was the g-rated version, which had no flare or excitement to it. She's really got to relax into her own body, stop being so self-conscious or whatever is holding her back, and let herself move and feel free.
Jason Mraz & Daniella Karagach
(Rumba - "Quizás, Quizás, Quizás," Andrea Bocelli f. Jennifer Lopez) Daniella has to be one of the most exciting choreographers on the show. Not only did she and hubby Pasha nail the opening routine, but this number was sensual fire. She even brilliantly choreographed coming down the stairs! As for Jason, he had a slight misstep midway, but mostly did the partnering expected of him to help Daniella sizzle. He had a great fluid strength in his movements, painting picture after picture with her throughout the piece. This was a beautiful piece of art and he continues to rise to the top, surprising himself each week.
Charity, Ariana, and Jason were again strong, with Xochitl and Lele joining them at the top of the leader board. Meanwhile, Alyson and Tyson made huge strides this week, tied for most-improved and improving their standings considerably. Viewers love a comeback, so they should be safe this week, too.
Mauricio is all by himself at the very bottom, but we have a feeling that it won't knock him out of the competition. That's because he was so much improved and actually pretty strong until that missed stop derailed everything midway through. We think a sympathetic audience won't penalize him that much for that, all things considered.
That means, we're looking at the three acts tied just above him. Adrian, Barry, and Harry were none of them all that strong this week, while Jamie Lynn was just one point above them. The judges were a lot more bullish on her than we were, while Barry is just so lovable to watch, we suspected both of them would be safe.
That brings it down to Adrian and Harry for us, and of the two of them, it felt like Harry just didn't improve at all. We know the judges were a little kinder with their comments to him, but from what we saw, he's someone who just isn't getting there. If his incremental growth this week was any indication, he won't get there anytime soon, either.
But what did America do? There are, after all, no judges saves this season, so popularity becomes more important than ever. Would past NFL glory save Adrian? Would online fame help Harry? Would it be someone else entirely?
Sent to safety first were Alyson, Lele, Tyson, Charity, and Harry, with that last one coming as a huge surprise to us. Suddenly, we found ourselves wondering if maybe Barry wasn't as beloved by DWTS viewers as we think, or was the audience perhaps as tough on Jamie Lynn as we were?
Ariana got the good news next, quickie followed by Mira, Xochitl, Jason, and Barry. So the love for Barry was there, as we thought, leaving Mauricio, Adrian, and Jamie Lynn lingering. They always say this is not necessarily the Bottom 3, but this week, we kind of feel like it is. We still felt that Mauricio would survive, leaving us looking at Adrian and Jamie Lynn. Of the two, Adrian actually showed the most potential.
With four people below her in judges' scores, would Jamie Lynn actually go first? If so, it's indicative of the power of America's votes. Or maybe it was going to be Mauricio and America would line up with the judges, after all? They did not, as Mauricio was sent to safety, leaving Adrian and Jamie Lynn as the legitimate Bottom 2.
In the final result, it looked like a higher judges' score wasn't going to matter as much, with Jamie Lynn Spears having to say goodbye after just two weeks. Considering the fame her sister has for her dancing, even still today, this had to be a disappointing result for her.
Dancing with the Stars celebrates Motown next Tuesday at 8 p.m. ET on ABC and Disney+.