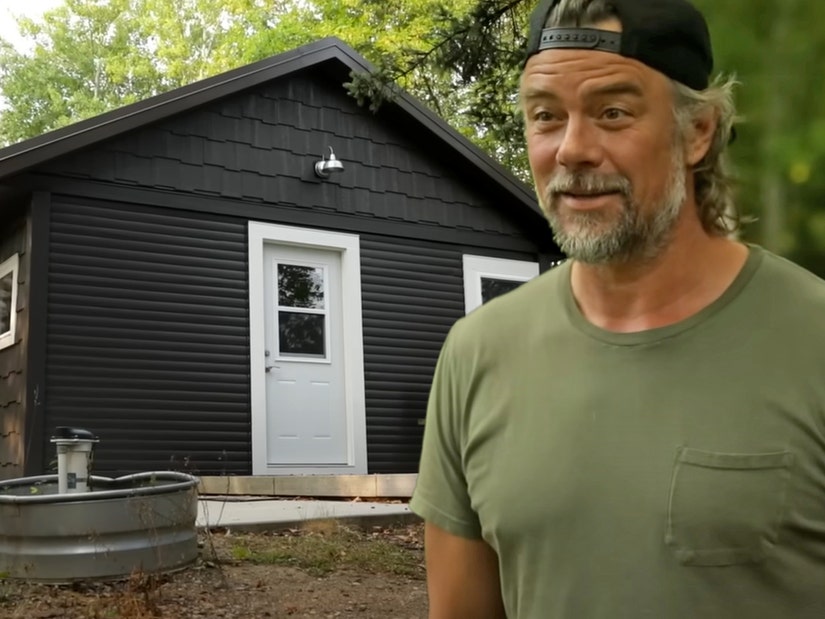 YouTube
The self-described Doomsday Prepper reflects on his traumatic upbringing, recalling a time where his father was homeless amid his parents' divorce, and life ahead as he prepares to welcome his second child with wife, Audra Mari.
Elsewhere in the wide-ranging interview, Duhamel discusses his 21-year age gap with wife, Audra Mari and his traumatic upbringing, recalling a time where his father was homeless amid his parents' divorce.
TooFab is breaking down the 5 biggest revelations from Duhamel's interview below.
His doomsday prep was inspired by a 1999 novel
Duhamel has been open about being a doomsday prepper for some time now, but the obsession was actually inspired by a 1999 novel. Titled Patriots: Surviving the Coming Collapse, Duhamel said it was James Wesley Rawles' guide that prompted him to craft a home ready for any kind of shortage -- allowing he and his family to live off the land should they need.
"Part of being out here -- I have this fear of having to move out here and live off the land," Duhamel told the In Depth host. I don't know if that's ever gonna happen, but I feel like it's a skill I need to learn how to do."
"We live in a really delicate society where we lose our cell phones, we're all gonna lose our goddamn minds," he added of the role the novel played in crafting his North Dakota oasis.
Duhamel said he wanted a self-sustaining property should something like a market crash make food or fuel temporarily inaccessible.
"I just wanted a place to be able to get away to until things get back to normal -- who knows if that'll ever happen, but it's fun," Duhamel said. "It's a fun thing to pretend is gonna happen."
Duhamel's wife, Audra, is considered the "mature" one in their relationship despite their 21-year age gap
When it comes to Duhamel's relationship with wife, Audra, age is just a number. Audra detailed having pause over the age gap when she first started dating the actor five years ago, but has since looked past it -- in fact, she considers herself the "mature" one in their relationship, despite their 21-year age gap.
"It was funny, when we first started dating, I remember thinking, 'Wow, that's a lot of years,' and all my friends were like, 'Wow, that's a lot of years. Are you sure about this?'" the pageant queen recalled.
When questioned by Duhamel on her current stance on their age gap since tying the knot last year, Audra said age is just a number, though she considers her husband to be "immature" for his age.
"Youthful," she said, correcting herself. "How about young at heart?" Duhamel offered. "For me, it truly is about staying curious. Staying playful."
Duhamel, who is about to be a dad for the second time, had his first child with ex, Fergie, just 10 years ago, and is ready to do it again at 50.
He had be put in a wheelchair on their wedding day
The pair, who are expecting their first child together, detailed their wild wedding night -- a moment where their age gap really showed, as Duhamel tweaked his back while dancing on the party bus ahead of their big day.
"I tried to do a gymnast -- those rings in gymnastic, how they can pull themselves up and straighten their body out. Well I tried to do that, and my back went [makes cracking noise] and I was like, 'Ooh, that's not gonna be good,'" Duhamel recalled.
And it wasn't. Come wedding day, Duhamel said he couldn't stand up or get out of bed.
As for how he got through it, Duhamel was given a steroid shot and some pain meds that allowed him to dance the night away and enjoy the momentous occasion.
When it was all over, however, he had to be put in a wheelchair, joking to Audra the next day, "Is what you envisioned the day after you got married? Wheeling me to the hospital?"
Duhamel was never comfortable with overwhelming fame that came during marriage to Fergie
Duhamel, who was married to the popstar from 2009 until 2017, said he never fully got used to the spectacle surrounding Fergie and their relationship.
"I don't think I ever really got comfortable with all of it. It was just a lot," he admitted. "I just missed the simplicity of who I really am."
Duhamel added, "I'm just not a guy who's comfortable going to red carpets, doing all the Hollywood stuff. I don't hate it. I'm better at it now than I was, but it really just took me a long time to really feel like I fit in.
While summing the end of their relationship to simply growing apart and having different interests, Duhamel said they have a great relationship now, especially when it comes to co-parenting their son, Axl.
"We both had parents who got divorced who didn't get along so great, and didn't want do the same to our kid," Duhamel said. "We knew whatever differences we had, we had to figure that out and be a positive example for Axl... we both had good examples of what not do."
Duhamel's father lived out of his car amid divorce from his mother
Duhamel, who recounted some of the funnier moments in his childhood, including farting on command and pooping on his sister's head, also looked back on some of the darker times, including a period where his father was homeless amid his divorce from Duhamel's mother.
"Mom and dad got divorced when I was a fourth grader. They both struggled for quite a while, but then are doing great now, but it was a rough several years the divorce," the Shotgun Wedding actor remembered.
While his mom was working three jobs to make ends meet, his dad was living out of his car.
"He never made it feel like he was in a bad place, but at certain point I was like, 'Why are all Dad's clothes on the back of his car, hanging on a rack?'" Duhamel said of the moment he knew his dad was homeless.
Calling him a tough guy, Duhamel said he and his sisters were happy to spend any kind of time with their dad no matter where he lived amid his parents' contentious split.
Duhamel himself faced his own struggles as young actor in Hollywood, broke and couch surfing until he made it.
"I was so broke. I had no money... for a couple months I was living on a couch," Duhamel said of his early days in Hollywood, calling it one of the most depressing times in his life.
He ultimately decided to go all-in on acting, eventually landing gigs on soap operas before breaking into Hollywood's movie scene and becoming one of the industry's biggest leading men.
See more from the interview below: