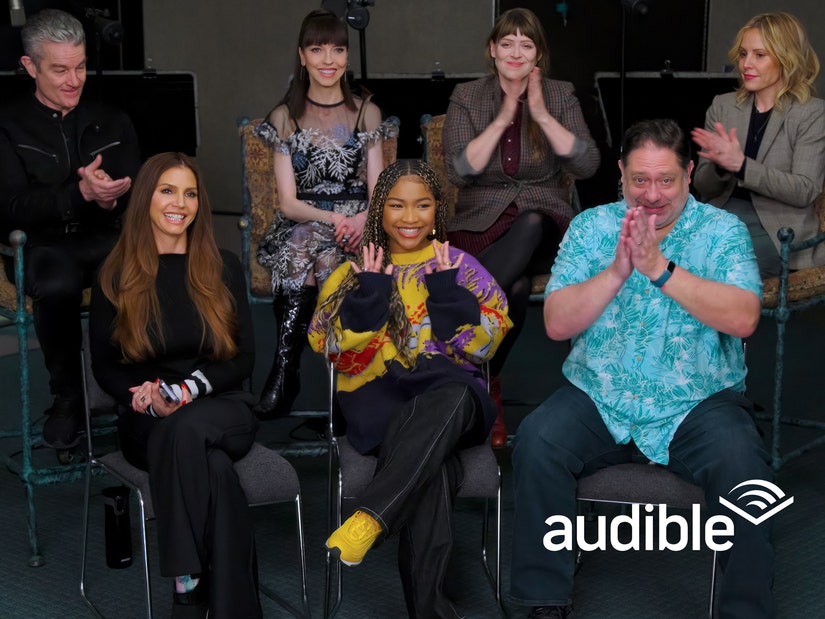 Audible
"Never in a million years did I think we'd be doing this," said Emma Caulfield, who had no desire to return to the world of Buffy the Vampire Slayer before this new project spearheaded by fellow alum Amber Benson and writer Christopher Golden.
A few familiar faces are returning to Sunnydale for a new project reuniting the stars of Buffy the Vampire Slayer 20 years after the original show's series finale, something some of them never thought would happen ... or even wanted.
While not a direct continuation of the show, the new Audible Original audio series Slayers: A Buffyverse Story features many returning characters and cast members, including a few whose fates seemed all but sealed from both BTVS and its spinoff series Angel. Back for the series are James Marsters, Charisma Carpenter, Anthony Head, Juliet Landau, Emma Caulfield Ford, Amber Benson, James Charles Leary, Danny Strong, alongside newcomer (and new Slayer) Laya DeLeon Hayes.
Benson also plays double duty, writing and directing the series alongside Christopher Golden, with whom she's collaborated in the past on Buffy comics. When Golden heard Audible had something involving Buffy in the works, he connected with Benson and the ideas just started flowing -- including having Cordelia, who was killed off on Angel, return as the sole vampire slayer from another universe.
"I feel like I'm beating a drum, but, like, the idea of having Cordelia the Vampire Slayer was so important for me. Charisma and I had worked on a film together and we had this scene, and she was so incredible in the scene, I was like, 'Oh my god, she's not only funny and charming; she's like a solid, solid dramatic actor! She's amazing," recalled Benson. "And I was like, well, I would love to see a little justice for Cordelia. How do we do that? Well, multiverses can have lots of things in them, like Cordelia the Vampire Slayer! And that was very important to me to have that."
In the two decades since the original TV series wrapped, much has been said about the conditions the cast and crew allegedly worked under -- including allegations of misconduct against its creator Joss Whedon, who was accused of fostering a toxic work environment by stars including Carpenter, in particular. For some of the cast, this podcast was a way for them to take back some of the narrative around the show, regain more control over the characters they once portrayed and get "justice" for their unceremonious exits.
Carpenter has claimed her exit came after she revealed she was pregnant. According to her account, Whedon first asked if she was "going to keep" the baby, called her "fat" and "proceeded to attack my character, mock my religious beliefs, accuse me of sabotaging the show, and then unceremoniously fired me the following season once I gave birth." He has only copped to acting "not mannerly" to her.
Benson's Tara, meanwhile, was killed by a gunshot, with her death sparking Dark Willow's revenge storyline. Though the actress was allegedly asked back, she told Evan Ross Katz in his Into Every Generation a Slayer Is Born: How Buffy Staked Our Hearts book that she no longer had "trust in what was going to happen" with her character if she returned and didn't want to go back to "a situation that wasn't safe for me emotionally."
"For me, the important thing when we were doing Slayers, the Audible Original podcast, was to be really mindful of my Tara fans. They're very, very important to me. She is a very important character for a lot of people. And we wanted to maintain the baseline of Tara while also giving her more things to do, and yes, it was awesome to have control over," Benson told TooFab. "I think as artists, it's always really cool to be able to shape a character on the journey a character goes on and the arc that the character has, that was really cool."
The situation was a little different for Caulfield, whose character Anya was killed off in the series finale, at the request of the actress herself. But her death was so abrupt and sudden, with no real mourning or afterthought, she told Katz is felt like a "Go f--k yourself" move.
"I didn't feel like Anya was ever really let down. I know that's an unpopular opinion with people who love her. I had a personal stake in her going out," Caulfield told TooFab. "Was I happy necessarily with the way that's executed in the past situation, no. No, that's not what I asked for. That's now how I thought it was gonna go. It was like, 'Oh, that feels personal. That feels personal."
"So in that sense, yes, okay, we're just gonna start over here and I think it's wonderfully done," she said of where we find Anya in the new podcast; like Cordelia and Tara, she also returns, in part, as a different version of the character from an alternate dimension. "As someone who has had a personal stake in it, someone who helped birth this person and was part of this amazing group of people, I feel like ... it was thrilling for me."
That being said, she still needed some convincing.
"It was pitched by Amber and she and I are friends. She was like, 'I'm pretty sure you're gonna say no to this.' She started in and I was like, 'No way, I'm not revisiting her, she died, let her live in peace. I asked to be killed off, remember. I don't wanna go back," she explained. "Then she talked for a few more minutes and I go, 'I'm in. Very in.' She's very convincing. It was the happiest time, she was so great."
In the past, Caulfield said she was always pretty honest when asked by fans whether there would ever be some sort of followup project -- telling them, "sincerely, no," because she felt "it wasn't something that was wanted" for her. While there were other attempts at reviving the series in the past, she also made it very clear "this isn't that," calling the podcast "its own thing" which "stays very true to who these people are," while also giving the cast an "opportunity to shine a light on a trait or something that didn't necessarily get to shine through the first go around."
Another plus this time: Having Benson -- someone she trusts "completely" -- as one of the people steering the ship.
"She's so smart and she has such an incredibly ... her understanding of everything is so nuanced. She can be macro and micro, simultaneously, as someone who is an actor and also on the other side. The way she can communicate is wonderful," she explained. "I love when actors become directors or writers, I love it. Especially directors, because they get it. They're not gonna be like, 'Hey, can you be more sad?' What the f--k kind of direction is that man?"
The actress was also instrumental in recruiting many of her former costars, saying she made "so many phone calls" for the podcast starting pre-COVID. And, once it came time to start recording, many of assembled cast members were surprised by just how many of them she got to sign on.
"My favorite part of doing all of that is that when we got into the recording studio, even by then, I think that some of the cast didn't really realize that Tony Head was going to be in it," said Golden. "They were like, 'Tony said yes?' Yes! He said yes! I remember the look on Charisma's face when we said Danny Strong was in it. And she was like, 'You got Danny to say yes?' Yes!"
"So that was sort of the best part -- to be able to get actors who had never played a scene together to play scenes together. It's such a pleasure," he concluded.
"I teared up, with joy, it was very emotional. It was so much fun and so weird," Caulfield said of stepping into the studio. "I'm like, this is so surreal right now, never in a million years did I think we'd be doing this and just how much love I had for everybody in that space." .
Poor Marsters, revealed both Benson and Golden, had to record his material separate from everyone else because he was sick when it came time to lay down the audio. He still did it from a "little side room" where he could see everyone else, shared Benson, calling him a "trooper" for making it all happen.
"These are the actors I love. You know? I love all of them," she added, saying the tears for her really came when they wrapped.
"Everyone was like, can we do another one, please? Like right now. It was like, no one wanted to leave," Benson continued. Golden, meanwhile, compared it to the first day back at school, with everyone coming into the studio with some trepidation before everything clicked into place.
And while all nine episodes of Slayers drop this Friday on Audible, Caulfield shared she's totally to keep it going. "100%" she said of doing another season, "Please tell them, more please!"