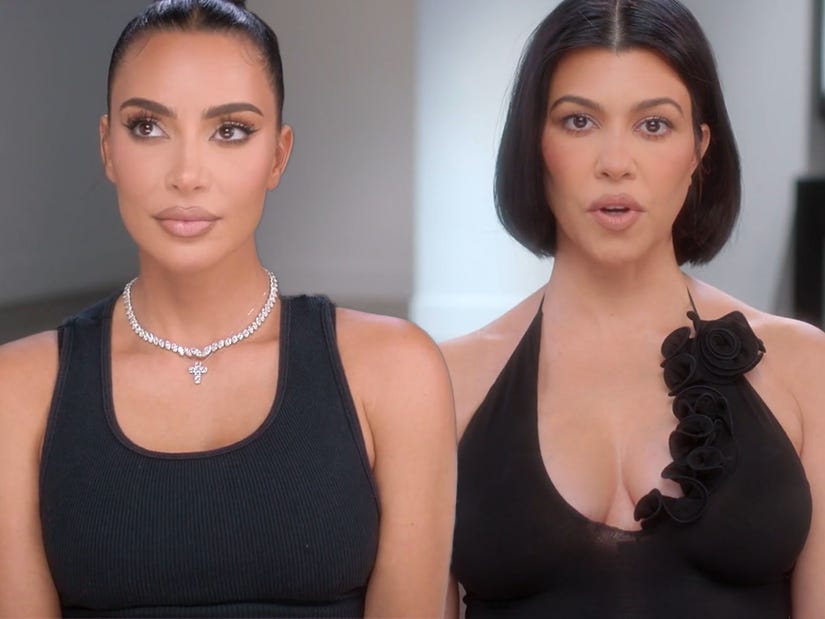 Hulu
"I think we both said things that we're not proud of," Kourtney reveals, as Kim heads back to Italy for another Dolce & Gabanna event after the first one caused so much drama.
Kim Kardashian and Kourtney Kardashian's relationship appears to be on the mend, following an explosive fight in which the former referred to her sister as "a f--king witch" who she hated.
In a sneak peek at tonight's new episode of The Kardashians (via Us Weekly), Kim explained that things are on the upswing while on a trip to Milan for a Dolce & Gabbana engagement. During the getaway, Kim said that she began getting some sweet text messages from Kourtney -- despite their past drama involving the same designer.
"I feel like it's a step in the right direction in moving past it, moving past all the drama, I want her here," Kim explained in a confessional, before Kourtney opened up about the situation in her own.
"I think we both said things that we're not proud of. But anyone who has sisters or siblings, knows the dynamic," said Kourt. "You can get into a crazy fight and then you can each other a funny text and everything's all good."
ICYMI: Kourtney made it clear previously she felt Kim's collaboration with Dolce & Gabbana stepped on the toes of her recent wedding celebrations, during which she wore curated looks from the brand's vault. She also believed the partnership spoke to a larger issue she had with Kim, who she felt didn't prioritize family over business deals.
While the pair seemed to hash things out last season, Season 4's premiere kicked off with them already at odds with one another again. This time, the tension came after they began watching the Season 3 episodes as they dropped -- seeing the nasty comments they each made about other behind their backs during confessionals or conversations with other family members amid their feud.
New episodes of The Kardashians drop Thursdays on Hulu.