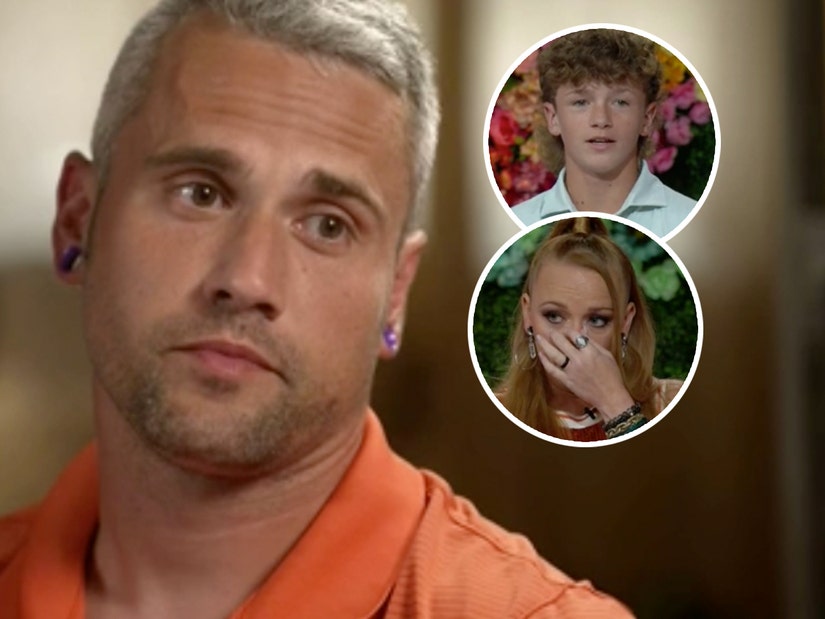 MTV
"I asked that lady why she saved me," Ryan told Dr. Drew about waking up in the hospital after overdosing on drugs, before opening up about his recovery.
Maci Bookout's ex has been through a string of arrests for harassment, controlled substance and DUI, overdosing in April 2023 before regaining consciousness in a hospital. Earlier this year, he was sent to a rehab facility and, according to an interview with Dr. Drew on the reunion, has continued therapy since.
On Wednesday's reunion, Dr. Drew flew to Tennessee to speak with Ryan, who couldn't travel to New York City to sit down there in person. Immediately, Drew said Ryan looked like he was doing well.
When asked whether he was done having to go into treatment, Edwards said, "I would hope to think so, I don't want to do it anymore." He added, "I think my biggest problem was myself, not thinking I had a problem. I lied to myself."
He told Pinsky he was five months sober, which was the longest period of sobriety outside of treatment.
"When I went to treatment [before], I knew as soon as I got home I was gonna do what I was gonna do. I have used in jail but not this go around. That's big, it takes a lot of work," he explained.
While he said his children were a big motivator for him to stay sober, he admitted, "I don't believe that's enough to keep me sober." Ryan also said that a lot of people he knows continue to use drugs, so he does his best to not "put myself around it" -- and attends both AA and NA meetings regularly.
At the time of filming, Edwards was in a halfway house, after completing 28 days of treatment at a residential facility. He said he has a sponsor and is about to start working the steps. When asked about his plan after the halfway house, he said, "It's whatever the court says, I'm at their mercy right now."
Edwards then surprised Dr. Drew after being asked whether he's ever thought about hurting himself in the past.
"Yeah. The last time I used and overdosed, that was on purpose," he said. "I didn't know that," Pinsky replied, before Edwards told him, "I don't think anybody did."
Calling the confession "heavy," Dr. Drew then wondered whether he was "disappointed" when he woke up from the OD in the hospital. "I asked that lady why she saved me," said Ryan, saying that a combination of "depression, addiction" and the ongoing "drama" with his estranged wife, Mackenzie, and the police led to his overdose.
Speaking of Mackenzie, he said he wasn't allowed to talk about allegedly destroying their home, before reiterating that he was still pursuing divorce. He added that he still sees the children he shares with her when they go to his parents Jen and Larry's home to visit.
After praising Maci for checking in on him daily throughout his struggles, he also said he plans to sit down with their son Bentley and go over everything that went down -- but not until he's at a place where "everyone knows that I'm doing okay." He added that he knows he owes a lot of people apologies and wants to prove he's changed with his actions -- adding, "I do need to have a talk with Maci because there's a lot of things I've done that just were really s----y. I feel like maybe she would like to hear some of that. But there's a time and place for that."
Looking ahead, he said he hoped to become a good father, stay sober and get back to work as a mechanic.
When Dr. Drew spoke with Maci separately during the reunion, she said she felt "very helpless" after Ryan's overdose.
"Very scary. You can't just put a Band-Aid on it, that doesn't fix anything," she said, getting choked up. "Him overdosing, there's truly no way to describe what that feels like, when you know that that has happened."
She went on to say that therapy has been a "massive" benefit to their son Bentley, who then came out on stage and reiterated how helpful therapy has been for him. He added that he speaks with his father and he "seemed good" during their last conversation.
Ryan's parents Jen and Larry also came out on stage, with Jen acknowledging how hard this situation must be for Maci's husband Taylor as well. They also responded to reports about Mackenzie visiting Ryan at the halfway house -- saying Ryan "got in trouble for that." Jen called the incident "very worrisome," adding that "there is no one who should be on the property except the patients."
She also claimed Mackenzie dropped the order of protection against Ryan, saying they were concerned about the situation overall.
If you or someone you know is struggling with depression or has had thoughts of harming themselves or taking their own life, get help. The National Suicide Prevention Lifeline (1-800-273-8255) provides 24/7, free, confidential support for people in distress.
If you or someone you know is struggling with substance abuse, get help. The Substance Abuse and Mental Health Services Administration (SAMHSA) National Helpline (1-800-662-4357) provides 24/7, free, confidential support for people in distress.