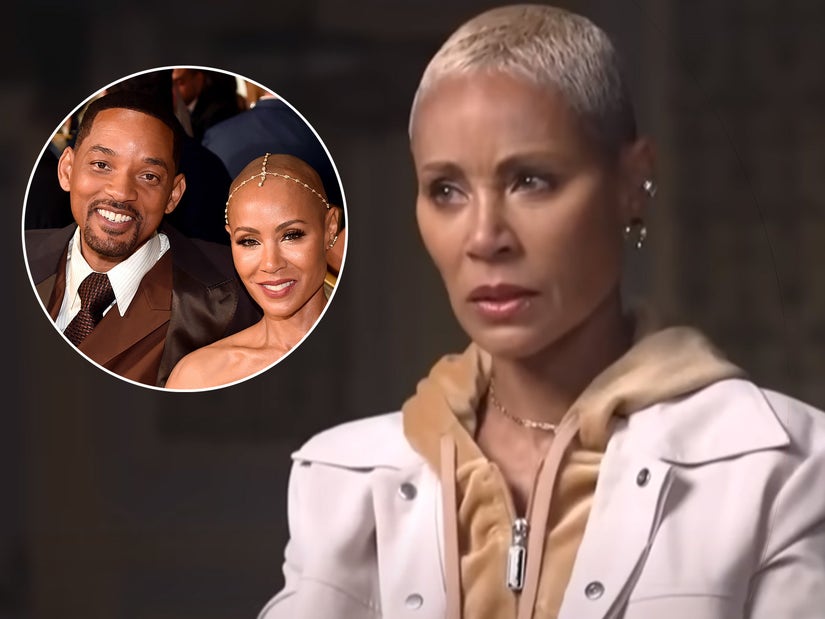 NBC/Getty
"I look to Will, and I said, 'You hit Chris? Like, you actually hit Chris?'" Jada recalled in an NBC News primetime special.
While sitting down with TODAY's Hoda Kotb in an NBC News primetime special, the actress -- who has been promoting her tell-all memoir, Worthy, -- reacted to the many rumors the former couple has faced during their marriage, including that she or Will are gay, they are swingers or have an open marriage.
"I would say that none of that's true," Jada, 52, said. "I definitely can understand why there would be misunderstandings, but none of it's true."
Also during the interview, Jada gave even more details about the infamous Oscars Slap, claiming that she didn't actually see Will slap Chris Rock -- who made a joke about her hair -- from where she was sitting. Jada -- who previously admitted that she initially thought it was a "skit" -- said her view was partially obstructed, so she wasn't sure what had happened.
"Chris is making light of it. And then -- Will swings," she recalled. "… As Will's coming back, I'm like, 'Wait a minute. Hold up.' Something is off. And then when he sits down, I look at him, grab his hand, and I'm just trying to see where he is. And then it continues, and I'm like, 'Oh, s--t.'"
The former Red Table Talk host said Rock told her that he "meant no harm" by the joke, telling Kotb that Rock's apology made Will even more upset.
"And now he's mad because Chris is talking to me," she said. "And I go, 'Chris, this is about some old s--t.' That's all I could think to say. I couldn't really take in his apology."
Jada said that it wasn't until Will's publicist told her Rock wasn't going to press charges that she realized Will had actually hit him.
"I look to Will, and I said, 'You hit Chris? Like, you actually hit Chris?'" she recalled. "And he's like, 'Yeah.' And I'm like, 'All right."'
The Girls Trip star claimed she has not spoken to Rock since the incident -- and neither has Will.
Earlier this week, Jada shocked the world when she revealed that she and Will have been separated for seven years, telling Hoda -- per a preview for her interview -- that they were not together romantically at the time of the Oscars... and still aren't now.
She admitted during the interview that she was "really shocked" by Will's infamous response: "Keep my wife's name out your f--king mouth!" because they hadn't called each other husband and wife "in a long time."
Meanwhile, as for what was behind their separation, Jada said there were multiple reasons.
"Why it fractured... that -- that's a lot of things... By the time we got to 2016, we were just exhausted with trying. I think we were both kind of just still stuck in our fantasy of what we thought the other person should be," she exlained. "I made a promise that there will never be a reason for us to get a divorce. We will work through... whatever. I just haven't been able to break that promise."
She said the pair are "still figuring it out" and have been "doing some really heavy-duty work together," before concluding, "We just got deep love for each other and we are going to figure out what that looks like for us."
Worthy hits bookshelves everywhere October 17. You can buy a signed copy by clicking the red button in the video, below.
TooFab may collect a share of sales or other compensation from links on this page.