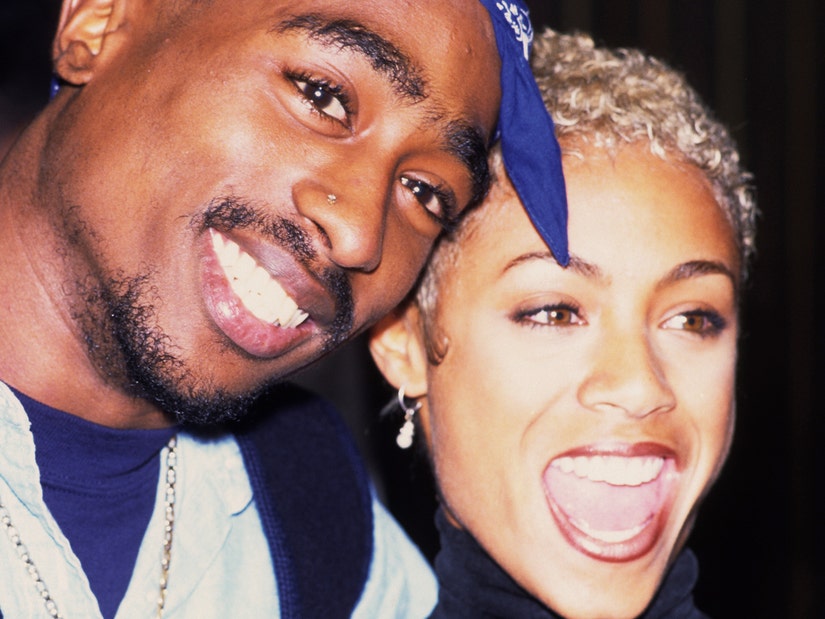 Getty
Jada explains why she believes he proposed, saying Tupac was "in bad shape" while behind bars following his conviction for sexual abuse in 1995.
In a preview clip from Showtime's All the Smoke podcast interview with the actress, she opens up about why she believes he popped the question and why it was so difficult for her to write about in her upcoming book, Worthy.
Jada Pinkett Smith reveals that Tupac proposed to her while he was in jail.

Jada and Tupac met at Baltimore School of the Arts as teenagers. They had a tight bond up until Pac's death.

Full episode with Jada drops Thursday 10/19 on our YouTube. 💨 pic.twitter.com/XjOE7hb1DD

— SHOWTIME Basketball (@shobasketball) October 13, 2023 @shobasketball
"I talk about this in the book, when I go to see him in Rikers. When I wrote about that in the book and when I had to talk about it, speak my words for the audible version of the book, that was probably one of the more painful parts," she explained.
"Seeing him there, the condition that he was in and having to leave him there, he was in bad shape," Pinkett Smith continued. "And so, when he asked me to get married, he was at Rikers and I knew at that time that A.) He needed somebody to do time with him, which I was gonna do anyway. You ain't have to marry me to do that, I'm here."
She said she believed he "needed a rock" at the time and because of their longtime friendship and all they'd been through, "he just wanted to feel that solidified foundation." Pinkett Smith also believed had she said yes, it wouldn't have lasted -- saying, "I promise you, he would have married me and divorced me as soon as his ass left."
"I just think it was the mind state he was in," she continued, saying that his overall demeanor was "starting to shift" in a positive direction before he was incarcerated. "I think that for him, he just felt like, okay, if I can tether myself, it will keep me on a trajectory," she conclude
Pinkett Smith and Shakur met during her sophomore year at Baltimore School of the Arts and while they were close, she's been adamant over the years that things were never romantic between them.
For more coverage on her book, Worthy, check out the links below: