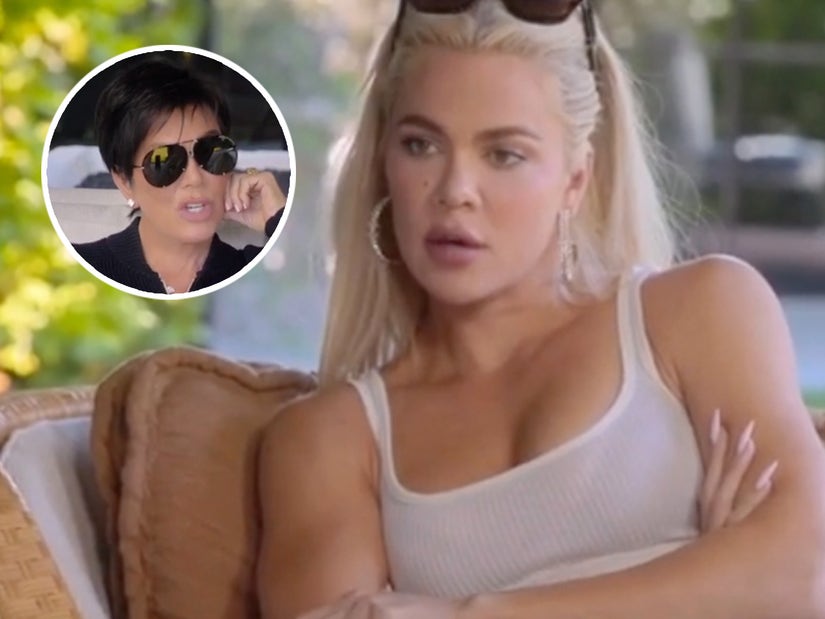 Hulu
On The Kardashians, Kris asks her daughter how she'll feel when Tristan moves on with someone else and wonders if Khloe will "regret" not taking him back -- before her own cheating scandal is thrown in her face.
While Khloe Kardashian has been very clear she doesn't want to reconcile with Tristan Thompson romantically, she's less sure when it comes to how she'll react when he moves on with another woman.
On Thursday's new hour of The Kardashians, Khloe had a sit-down with her mom, Kris Jenner, who asked all about her dating life ... or lack thereof.
"I don't have a dating life, I'm not dating anyone," Khloe responded, before Jenner brought up how she and Tristan do "spend a lot of quality co-parenting time together." She then wondered, "What happens if he moves on and you haven't moved on? How are you gonna feel about that?"
"I don't know until I get there, but I want him to move on. I want him to find someone and to be happy, whatever that means," Khloe replied, comparing her current situation to her split from ex-husband Lamar Odom.
"I remember Lamar and I were divorced already or separated -- I forget -- and the first time I saw him with someone in a magazine or online somewhere, I remember it still stung. But I didn't want to be with him," she explained. "The same goes for Tristan, I imagine the first time he is with someone, yeah, it will sting a little bit. I don't know, but I think that's probably normal."
In a confessional, Kris expressed her fear that Khloe would "regret not getting back with him full" if Tristan did find a new girlfriend. Speaking with her daughter, she added, "I see how he looks at you, I see the effort he puts into you and the kids."
But that wasn't enough for Khloe, who said that same effort should have been there before he cheated on her ... multiple times.
"Tristan's a great guy, if you don't think it infuriates me that I basically helped mold this person into who he is and now the greatness of him gets to be shared with someone else, yeah, that's very frustrating to me," she told Kris. "But that's not reason for me to settle for someone that didn't feel this way about me."
Reflecting on Thompson's scandals, she said nobody was concerned about her feelings with they happened -- adding that "everyone was thinking about themselves" instead.
"For all the girls, they were thinking about themselves. For Tristan, every time this happened. No one ever thought about me. So what I'm doing right now is I'm thinking about me," she continued. "It's frustrating that almost my entire life of men, they all have to realize how great I am after they showed me how terrible they can be. When I knew how great they were to begin with."
She wondered why she couldn't find someone who saw "how great I am to begin with," before telling Kris she should be asking Thompson these questions, not her. Khloe then admitted she knew he "wouldn't be happy" if she started dating someone new.
"He would be devastated, I promise," Kris interjected, getting a sarcastic "thanks" out of her daughter in response. "But if you're gonna be devastated, why did you do what you did?" Khloe added, before asking her mom, "What was the mindset when you cheated?"
The episode ended on that cliffhanger, so expect some grilling on Jenner's own past indiscretions next week. A preview also showed Khloe appearing to show some frustration over Kris' overall opinion of Tristan and his behavior -- as she's seen telling one of her friends, "If someone did to my daughter what Tristan did, I would probably castrate them and smile doing it."
Stay tuned ... new episodes of The Kardashians drop Thursdays on Hulu.