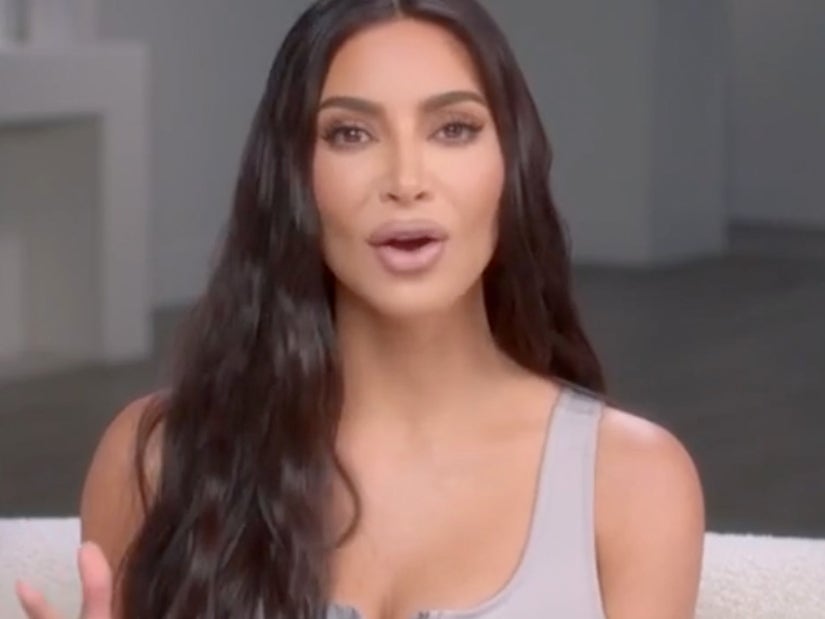 Hulu
On The Kardashians, Kim reveals she was "scared out of my mind" to tell Kanye West about a parenting decision, shares her "petty" reason for attending the Met Gala and says she was invited to be part of the Spice Girls.
On the latest hour of The Kardashians, the mother-of-four shared what she's looking for in a man and why -- while she's happy on her own -- she could use some more help around the house.
The reveals came as she took son Saint to London with a group of his friends and their moms, so he could go see Arsenal play. While there, the other moms told Kim there could be some "cute guys" on the team for her -- as the 42-year-old remarked she now has an "age limit" for the men in her life.
"You're like, after my last experience, I have age limits," quipped one of her friends, following her relationship with Pete Davidson, with whom she had a 13-year age gap. "I need just a little more age-appropriate," added Kim, before opening up about being comfortable with her quiet dating life in a confessional.
"When you're single and all your friends are married it's like you have desperation written all over your face and everyone under the sun wants to hook you up with someone," she said. "I'm genuinely just okay being by myself for a minute and the right situation will come my way."
While talking to her friends, she also explained her "petty" reasoning for attending the then-upcoming Met Gala, which was honoring Karl Lagerfeld. Though she wasn't initially intending to go, she changed her mind after a number of erroneous articles started popping up saying she and her sisters weren't invited to attend anymore. "There's something about me, where I just want to show up," she added, "I'm also really petty like that."
As the trip went on, Kim had to deal with a temper tantrum from her son, who exclaimed he was having "the worst day of my life" -- while with his friends, in London, in a VIP suite at an Arsenal game -- because his mom forgot his favorite jersey back in California. In a confessional, she vented about how it would be nice to have a partner to help her in these situations.
"It's really hard for me to be super strict and to discipline a lot. My parents weren't strict at all," she explained. "Because I'm really busy, it would be amazing if I had a partner that would come in and tap me out and take over and handle it. But it can't happen like that."
She did, however, recently enlist some new assistance around the house in the form of a male nanny. For Kim, it was important to have a little male energy around her children, with so many women in her extensive family.
"I do think that my household and even in our family, it's very female dominated and I recently hired a manny. I really wanted a male around that was going to be picking [Saint] up and taking him to sports and I was scared out of my mind to tell their dad that," she explained, referring to ex-husband and dad to her children Kanye West.
Those concerns, however, were unwarranted.
"When he was dropping off the kids, Kanye introduced himself, played 2-on-2 with Saint and him, was so nice to him," said Kardashian, adding that West also laid out how he raised the kids as well in a respectful manner. "I was like, 'Oh my god, okay, that's great," added Kim.
In completely unrelated news, the Spice Girls also naturally came up during Kim's trip to the UK -- with Kim claiming one of the women asked if she'd consider taking over for Victoria "Posh Spice" Beckham if they went back out on tour.
"They asked me if I would be her part. Mel C asked me. Sporty Spice wrote a book, signed it inside, sent it to me, saying that they're going on tour and they need a Posh and would I be the Posh," claimed Kim. "North is like, 'Do it, mom!'"
Though Kim said she's "sure she was joking," she was still shocked by how her life turned out. "When I was in high school, would I ever have thought this was like a thing? I'm just like a girl from high school who loved the Spice Girls and they're asking me?!" she exclaimed.
New episodes of The Kardashians drop Thursdays on Hulu.