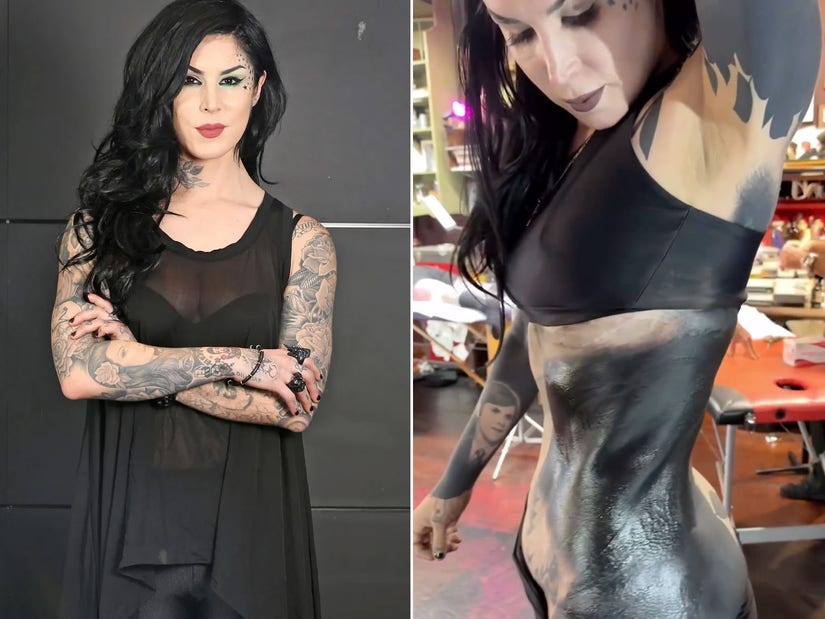 Getty/Instagram
The tattoo artist reveals why she's covering up a ton of pieces on her back and ribcage -- after already doing the same on her arms -- and why she didn't just laser them off.
Kat Von D continues to make some major changes in her life -- revealing in a new Instagram post that she's covered up a ton of her earlier tattoos with black ink.
Sharing video of her blackout process to social media on Thursday, the former LA Ink star explained why she decided to paint over pieces covering her ribcage and back, sharing that after 17 sessions and nearly 40 hours of work, she's "about 80% done with blacking out my body."
Waiting for your permission to load the Instagram Media.
The tattoo artist and reality star explained she has been flying to Philadelphia from Indiana to get the work done, before answering a number of frequently asked questions about the process. She also added, "Maybe before commenting any negativity, just remind yourself: What you consider ugly, might be beautiful to someone else."
As for why she's decided to cover up all her tattoos, she explained that many of them "represented a part of my life that no longer aligns with who I am today."
"Some people are fine with keeping these types of landmarks in time on them — I personally grew tired of waking up to them, and seeing those constant reminders every time I looked in a mirror," she added. "Also, I really love the esthetic. I know it's not for everyone but it is very satisfying to me to see a clean slate when I look down onto my arms."
When she first blacked out her arms -- leaving only the portrait of her father on her forearm -- she explained it felt good "to finally cover up so many of the tattoos I got back when I used to drink." At the time, she said they "meant nothing to me but landmarks in dark times" and liked how "nice and clean" they looked after the black out process.
While answering more FAQs, Kat explained that she did start by lasering away the tattoos but felt she "wasn't a good candidate considering how much coverage I wanted to remove." She went on to call it a slow, painful process that can take more time to complete and even longer to heal. Though she has seen "beautiful" coverups where the blacked out pieces are then covered in white ink, she added that she prefers the "simplicity of the black."
She also addressed any concerns that covering herself in so much ink could be bad for her health.
"I've been getting tattooed for almost 3 decades, and have never felt a negative effect.
Personally, I believe there's more toxicity in most of the foods we eat, makeup we wear, and chemicals in cleaning supplies," she said. "Are you eating 100% organic, eliminating all seed oils from your diet, cutting out all processed foods, sugars and food dyes? Wearing perfumes or makeup without hormone disrupters, lighting candles without fragrance, cleaning without harsh chemicals?"
"We can always try our best to pick our poisons," she concluded. "Personally I try my best to do all those things above, but I do love me some lipstick, candy and a tattoo every now and then! And I'm ok with that."
The tattoo coverup comes following her decision to get baptized in the Christian church, after she previously renounced the occult and witchcraft.
Last year, Von D opened up about her decision to change her lifestyle on Instagram, where she opened up about her "spiritual battle."
"I don't know if any of you have been going through changes in your lives right now, but in the last few years I've come to some pretty meaningful realizations — many of them revolving around the fact that I got a lot of things wrong in my past," wrote Von D.
"I've always found beauty in the macabre, but at this point, I just had to ask myself what is my relationship with this content? And the truth is, I just don't want to invite any of these things into our family's lives, even if it comes disguised in beautiful covers, collecting dust on my shelves."
She also moved out of Los Angeles to Indiana, due to "all that has been taking place in California, with terrible policies, tyrannical government overreach, ridiculous taxing, amongst so many more corruption, we just felt the need to plant roots in a small town where there is nature, where my son can be free to play, and where we can eventually retire one day."