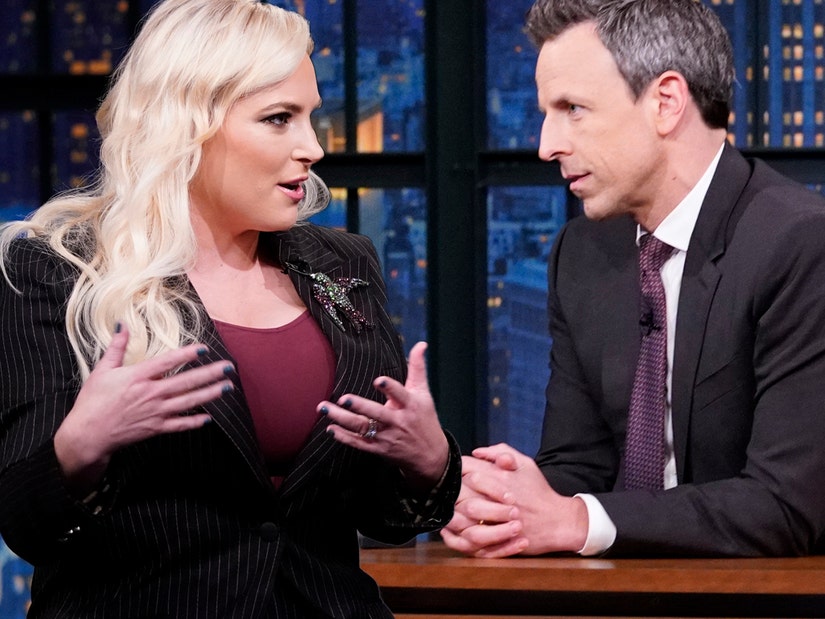 Getty / NBC
"He can go to hell forever," the conservative commentator said of Meyers while reflecting on her 2019 appearance on his late-night show.
On the second episode of her new podcast, Meghan McCain Has Entered the Chat, which dropped on Thursday, the conservative commentator blasted Meyers and her appearance on his late-night show, in which they butted heads over Congresswoman Ilhan Omar's comments about Israel. Looking back, McCain, 38, called her interview with Meyers, 49, "a horrific experience."
"Speaking of late-night stuff, I went on [Late Night with] Seth Meyers, and it was one of the worst experiences of my life, truly," McCain told her guest, Texas Sen. Ted Cruz.
"It was a horrific experience," The View alum added, "and he can go to hell forever."
While appearing on Late Night with Seth Meyers in May 2019, McCain's conversation with the late-night host got tense when the latter suggested it was "dangerous" for McCain to repeatedly bring up and condemn comments Rep. Omar made that were considered anti-Semitic, after Omar had already apologized for them.
Omar was previously condemned by House leaders for making "deeply offensive" comments while criticizing the American Israel Public Affairs Committee's role in American politics. She later released a statement "unequivocally" apologizing.
While speaking with Meyers, McCain said she stood by "every single thing" she's said about Omar, adding, "If that makes me unpopular in this room or in front of you, so be it."
"Is there a way for people to talk about differences in Israeli policy without getting framed as anti-Semitic language?" Meyers asked, pushing back. He then also said he believes it's "unfair" of McCain to keep bringing up tweets for which Omar has already expressed regret.
"Are you her publicist? Are you her press person?" McCain asked in response. "What would make you happy coming out of my mouth right now, I'm genuinely curious?"
"I'm perfectly happy of everything that's come out of your mouth," he told her, "and I like that we spent this time together." When she then noted that her "opinions are very strong," Meyers quipped, "That is coming across, I do want you to know that!"
Following her appearance, McCain's husband, Ben Domenech, unloaded on social media at the time, sharing a series of since-deleted posts on X, formerly Twitter.
"I see that @sethmeyers, the untalented piece of shit who only has his job because he regularly gargled Lorne Michaels' balls, went after my wife tonight with his idiotic anti-Semitic bullshit," he wrote.
"Seth is an awful person who is known within the industry for how terrible he is," Domenech continued. "He is a monumental asshole who is utterly unfunny. He deserves the mockery he receives from all the people who laugh at him."
He added, "Here is proof that white men get ahead despite their obvious lack of talent: it's @sethmeyers, who would beg for a third of the viewers at @TheView. He's awful, untalented, and a perfect definition of a cuck."
While those tweets were later removed, the conservator commentator followed them up with one apologizing for "rage tweeting" in the first place.
Months later, McCain reacted to her husband's tweets, and shared her thoughts on her uncomfortable interview with Meyers in an interview with Elle.
"I thought that it was going to be fun, and what you expect a late-night show to be. The way he talked to me can speak for itself," she told Elle. "But I'm not a snowflake, and I'm not precious. I can take it. I want to be heard, and I don't want to be a person who's brought on to be virtue-signaled to about the things we disagree on."
When asked how she felt about his messages, McCain ignored her publicist's ask that they move past the subject and explained she was "asleep when he tweeted."
"I don't think it's productive to ever go on tweet storms about people. But we love each other very much, and a lot of times it does feel like ... I understand it's very jarring to be confronted by a woman like me who represents so many of the things that [people] don't like and agree with," she continued. "And the problem is, there's only one of me! I don't like that we're all living in such a vacuum. And not to totally abuse an old adage, but it really is why Trump won."
Speaking of Meyers, she added, "I don't know if he could have gotten away with speaking to a liberal woman the way he spoke to me. I don't think he wanted to have a conversation; I think he just wanted to lecture me. But I can't get myself into a place where I'm like, 'Woe is me.' It's not fair for me to feel bad for myself."