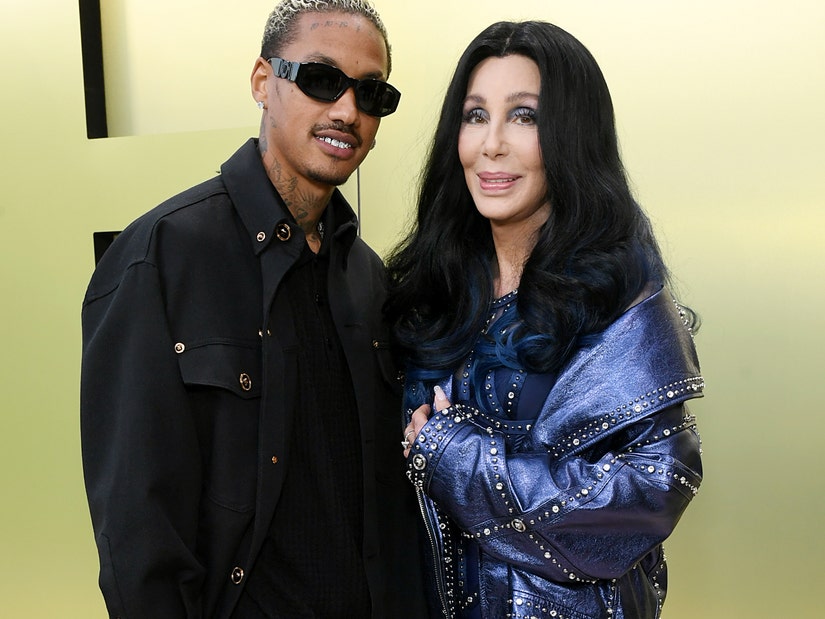 Getty
"Most of my references… He'll look at me and go, 'I wasn't born yet,'" the 77-year-old music icon said of her romance with the 37-year-old music producer.
Cher is getting candid about how the 40-year age gap between herself and her boyfriend, Alexander "AE" Edwards, affects their relationship.
In an interview with Extra, the 77-year-old pop icon joked that the 37-year-old music producer often doesn't understand her references.
"Sometimes I'm talking to him and he has no idea who I'm talking about… The other day, I said, 'Do you know who, I don't know, Clark Gable, [is]?' Somebody said, 'Yes, of course,' but most of my references… He'll look at me and go, 'I wasn't born yet.'"
Cher and Edwards have been dating for nearly a year. The couple first met at Paris Fashion Week last year.
"I hate to talk about how happy I am, but no, we have a great time together," Cher told Extra. "We can talk music. We can talk about everything. He's a got a great sense of humor, he's got the cutest son in the world, ever... We just get each other."
The Grammy winner added that her beau is "reserved" and "more obviously shy" than she is.
Cher teamed up with Edwards on her first-ever holiday album, Christmas, which dropped last Friday. Edwards produced the song "Drop Top Sleigh Ride.
"It's a very strange Christmas album," she told Extra. "All the tracks are their own little islands. Nothing seems to go together, but when you hear it, it works."
Cher and Edwards first sparked romance rumors in November 2022. After they were spotted holding hands out in Los Angeles, Cher confirmed their romance, while also defending their 40-year age gap.
She hit back at criticism about the relationship on X, formerly Twitter, after she shared a photo of AE to her page. Cher responded to one fan who said they were "immediately suspicious of his intentions towards you" and hoped the singer wasn't being "taken advantage of."
"As we All Know …I WASNT BORN YESTERDAY & What I Know For Sure," she responded. "There Are No Guarantees. Anytime you make a Choice You Take a Chance. I've Always Taken Chances…It's WHO I Am."
"Haven't You Got Anything Else 2 Do? Let Me Explain…I DONT GIVE A FK WHAT ANYONE THINKS," she added.